Just like celebrities, royals are always under the camera's lens. The public discusses every step they take, every gesture they make, and every look they create. That's why they have to watch their appearance like nobody else. In order to always look perfect, royal ladies use some small but helpful tricks.
We at Bright Side studied many fashion forums and found out which hacks help modern representatives of monarchs always look stunning. The bonus at the end of the article will tell you how Princess Diana managed to outwit the media and cut her hair so that nobody noticed it.
Redesigning old clothes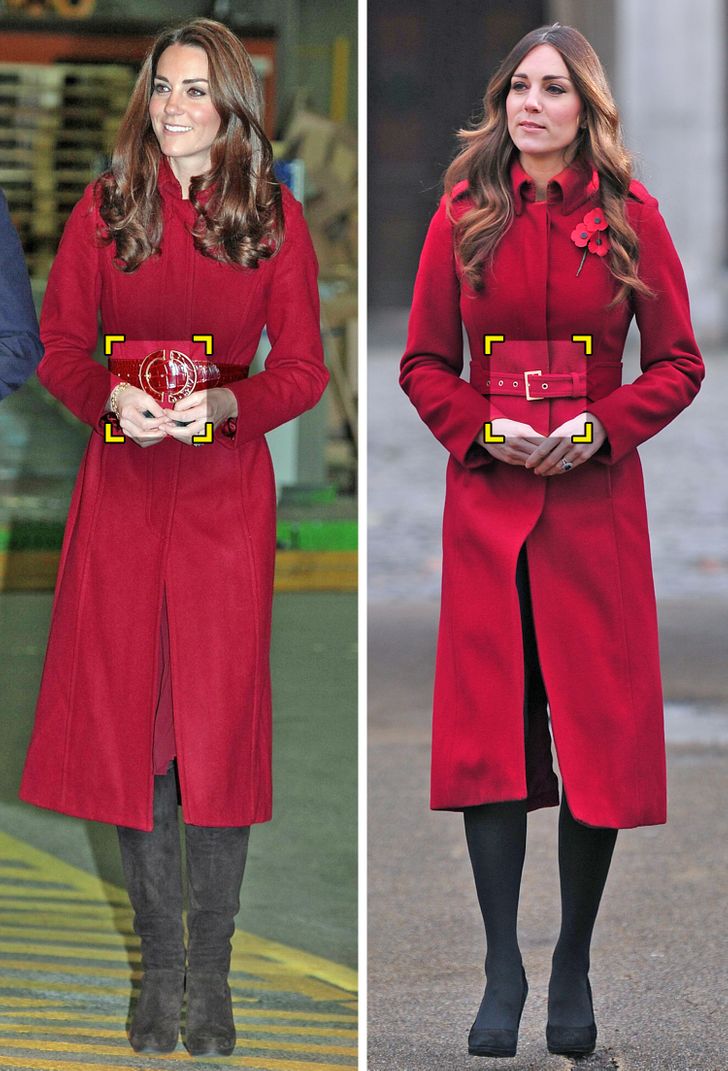 © HUSSEIN ANWAR/SIPA/EAST NEWS, © WPA Pool / Pool / Getty Images Entertainment / Getty Images
Unlike many public figures, Kate Middleton never feels shy about showing up to different events wearing the same outfits. In order to make her clothes look fresh and modern, Kate redesigns them by changing small details. In 2013, the duchess appeared in public wearing a coat that she had already worn 2 years before. But this time, she replaced the belt, which made the overall look shine with new colors.
Bronzer instead of tights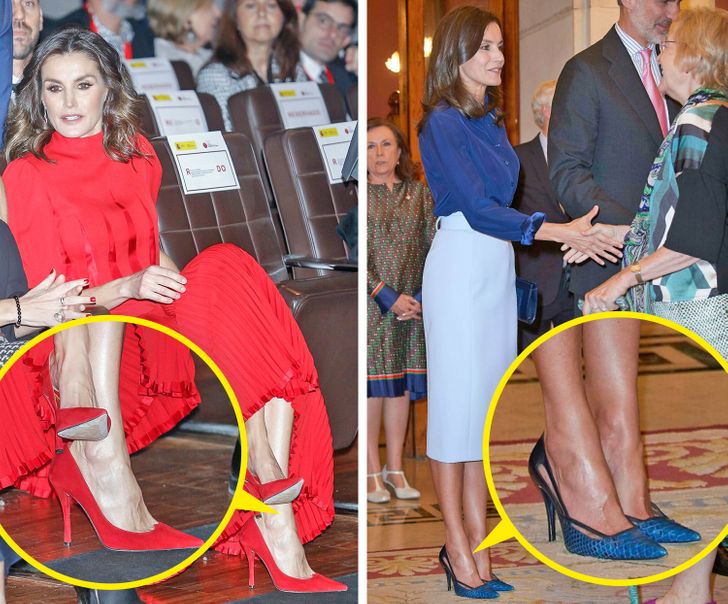 © LIMITED PICTURES / agefotostock / East News, © LIMITED PICTURES / agefotostock / East News, © LIMITED PICTURES / agefotostock / East News
Royal family members should wear neutral-colored tights at official events all year round despite the weather conditions. That's what the protocol says. But Queen Letizia neglects this rule almost always. Instead, the First Lady of Spain simply tans her legs. This trick gives the skin a well-groomed and shiny look.
A nude manicure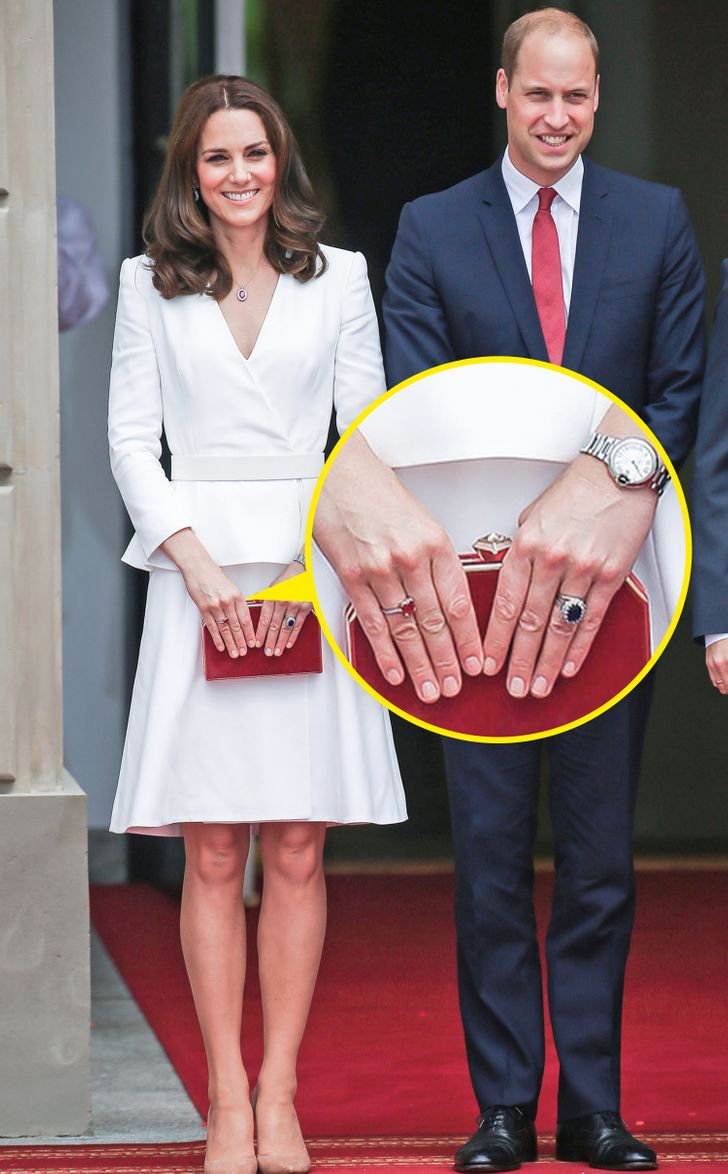 © Kamil PIKLIKIEWICZ / East News
Kate Middleton can hardly ever be seen with bright nail polish on. It's believed that this is all because of the official protocol. Perhaps Kate does follow all the rules unquestioningly, but another reason for choosing natural shades is practicality: a manicure with natural hues stays fresh for longer and makes inevitable chips and dents less noticeable.
Primer instead of makeup foundation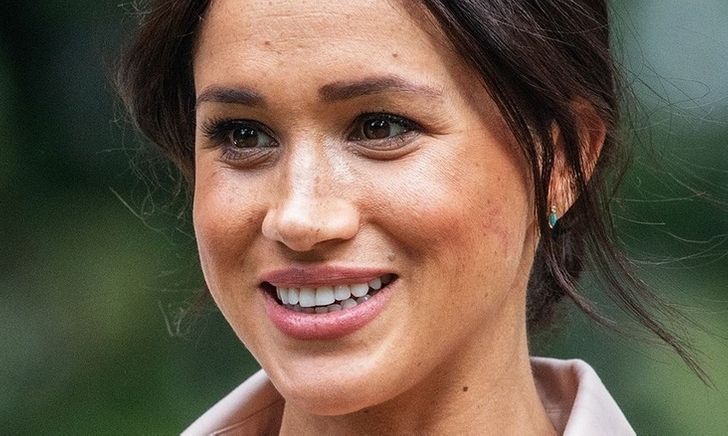 © MICHELE SPATARI / AFP / East News
Meghan Markle is a supporter of the natural look and doesn't hide her reddish freckles under thick layers of makeup. For this reason, Prince Harry's spouse limits herself to using a primer only and applies a makeup foundation only to some areas on the face during official events.
Shoes of different sizes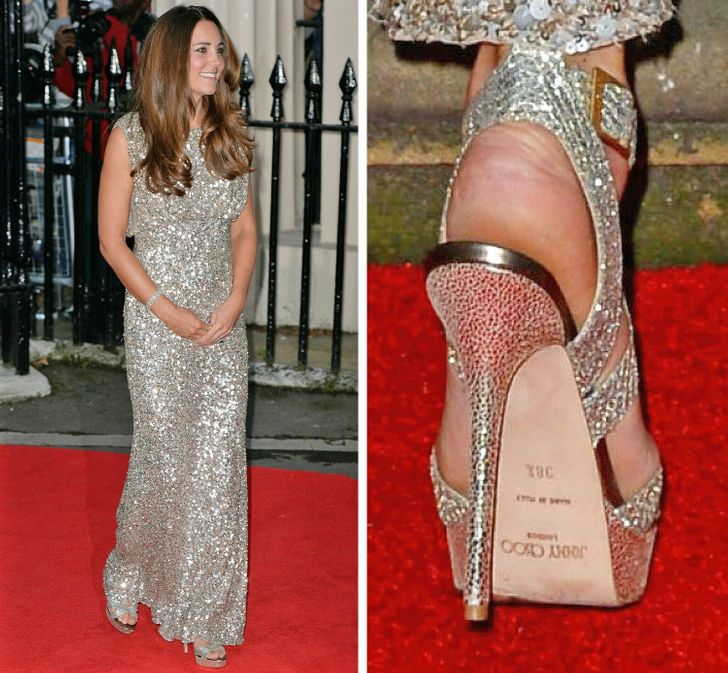 © i-Images, PacificCoastNews.com/EAST NEWS, © Photoshot/REPORTER / East News
Kate Middleton has to spend several hours a day in heels due to her position. That's why she's so careful when it comes to choosing shoes. The duchess selects her shoe size depending on the model and brand. For example, Kate mainly buys summer shoes that are half a size or one size bigger — it helps her to avoid getting blisters in case her feet swell in the heat.
Multifunctional shawls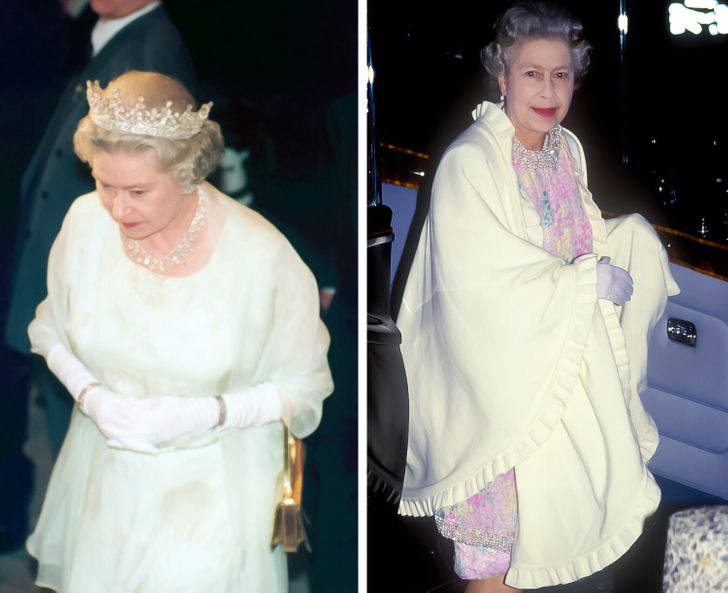 © Wojtek Laski / East News, © LFI / Avalon / REPORTER / East News
According to the protocol, the representatives of the royal family aren't supposed to take off their outerwear in public. That's why Elizabeth II and Kate Middleton can be seen in elegant dress coats so often. And while they look absolutely appropriate in everyday looks, it's quite difficult to imagine seeing an evening outfit together with outerwear. That's when a regular shawl or a cape that matches the dress can come to the rescue. They will help keep them warm in cold weather without contradicting the rules.
Additional outsole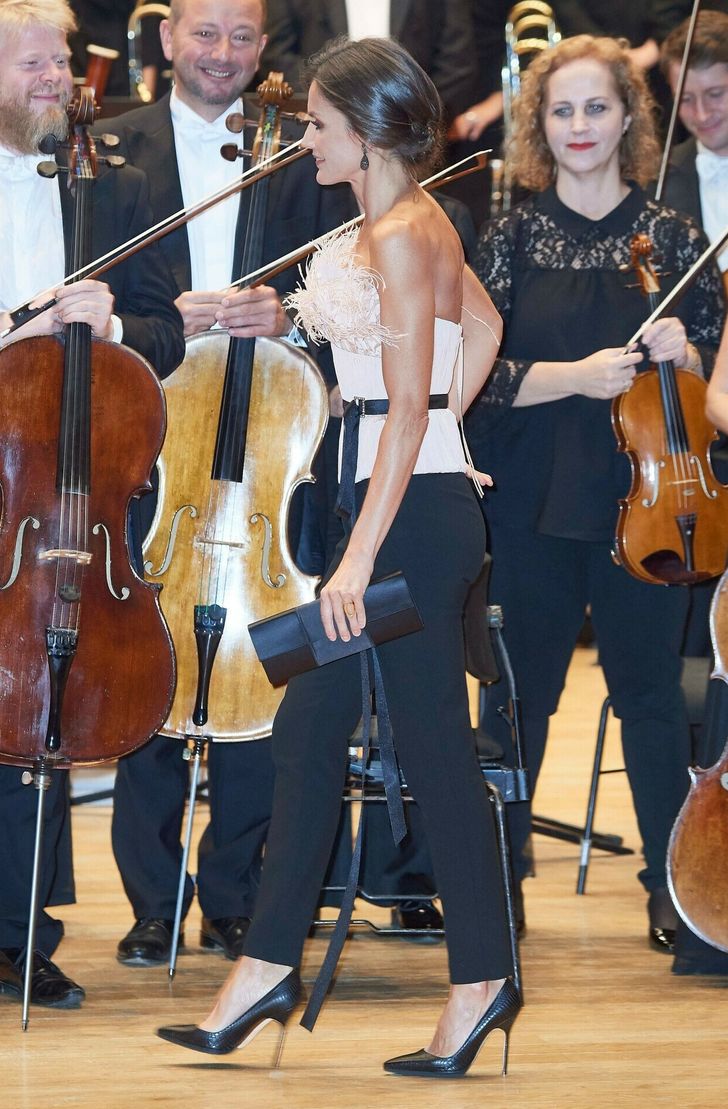 © LIMITED PICTURES / agefotostock / East News
Queen Letizia uses another trick for the same purpose. In order to make her shoes more stable and prevent them from slipping, the First Lady of Spain glues additional outsoles to them.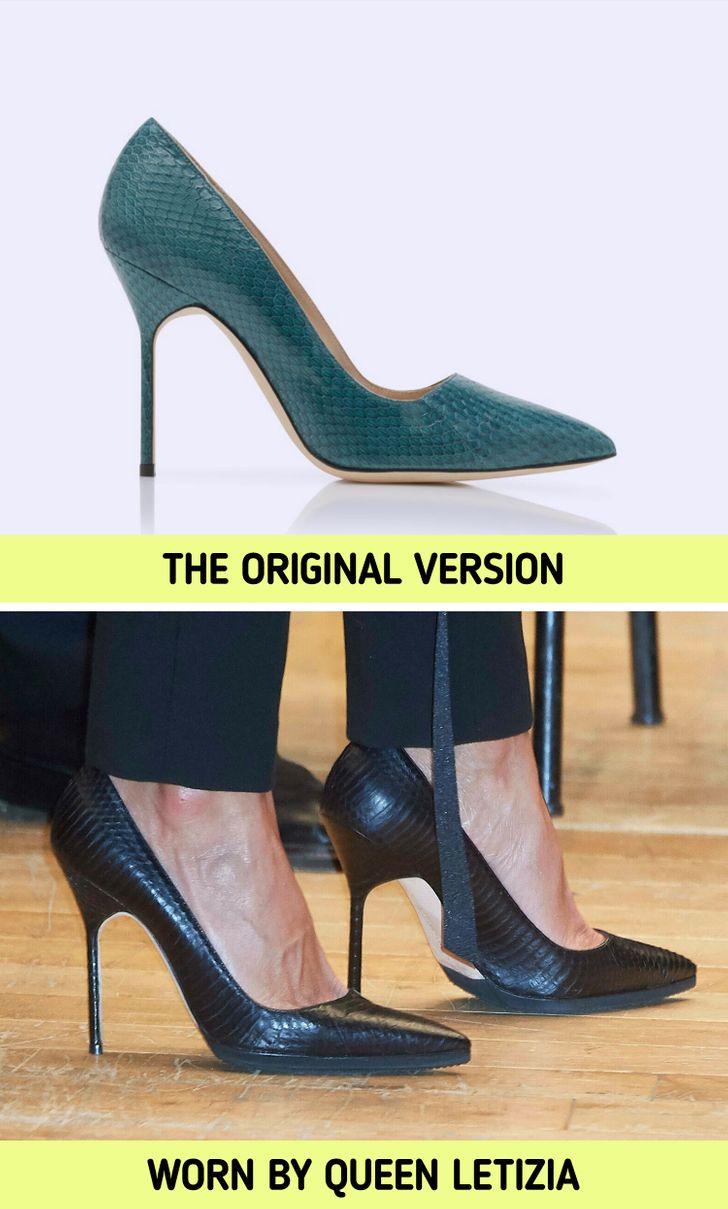 © manoloblahnik.com, © LIMITED PICTURES / agefotostock / East News
The spouse of King Felipe VI has made improvements to many pairs of designer shoes with the help of this simple construction.
Bonus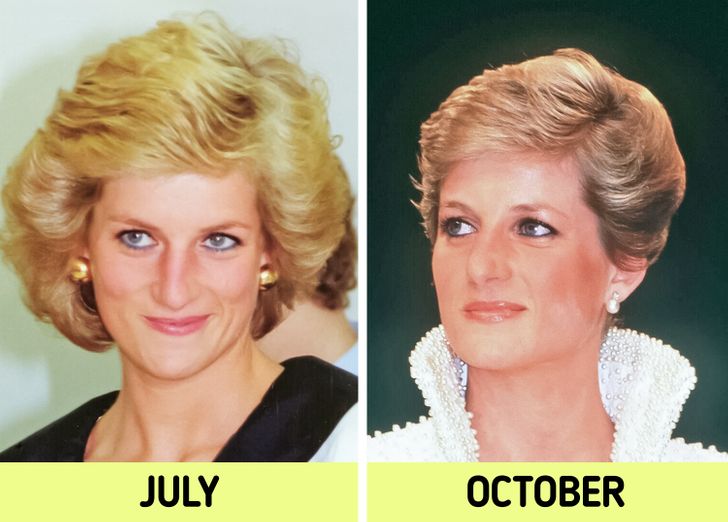 © AP / East News, © UPPA / Photoshot / REPORTER / East News
Throughout the '80s, Princess Diana donned the same haircut. Still, she dared to go for a change, but in order not to attract extra attention, Lady Di decided to use a little trick that had been suggested by her hairstylist. They were shortening the length of her hair one-fourth of an inch every week. Eventually, after a couple of weeks, the princess got the desired haircut and, at the same time, managed to avoid any extra attention from the media.
What tricks that help you look perfect and avoid awkward situations do you use? Please share them in the comment section.