Spending the final years of your elderly life at a senior living facility has its peaks and valleys. An elderly woman named Juanita Fitzgerald got used to the life at the nursing home where she stayed for eight years. However, her struggles started when she got evicted from the place just four days before her 94th birthday.
Apparently, she failed to pay the rent in the amount of $161 and that was the reason why she was forced to leave the place. Franklin House say that she didn't want to pay because she believed her time on this world was coming to an end. Juanita, however, claims that's a lie and that she tried to pay but they refused to take her money. Franklin House spokeswoman Karen Twinem said that Juanita only offered a partial payment.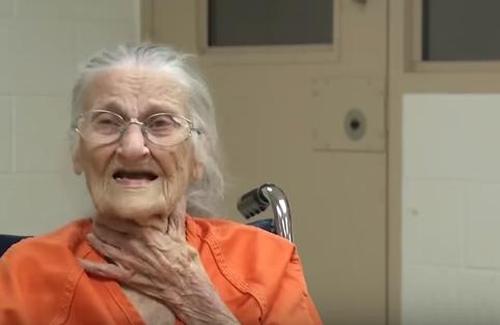 The poor lady got scared because leaving the facility would mean ending up on the streets, but those at Franklin House didn't care. They even called the police and asked them to get Juanita out of the place she considered her home.
During the ar*est, she could be heard scre*ming and resisting. Her fragile arms and wrists were full of bruises and scratches because of the handcuffs the police placed on her.
The video of the ar*est was quickly shared on the news all over the country and concerned citizens started a GoFundMe page in order to raise money for Juanita's bond and hopefully avoid her ending up homeless.
Once out of ja!l, one of Juanita's friends let her stay with her for a while, or until she finds a shelter on her own.
93 year old Juanita Fitzgerald says she tried to pay her rent but was refused. Says she did not tell them she was dying to get out of paying rent. She says that's a lie! Also says she's never been arrested before but has faith God will get her through! News 6 WKMG / ClickOrlando pic.twitter.com/JjE4wifKlx

— Adrianna Iwasinski (@AIwasinski) December 14, 2017
Juanita says her family is in Tennessee and she has no relatives living near her. The board members of the Mid-Florida Homeless Coalition are doing their best to find a solution for this lady's problem.