We've all heard unfortunate stories of social media faux paus that got people into serious trouble.
These posts may have led to disciplinary actions at school or work, or they may have had lasting consequences with important relationships.
One man was actually fired from his job as a long-time bus driver for his local school district after he posted something to Facebook.
However, unlike the typical story of negative consequences for social media posts, this man was simply standing up for something he believed in and seeking to help rectify an injustice he became aware of from one of the students he drove to and from school each day.
Johnny Cook of Georgia has always been a man with a big heart for the students he drives to and from Harlason County Middle school.
He is also a horse trainer and active member of the community.
One day, one of his regular students boarded the school bus and happened to tell Mr. Cook that he was especially hungry.
Mr. Cook first didn't think much of it, asking the boy why he didn't want to eat his lunch that day. The response he received from the young boy broke his heart.
The boy told Mr. Cook that he didn't eat lunch because the school would not provide him with lunch because he didn't have the 40 cents on his account that was required to pay for the account.
The young boy was already on a reduced lunch payment plan.
The thought of that boy going hungry led Mr. Cook to post about the inc!dent, without naming the boy, on his Facebook account.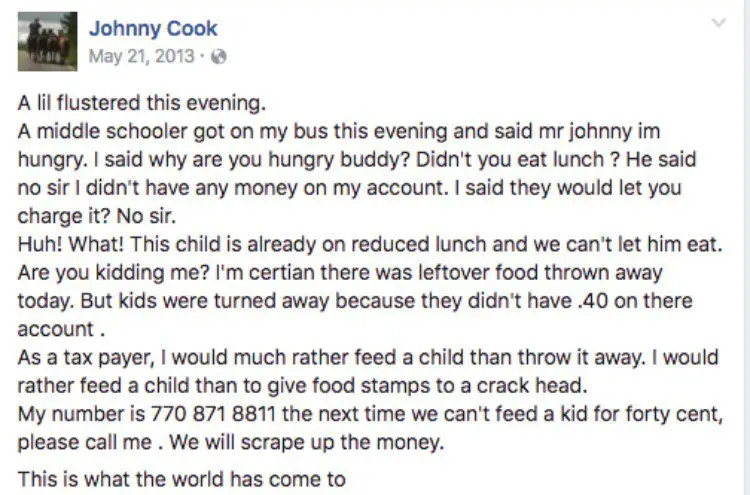 Mr. Cook reached out to family and friends in a plea he hoped would address the issue.
He said that the never wanted to see another child go hungry because they didn't have 40 cents to pay for lunch.
He even posted his personal phone number and encouraged anyone who knew of a kid who didn't have the 40 cents for lunch to call him, saying he would personally scra*e up the money.
The post almost immediately went viral. People everywhere wanted to help.
However, Mr. Cook was called into a meeting with the superintendent where he faced an ultimatum.
He could either redact the post publicly or be terminated.
Mr. Cook couldn't bring himself to redact the post, so he was essentially fired on the spot.
Hopefully, the viral post will at least bring some light to the issue and help make sure that no student ever has to go a full day at school without any sort of lunch.