Influencer Misha Grimes recently shared a photo of herself and her mom, Kasha, while vacationing on Instagram. Minutes after the pic was uploaded, her 155K followers couldn't believe just how her mom is so age-defying, especially as she had been mistaken as a sibling to Misha.
Misha Grimes shared photos of her time in Dubai only to find all of the attention was directed to her mum, Kasha.
Her mom is so age-defying that she was mistaken as a sibling to Misha.
The YouTuber, 22, and her mom had posed in front of an elaborate hotel in Dubai, stunning in a similar swimwear. Kaisha confidently flaunted her hourglass figure in a golden plunge swimsuit. The long-legged mom also sported long blonde locks, and undeniably her skin glowed, giving her a fresh-faced appearance.
60-year-old Kasha indeed outshone her daughter as they had posed in swimwear in front of a hotel in Dubai.
Kasha was mistaken for Misha's sister because of her youthful glow, enviable body, and stunning beauty.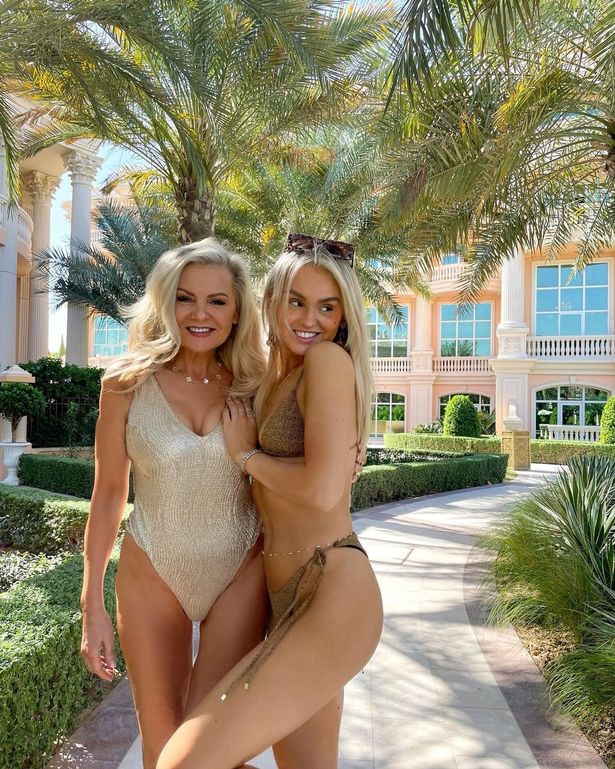 via misha_grimes/Instagram
Her daughter Misha donned a two-piece bikini and a gold belly chain, looking gorgeous as her mom. "I remember at school people used to make a joke out of me because I was best friends with my mum. Well, look at us now. Pretty sure I'm the one laughing!! Best friend & mummy in one." Misha captioned the post.
Like her daughter, Kasha has her own Youtube channel called NiftyAfterFifty.
Her channel is dedicated to those who believe "Growing old is mandatory; growing up is optional."
Many people were left stunned by Kasha's youthful appearance in the comments. One person wrote: "I'm sorry, but Kasha aint 60; she's lying." Another said: "OK, your mum is a supermodel, Woah. Both so beaut." A third chimed in, saying: "How incredible do you both look. I swear your mum is reversing in age."
Of the stunning snaps of the pair wearing swimsuits in Dubai, many people couldn't believe Kasha is aged 60!
"How incredible do you both look. I swear your mum is reversing in age." Someone said in the comments.
The comments went on with many arguing that the pair are sisters and not mother and daughter. A fourth gushed over Kasha, saying: "OMG, your mom looks amazing!!" Another without hesitation praised the duo: "Apple didn't fall far from the tree; you look more like sisters." However, just as much as people couldn't believe the age of the youthful-looking mom, do you agree they will 100% pass as sisters?
However, the pair look alike and often wear the same clothes.