The Queen's death stunned people the world over. And of course, her loss is most deeply felt by her family. In the wake of her death, a lot of interesting developments were made; namely between Prince William and Prince Harry.
It was no secret that Harry and William's relationship was strained ever since the former officially stepped down as a senior working royal and relocated to the United States. But it seems things are thawing between the two…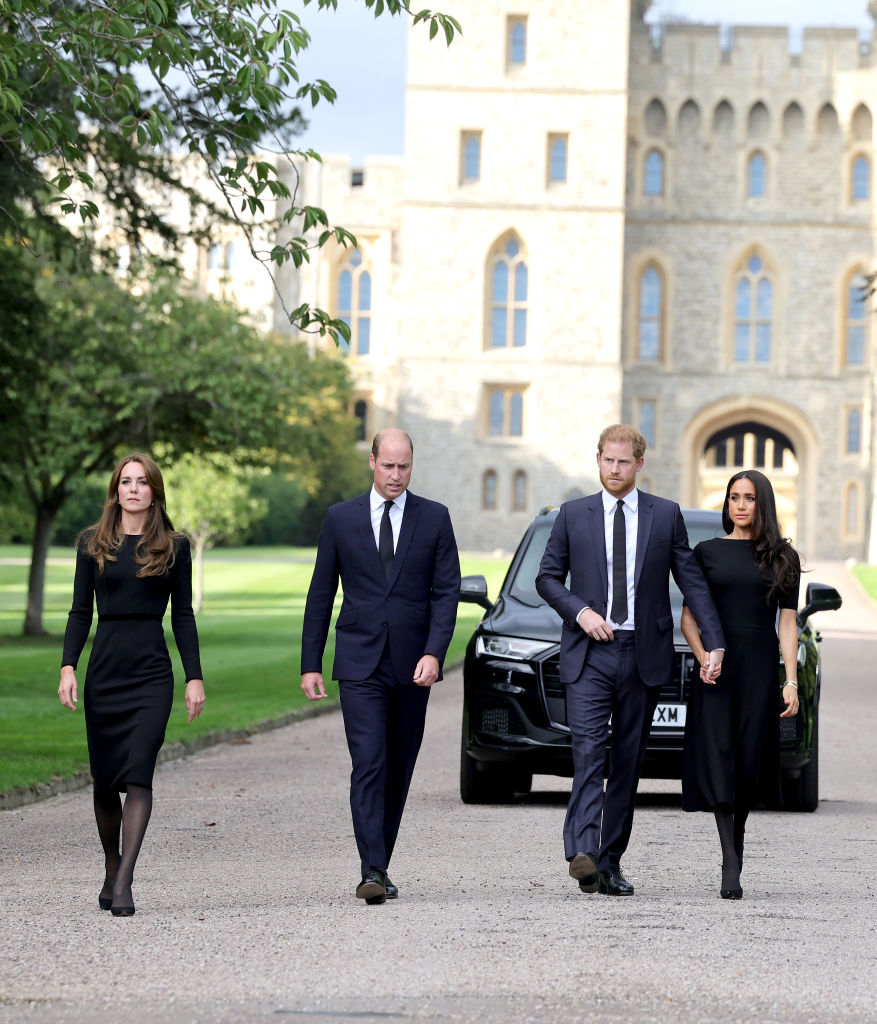 Getty Images
The public waiting outside of Windsor Castle a few days after the Queen's death was expecting an appearance from the new Prince of Wales William and his wife. But were shocked to see that they were accompanied by Prince Harry and Meghan Markle.
The couples were said to have strained relations with one another which is why their appearance together was surprising to the public. And seemed like an olive branch had been extended from William who invited the Sussexes to join along.
The couples paid their tributes and met with royal fans who had been queuing for hours for about 45 minutes before they all left in the same car and made their way to Frogmore Cottage.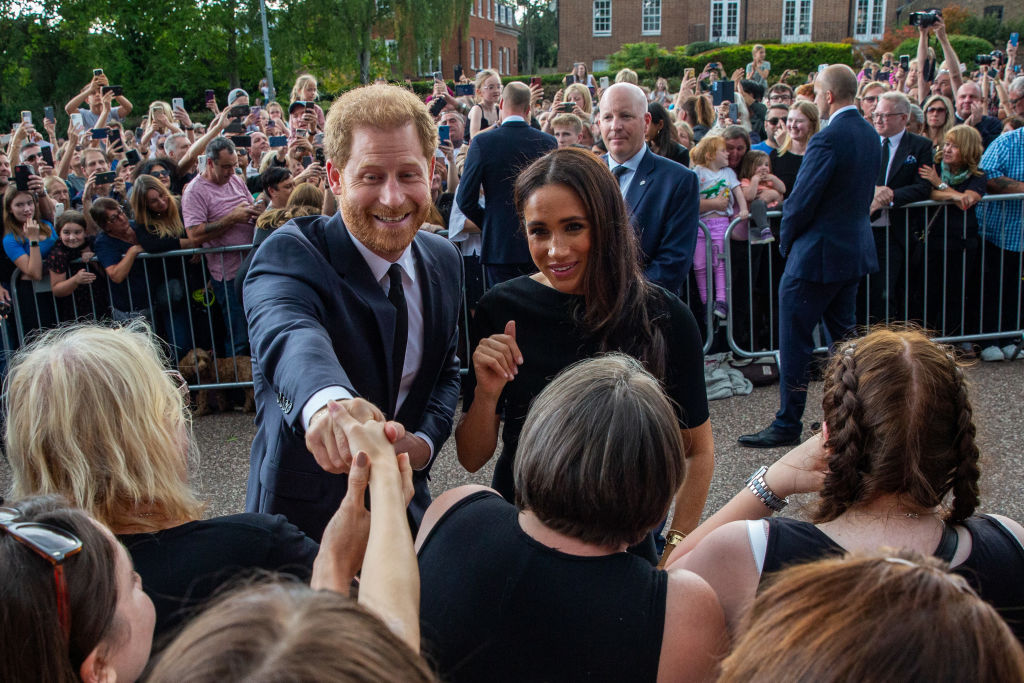 Getty Images
Since this was the first time in a while that both royal couples had been spotted together at the same public engagement, people began to speculate.
Keen on-lookers also noticed the distance they saw between Prince William and Kate Middleton. People noticed how Harry and Meghan stayed by one another's side and held hands.
While the distance between Kate Middleton and Prince William was discernable. The two kept their distance from one another and did not even walk at the same pace which set off alarm bells for those looking on.
People also noticed how Prince Harry made sure to not only open his wife's car door but also closed the door after making sure she is safely inside.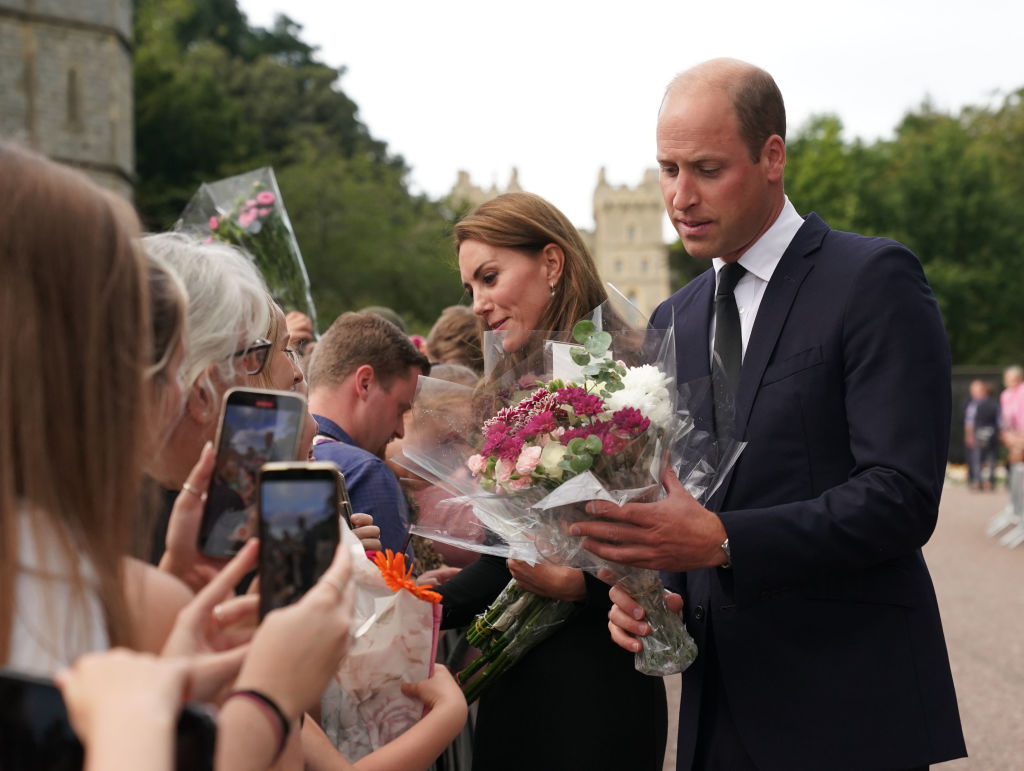 Getty Images
While Prince William sauntered off ahead and sat in the front seat without so much as a backward glance towards his wife Kate. Instead, an aide came to assist Kate as she got into the vehicle.
Of course, the public was quick to notice this stark difference in how both men treated their wives. "Can someone please beg #PrinceWilliam to be a gentleman to his wife sometimes, at least when in public. #PrinceHarry didnt think twice b4 opening #MeghanMarkle's door. William left poor Kate to fend for herself," one user wrote.
Fans defend Kate Middleton, whose face was called "aged" while she mourned beloved grandma Queen
Kate Middleton could allegedly inherit Queen's $110m jewelry, leaving Meghan with next to nothing
Both couples also have not had the best relationship with each other lately. After Prince Harry officially left his position as a senior working royal and stepped away from official duties, the Royal Family has not been subtle about their disapproval. His relationship with his older brother Prince William and his father King Charles has suffered most famously. Harry revealed in the explosive interview with Oprah, that his father barely takes his calls.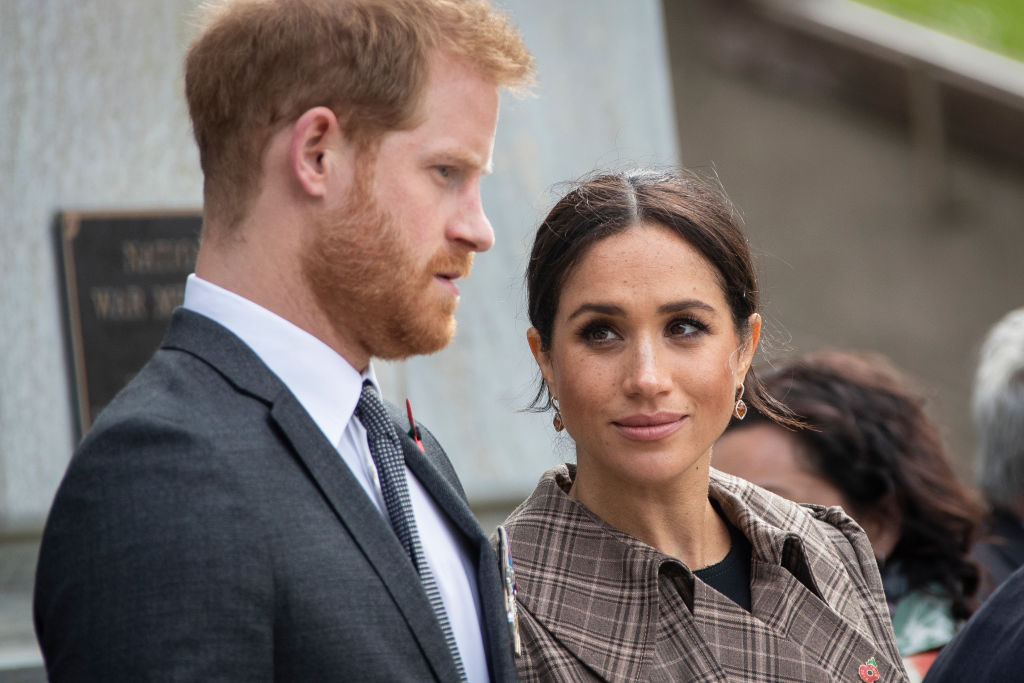 Getty Images
But things seem to be on the mend again as King Charles mentioned his son Harry and Meghan Markle in his first speech to the public as King.
But body language expert Katia Loisel weighed in on the interaction and had some interesting insights. She remarked that Meghan looked "ill at ease" at the engagement. And this was because of her earlier interaction with her sister-in-law.
Loisel said that when both couples arrived at Windsor to meet with the public and observe the tributes, instead of greeting Meghan warmly, Kate gave her an "icy stare" which put her ill at ease.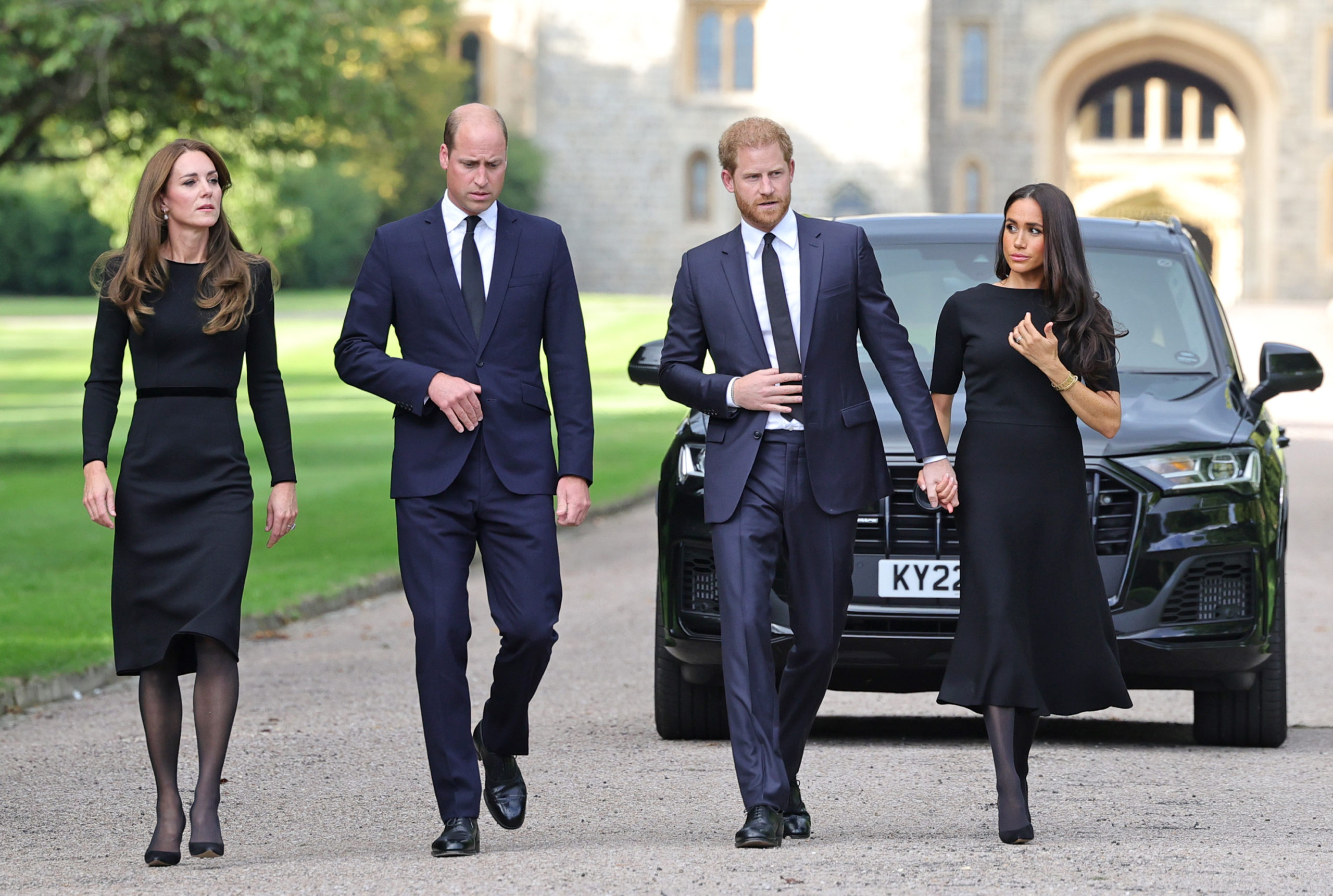 Getty Images
The two women did not take time to talk to each other let alone exchange pleasantries. This left people wondering why the two women did not exchange any interaction and did not even acknowledge one another as they walked around Windsor Castle.
Loisel also said she thought Kate was "reluctant to interact" with Markle. And pair that with the criticism Markle has been on the receiving end of recently, things might have gotten her on edge.
On the other hand, Loisel noticed how Prince William made sure to include Harry in the walkabout with him and it seemed like both brothers were making an attempt to reconnect with one another.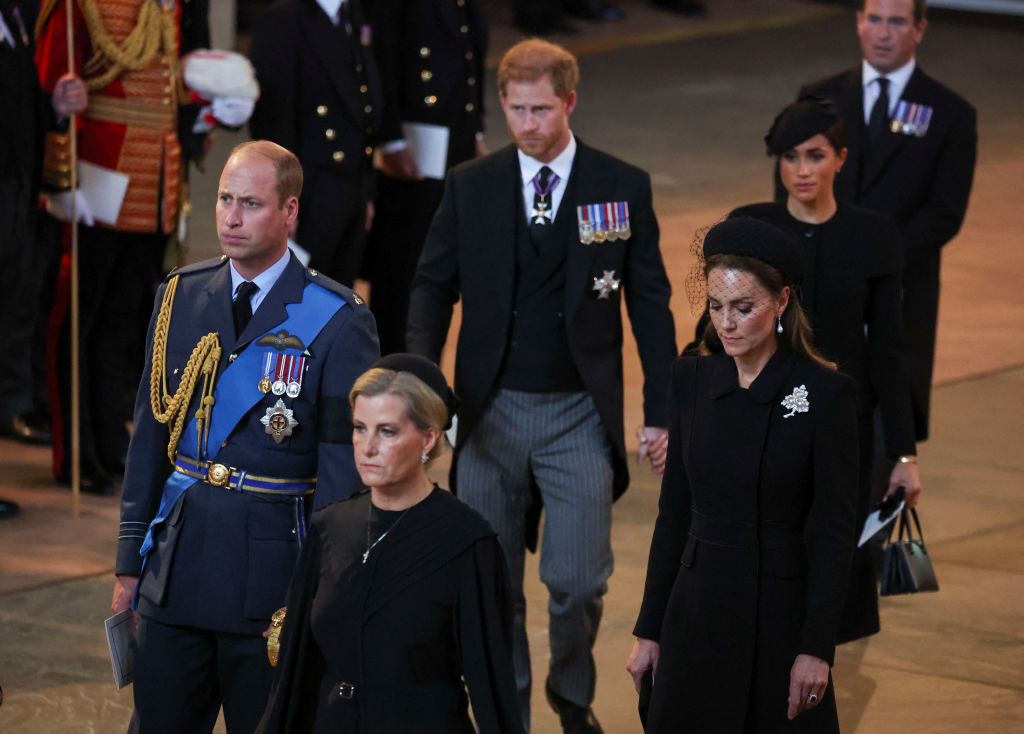 Getty Images
But Kate did not extend the same courtesy to her sister-in-law. According to Loisel, the women did not interact with each other, even though Meghan tried several times to catch Kate's eye. Loisel said, "Rather, Kate appeared to look through her, suggesting underlying tension between the pair."
Loisel also pointed out a particular moment when Kate looks at Meghan with a "fixed stare and compressed lips." She went on to explain, that this led to Meghan turning her body away from Kate.
After this interaction, according to Loisel's expert opinion, Meghan put a hard around her body in what is known as a 'protective stance' as she was unsure of her surroundings.
She also commented on how Meghan's feelings of being ill at ease and not belonging led her to stay near her husband Prince Harry. And she noticed how Prince Harry also made sure to stay near Meghan at all times, constantly touching her arm or back, in a silent gesture of support. Loisel said Harry's attention to his wife was to make sure she felt safe and supported. And that both husband and wife were supporting each other in this difficult situation and time for them.
It is so interesting to learn about what is going on behind royal demeanor from experts in the field.
What do you think of this body language expert's analysis of Kate and Meghan's interactions? Let us know in the comment section.