Your tattoo can either haunt you for life or be the best decision of your life. Bekah Milly was left with teary ears and an awkward feeling after being told that her guardian angel back tattoo looked like something very RUDE. Sharing the incident on TikTok, Milly showed off the new tattoo, which spanned the whole space between her two shoulder blades.
Bekah Milly sobbed in a TikTok video after realizing her back tattoo looks like something VERY rude.
And as seen, the ink featured a woman hugging a space, implying her guardian angel. But the addition of a line close to the mouth ultimately gave it a whole different appearance and meaning. Many people, without hesitation, drew parallels between the design and a s*x act, leaving Milly red-faced and unhappy.
A woman is seen hugging a space, suspected to be her guardian angel.
But without hesitation, many people drew parallels between the design and a s*x act.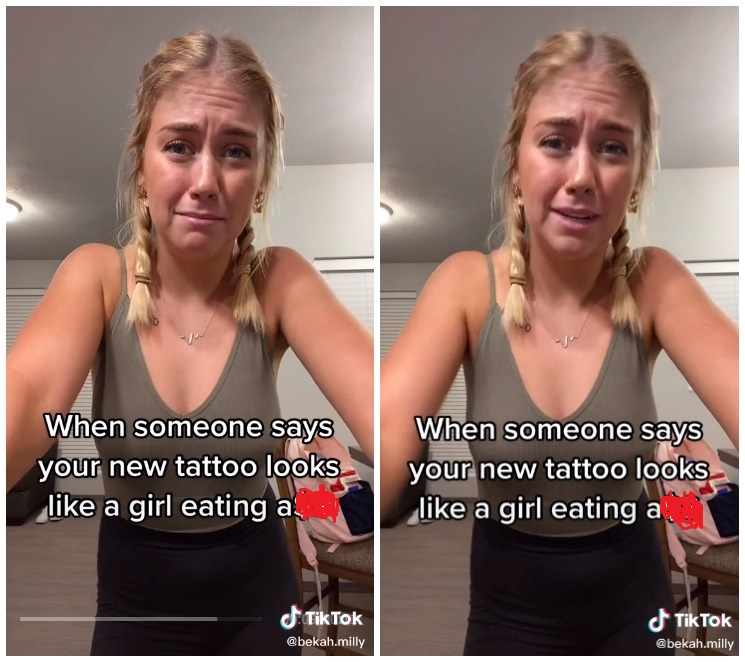 "When someone says your new tattoo looks like a girl eating a**." the caption of the video, which saw Milly sobbing over the revelation, read. So far, it has been watched over 7 million times and has garnered over 580K likes. Many people advised that Milly should get a touch-up as soon as possible in the comment section, while a few pointed out just how bad the ink was.
A few said the tattoo was 'horrible' and advised Milly to cover it up ASAP.
"Wow, that is bad. Guess anyone can be a tattoo artist if this was paid for." One person wrote while a second added: "Yeah. Pretty much burned in my eyes and didn't see it at first – now that's all I see." Someone gave a helpful tip: "She should put a halo and some Angel wings! Another noted: "Can't unsee it now. Just. Can't, and you need to go get that touched up ASAP!"
Here's What People Had To Say: