ILOSM family, we've sadly lost another icon. It's just been confirmed that actor, Sidney Poitier, has passed away at the age of 94 years young. The details surrounding his cause of death are scarce, but here's what's been confirmed so far:
omg
Via TMZ: The office of the Bahamian Minister of Foreign Affairs has confirmed Sidney's death to TMZ … however, the circumstances surrounding his passing are not yet known, nor do we know where he died.
As you all know, Mr. Poitier was one of the most prolific actors of his era. Throughout his career, he'd challenged and broken racial barriers in Hollywood. He's also graced the screen in some of the most iconic Black '70s films including, "Uptown Saturday Night," "A Piece Of The Action," and "Let's Do It Again."
The Bahamian-born actor also made great impacts in the acting game, by ultimately becoming the first Black actor to win an Oscar for Best Actor in 1963 for his lead role in "Lilies of the Field."
and
And of course we can't forget about his iconic roles as Detective Virgil Tibbs in "In the Heat of the Night," when he spoke his infamous line, "They call me Mr. Tibbs"; and also as Mark Thackeray in "To Sir With Love."
Then there was the ever-so-controversial film (for that era), "Guess Who's Coming to Dinner," where Poitier starred as the lead love interest to his White co-star as an interracial couple. Every last one of those three films were released in the same year – 1967.
and
In addition to his accomplishments in acting, Sidney Poitier was a fighter for the struggle against oppression of Black people. He dedicated himself to the civil rights fight, and was eventually awarded the Presidential Medal of Freedom in 2009 by President Barack Obama for his efforts. Poitier maintained dual citizenship within the U.S. and the Bahamas, and served as Bahamian Ambassador to Japan from 1997-2007.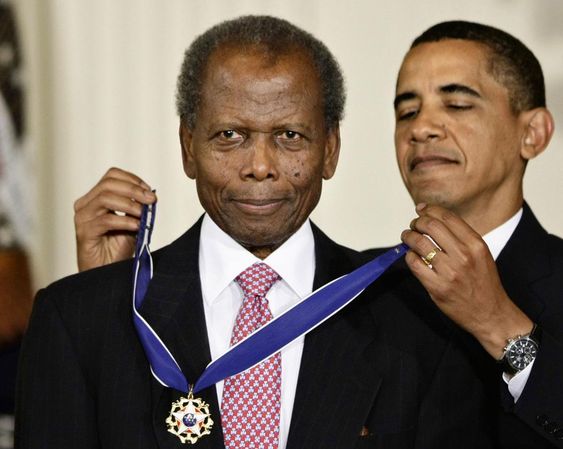 Sidney Poitier being awarded the Presidential Medal of Freedom by President Barack Obama
Mr. Poitier was sadly preceded in death by his daughter, Gina Patrice Poitier-Gourage (whom he shared with is ex-wife, Juanita Hardy), who passed away in 2018. He is survived by his wife of 45 years, Joana Shimkus, and six daughters. After an impactful journey here on earth, may Sidney Poitier rest in power, peace, and serenity.