On a hot day in June, Brandy Field's 12-year-old son went outside to mow a lawn in the suburbs of Cleveland, Ohio. At his young age of 12, Reggie Field started the "Mr. Reggie Lawn Cutting Service," with the help of his cousins and siblings.
While many children like to stay inside and play video games all day, Reggie prefers to go outside and make some money.
"I like just being out of the house," Reggie said.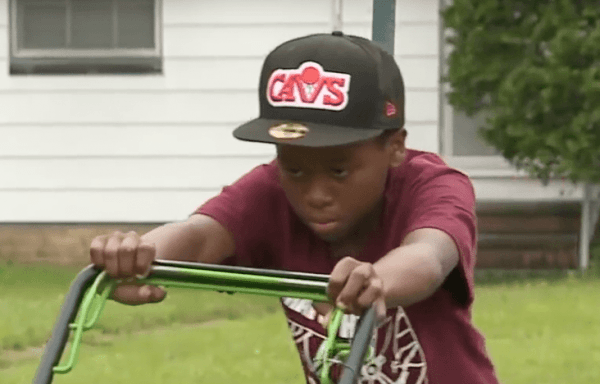 Lucille Holt-Colden hired Reggie and his crew to mow her lawn, and she was stunned when her neighbors, Randy and Linda Krakora, called the police on the child. The Krakoras did not even talk to Reggie before calling the cops on him.
"We have always been told by the police that if we feel thre*tened, 'Don't confront these people, just call us," Linda said.
Reggie said that he had no idea the strip of grass was on the Krakoras' property.
"I was like, that's a sh*me, cause I didn't know," Reggie said.
Thankfully, calling the police on Reggie has backfired, as the community has responded by seeking out Mr. Reggie Lawn Cutting Service and making his business boom like never before!
Reggie has even been able to expand his crew, as so many children are interested in joining his team!
It turns out that the Krakoras often unnecessarily call the police. Just a few weeks later, the Krakoras called the police on Reggie's family once again for making an improvised Slip 'N Slide on the lawn. Their complaint was that water got on their neighbor's house.
Reggie has not let this nonsense bother him, as he's just happy that his business is thriving.
"Just give me a call, I will be there on time," Reggie said.
Find out more about this in the video below, and SHARE this story so your friends and family can see this as well!