A Texas woman who was hospitalized after she removed a strange napkin from her car door has spoken out.
On Tuesday evening, Erin Mims says she had enjoyed a meal out at a Houston restaurant in celebration of her birthday. However, the celebrations quickly turned into disaster shortly after she and her husband returned to their car.
Speaking to FOX 26, Mims says that after the couple reached their vehicle, she noticed a peculiar napkin stuffed in the car door handle.
Not thinking much of it, she simply removed the napkin and threw it away.
"I just threw it out," Mims revealed. "I opened the door with the tips of my fingers."
Curious as to why the napkin would be there, Mims said she asked her husband if he had stuffed it in the handle, to which he said no. Believing it would be best to be cautious, Mims re-entered the restaurant to wash her hands.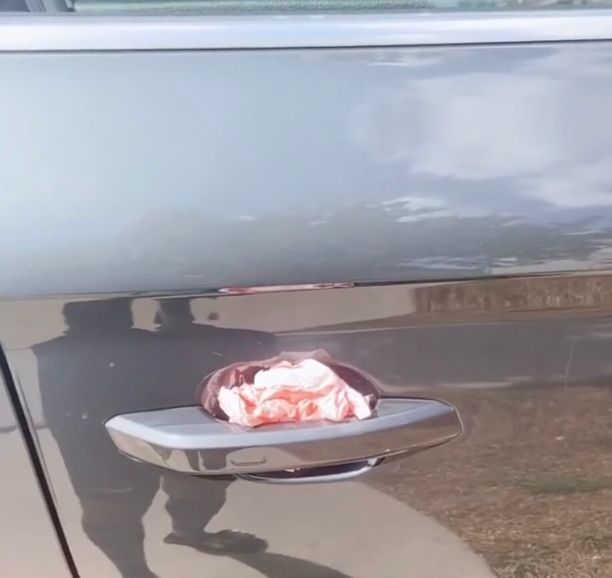 Credit: Facebook/Erin Mims
But after she returned to the car, her fingers started to suddenly tingle – with symptoms growing worse within the next five minutes.
The mom told Fox 26: "Maybe five minutes, my whole arm started tingling and feeling numb. I couldn't breathe. I started getting hot flashes, my chest was hurting, my heart was be*ting really fast."
Mims was driven to a nearby hospital where doctors ran blo0d and urine tests and a CAT scan. She says doctors told her that her virals were "all over the place", but they were unable to determine exactly what had caused it.
"The doctor came in, and told me it wasn't enough in my system to determine what it was, but said it was acute poisoning from an unknown substance," she said, with her doctors saying that there wasn't enough of it in her system to properly determine what had caused the reaction.
Mims adds that her doctor said the entire situation sounded like a failed k!dnap attempt.
"All I could do was think about my babies. It was the scariest moment of my life," Mims said.
Sharing her experience in a Facebook video – which later went viral – Mims said through tears: "Just that little amount had me messed up, y'all. So just imagine if I would have grabbed it with my full hand… I probably could have been dead."
Fox 26 reports that Mims, a local salon owner, has filed an as&ault report with the Houston Police Department.
In response to the story, the Houston DEA says it is the first time it has heard of this particular incident, with the Houston PD adding that it has not received a complaint like Mims before.
Speaking to Fox 26, Mark Winter of the Southeast Houston Poison Center said that Mims' symptoms match hundreds of different poisons – despite Mims saying she only received minimal exposure to the napkin.
"In her video, her symptoms match hundreds of different poisons," Winter said. "It is possible. I've learned over my 40 years, that anything is possible when it comes to the human body."
In response to other Facebook users suggesting that Mims – a self-confessed germaphobe – could have just been having a panic attack, the mom said: "I don't care what people think.
"I just want them to know what happened. When they see that napkin, in their head they're going to know not to touch it. I just want everybody to be careful. Physically, I'm ok but emotionally, mentally, I'm not. I don't even want to go anywhere by myself."
Fox 26 adds that the details of Mims' t0xicology report are unknown.