Some people wake up to catch a flight to a sunny beach while we are in traffic jams on the way to work. Some people upload swimsuit pictures to Instagram while we iron our office blouses and jackets. Lucky devils enjoy the sea and sun while we still wander in the concrete jungle. But we won't surrender!
For those who are still looking forward to their vacation, Personal Gain prepared a collection of "overheard" stories about the daily life of workaholics.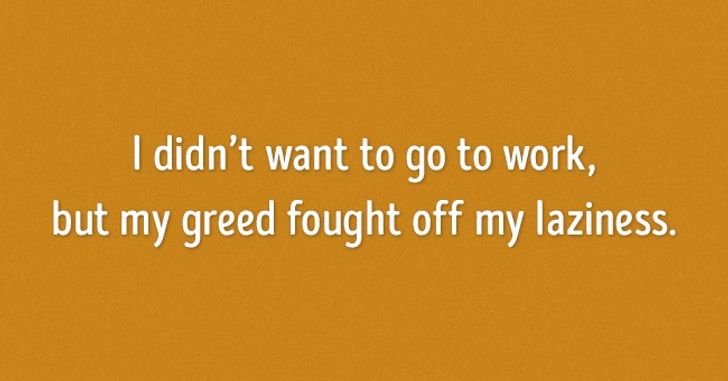 One of my direct job responsibilities is the assignment of health resort vouchers. I always try to assign single elderly ladies and gentlemen of approximately the same age to one and the same period so they can meet each other during their vacation and maybe even get married afterward. They always bring me something yummy as a sign of their gratitude. I feel like I work in a dating agency.
I'm the kind of person who just loves their job. I go to work with a smile, read work chats during weekends, always stay in touch with my employees, and can talk about my job for hours, in spite of the fact that I am "office plankton." Among my friends, I even have to lie that I'm sick and tired of it all so they don't think I'm crazy.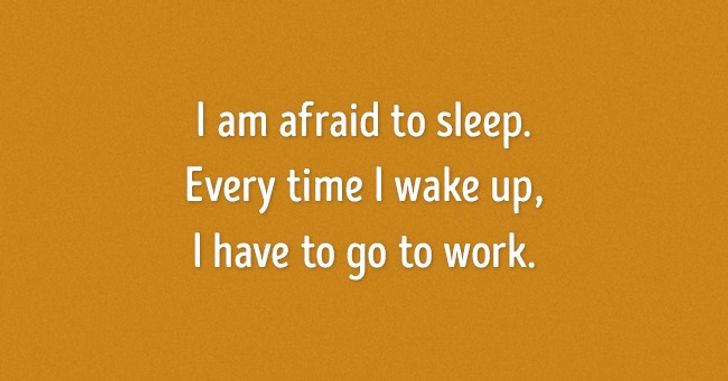 Recently I became an optician: I help people choose their glasses and lenses. At some point, I understood that this is what I want to do all my life. I cannot describe my feelings when I see my clients smiling because they can finally SEE! They can see things that they couldn't see before! I feel a kind of EUPHORIA. I feel euphoria because I can make someone's life better. The life of somebody I don't even know. Just in a moment.
I work with the Chinese. I was always surprised by their workaholism. Recently I called one Chinese lady approximately 5 times in a day. We were discussing a deal, and it was very noisy in her office. The language barrier and noise caused a lot of complications. I asked her why it was so noisy there. She told me that she was at a wedding party. There are normally 500-1,000 people at a Chinese wedding. I asked her to find a quiet spot, and she told me she couldn't do that. I asked her why, and she said she was the bride.
I work in a supply department. I provide the building materials. I used to work with one supplier who was pregnant. She was the CEO of her little business, and we were a government giant in the construction sphere, so she couldn't leave it all without her control. One day I called her and asked how she was doing, and she told me, "I'm fine, currently delivering a baby, but I remember your request and will return to it later." It seems that the Chinese are not the biggest workaholics.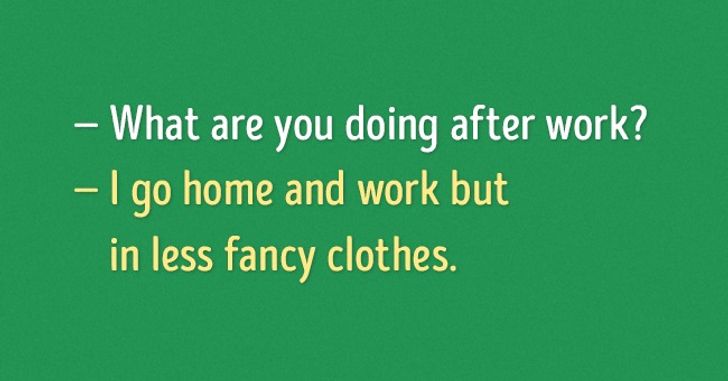 I am a math teacher. I was so swamped with work that when my daughter started talking back, I told her, "You better tell this to your mom."
I changed my workplace, and the new shop floor was 700 feet further than the previous one (it even belonged to a different company). During the first three weeks, I came back to my old workplace twice, turned on the equipment and lights, turned on the kettle, and changed my clothes. Halfway through I figured out the mistake, turned everything off, and went to the new workshop. I was late for work twice in three weeks. My boss makes fun of me and suggests that we should move our workshop there.
My sister is a workaholic. She literally spends nights at work. Recently she complained, "I live only in two conditions: 'Jeez, I'm going to be fired soon!' and 'Jeez, when will they finally fire me?!'"
Since I came to my new job I haven't taken a vacation. I dream about it all the time, even making plans, but never taking rest. It's like this because my vacation bonus is too small to continue living without difficulties and buy food until the next salary. My vacation is the following: I open Google Maps and wander through the streets of some cities or just look at the pictures of some ocean. I click on the hotel tags and imagine that I am on vacation. Then I turn it off and return to work. It's a pity that I can afford only this kind of vacation.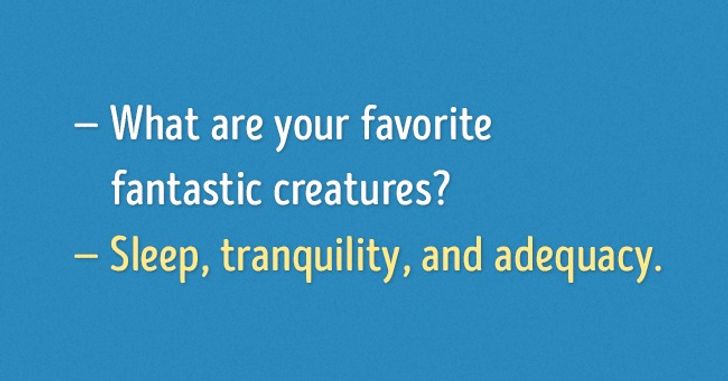 I was talking to my colleague at our workplace. He started preparing to leave. He packed his bag, turned off the computer, and was doing all the regular procedures before leaving the office while we were talking to each other. He went to say goodbye to the other colleagues. Talking to him, I automatically said goodbye and shook hands with everyone. We left the office building together and went to the subway station. I suddenly realized that I forgot to turn off my computer, forgot my coat, and wanted to work late that day.
I understood that I worked too much when I woke up at night thinking, "Oh, my goodness! I fell asleep at work! It's night, and I have to go home." I started dressing in the dark. Putting on my shoes, I realized that I was home. I'm fed up, and I need a vacation.
I came home from work tired to death. I stood under the shower, soaking in nirvana. Suddenly, I felt my breasts falling off! I grabbed them with my hands and realized that I forgot to take off my bra. It was wet and had started sliding down. I cried in fear, then laughed hysterically. My husband started knocking on the bathroom door while I was laughing like a crazy person. I have to change my job.