Our underwear can do a great job when it comes to hiding body imperfections. But it can also ruin your look if you fail to choose the right size or style. If you want to create a beautiful and elegant look, you have to remember about modern underwear etiquette.
Gain Tip has collected 16 rules that will help you choose great panties, tights, and bras without hesitation and look magnificent.
Sheer blouse rules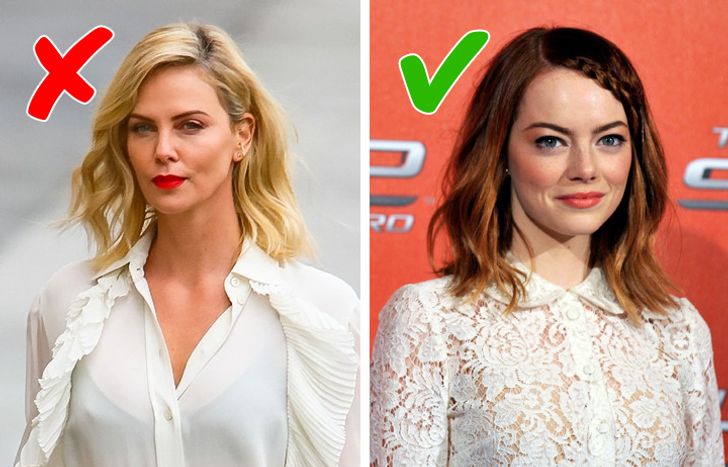 © BG017 / Bauergriffin.com / East News, © AFP / East News
You have to choose a bra of the same tone as your blouse. In the past, a combination of a black bra and a white blouse was fashionable but today it looks awful.
It's better to wear a beige bra without any colorful patterns.
If your blouse is too sheer, you may replace your bra with a lace bralette.
Avoid wearing white underwear as this color is too noticeable.
Bra rules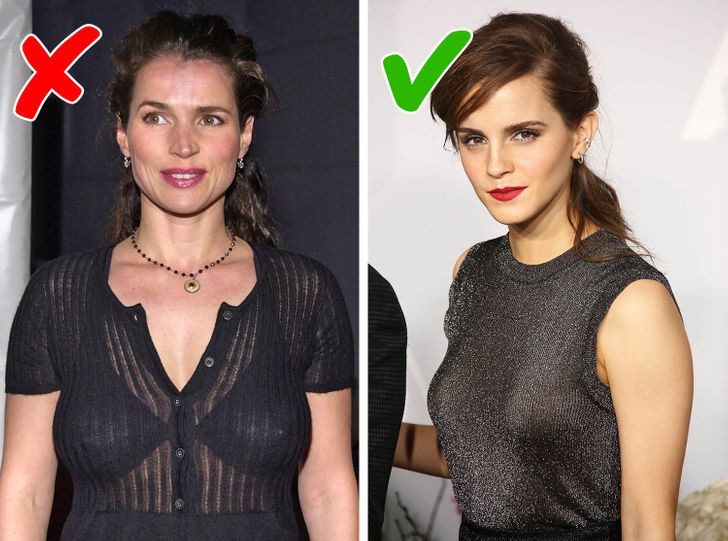 © s_bukley / Depositphotos, © s_bukley / Depositphotos
All stylists claim that there's one major rule: a bra should be invisible. First, you have to pay attention to the texture of the materials that your bra and clothes are made of.
The looser your clothes are, the more decorative details your bra may have.
If you like tight clothes, you're recommended to choose a "smooth" bra without any lumps.
Tights rules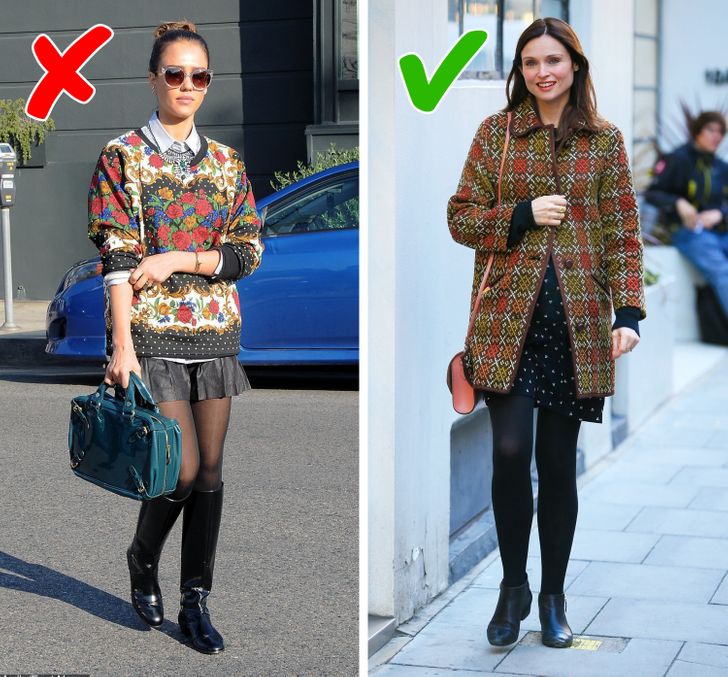 © Icono, PacificCoastNews / East News, © mega / Mega Agency / East News
Tights can make you look even more elegant. But if you fail to choose suitable tights, they can ruin the whole look. Pay your attention to your shoes and the kind of event you're going to visit.
In the office, you have to choose neutral colors and wear nude tights with clothes of lights colors and black or brown tights with dark clothes. Keep in mind that your tights shouldn't be darker than your skirt.
Patterns and prints are good for a party but not for every day.
Thick tights look great with high boots but not with open-toe shoes.
Stockings rules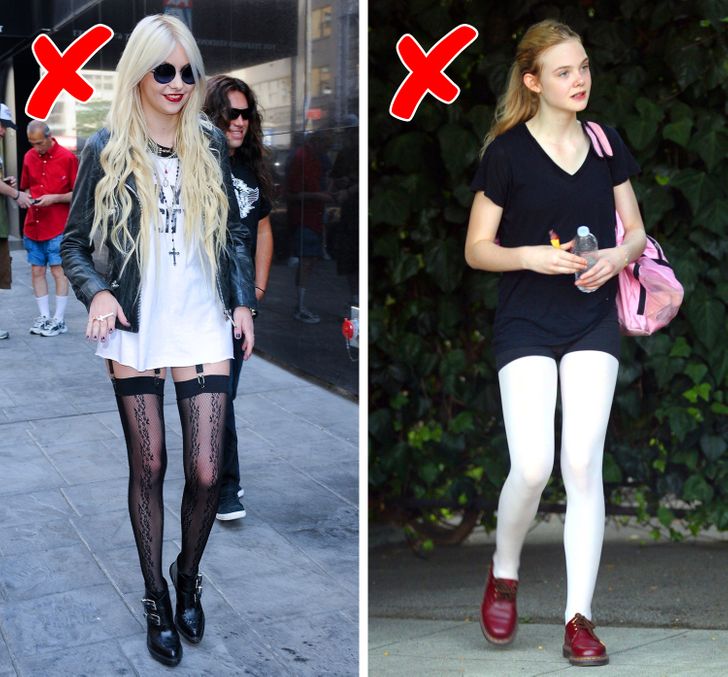 © Ray Tamarra / Everett Collection / East News, © Matt Symons, PacificCoastNews.com / East News
In the summer, stockings really help women who have to follow a dress code at work. To avoid awkward situations, you should know a few rules that will help you look elegant and attractive.
White stockings look good if you're wearing a nurse uniform or if it's part of your wedding underwear. In other cases, it's better to choose neutral colors.
It's recommended not to wear stockings with patterns if you want to minimize the appearance of excess weight since such stockings, as well as tights, make you look plumper.
Panties rules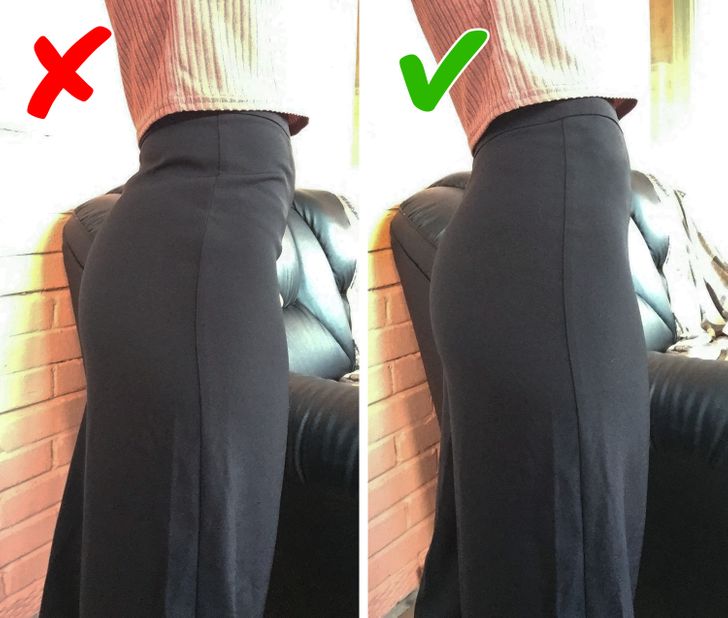 It may seem that your panties play no role in your image. But we have to remember about one tiny detail that's able to ruin your incredible look: panty lines that are extremely visible.
The size and shape of your panties mostly depend on the shape of your buttocks.
The texture of your underwear and clothes should match. For example, if you wear an item made from light fabric, you should wear panties made from a similar material.
To get rid of that problem with the elastic that literally "cuts" your body, you have to follow 2 rules: 1) choose high-waisted panties and 2) choose seamless shorts instead of thongs and bikini panties.
Bralette rules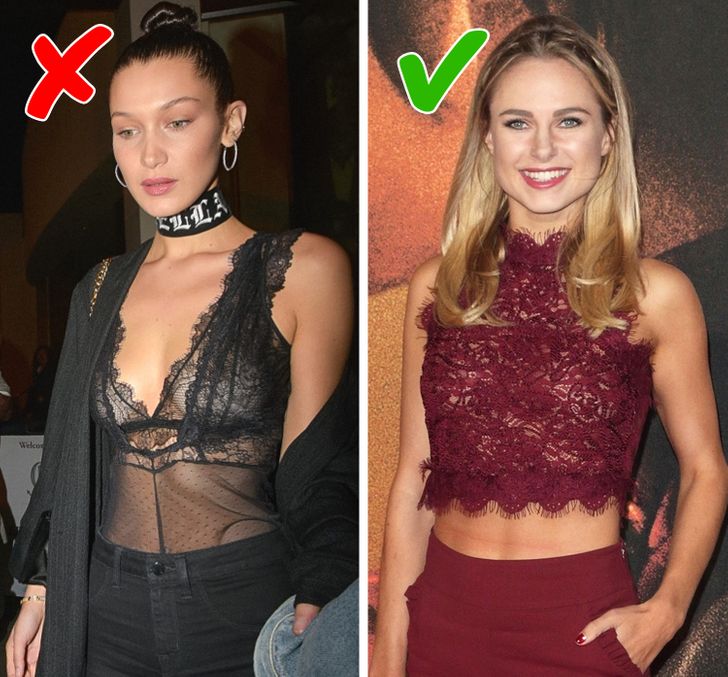 © BG008 / Bauergriffin.com / East News, © Steve Ross / Capital Pictures / East News
A bralette is a top without wires or molded cups. You may wear it as underwear or as outwear.
A brallete looks great on girls with small breasts as it's basically meant more for shape than support.
It's better to wear a bralette with a skirt or high-waisted pants.
Here's a perfect suggestion: wear a bralette under a sheer blouse. You only have to remember that the blouse shouldn't be made from a lace fabric.
Do you have any rules when it comes to underwear? Share them with us!