Royal houses carry an insane amount of cultural baggage. So it's no surprise to see them paying homage to the previous generations or even centuries-long traditions via their clothes and accessories. Fortunately, they have the funds to back up any of their fashion choices, so they gotta pull it off with style.
Gain Tip researched the meaning behind some royal clothing and accessories choices and wants to share it with you.
1. Duchess Kate's dresses to introduce her babies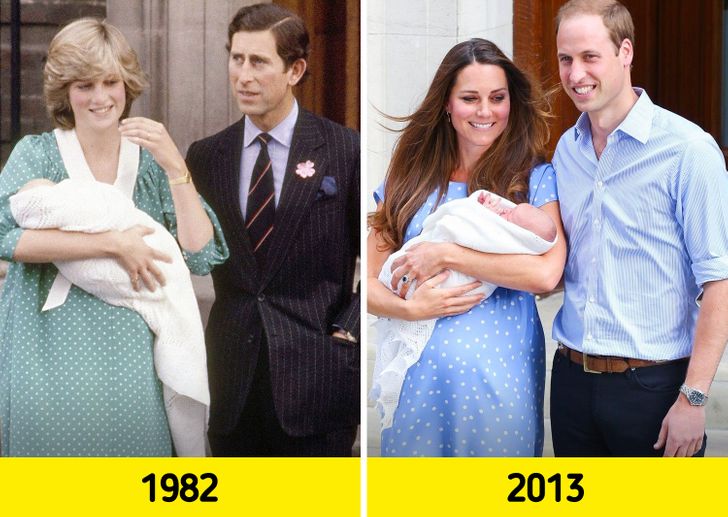 © ASSOCIATED PRESS/East News, © Ki Price/eyevine/East News
Catherine, the Duchess of Cambridge, or just Kate, wore a simple blue polka-dot dress when introducing newborn Prince George to the world in July 2013. By doing so, she paid a lovely homage to Princess Diana, her mother-in-law. This dress looked very similar to the one Diana wore when leaving the hospital with Prince William 30 years prior.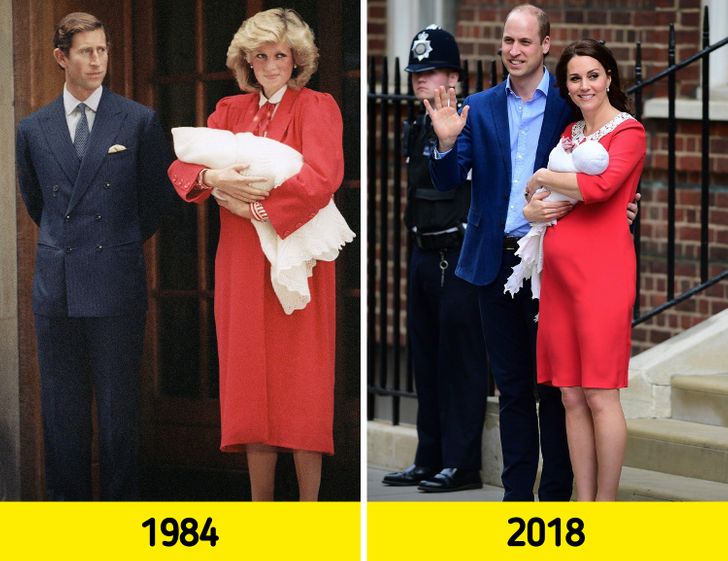 © ASSOCIATED PRESS/East News, © WENN.com/agefotostock/East News
This wasn't the only time Kate paid homage to Diana after giving birth. In 2018, Kate left the hospital with Prince Louie, wearing a red dress with a white lace collar, which was a nod to the outfit Diana wore when she introduced Prince Harry to the world in 1984.
2. Meghan's wedding veil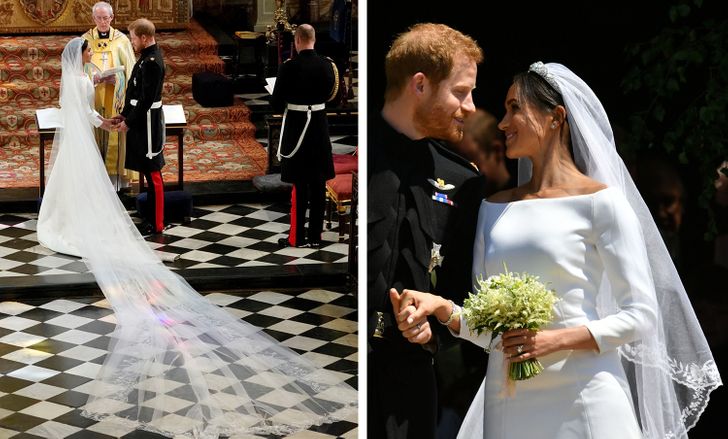 © Givenchy/MEGA/East News, © i-Images/eyevine/East News
Meghan Markle's wedding dress included a beautiful silk tulle veil (which was 5 meters long!), decorated with embroidery along the edges. Meghan wished all 53 countries of the Commonwealth to be part of her journey throughout the wedding ceremony. So, her veil was designed to feature the specific flora of each Commonwealth country: for example, the blue water lily stood for Sri Lanka and the daffodil — for Wales.
3. Princess Mary of Denmark's ruby tiara
: they were first worn by Désirée Clary, a woman who was, at some point, engaged to Napoleon Bonaparte himself. The tiara made many passes through several countries and families, eventually ending up in Denmark.
It is a symbol of a long tradition that unites generations of European royalty.
4. Princess Eugenie's open-back wedding dress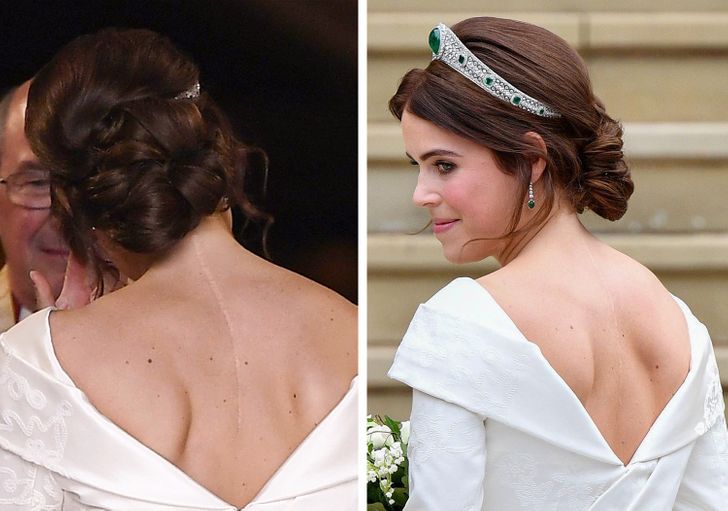 © Pool/Max Mumby/Getty Images Entertainment/Getty Images, © POOL Reuters/Associated Press/East News
As a child, Princess Eugenie needed to have a difficult surgery for scoliosis, which left a long scar on her spine. The scar grew to be an important part of her identity, so she decided to not hide it at her wedding. She purposefully requested her dress to have an open back to reveal her scar, showing that true beauty cannot be tarnished by these things.
5. Kate's tribute dress
Oftentimes, when royals travel around the world, they pay tribute to the country they visit by wearing something featuring national symbols or colors. In 2017, in her tour to Germany, Kate wore a dress adorned with eagles, which are Germany's national birds. The dress was also created by a German designer.
6. Queen Elizabeth's wedding dress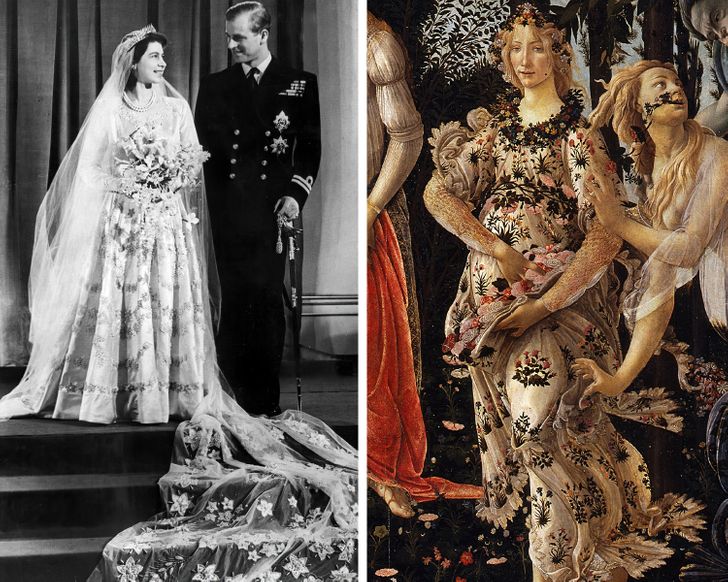 © KEYSTONE Pictures USA/eyevine/East News, © Sandro Botticelli / Wikimedia Commons
Queen Elizabeth got married in 1947, and her silk wedding gown had rich embroidery showing spring flowers, along with pearls and crystals. It was designed to send a message of hope for a bright future. The dress was also inspired by the painting Allegory of Spring by Sandro Botticelli, from 1482, which likely was created for a wedding as well.
7. Princess Diana's tiara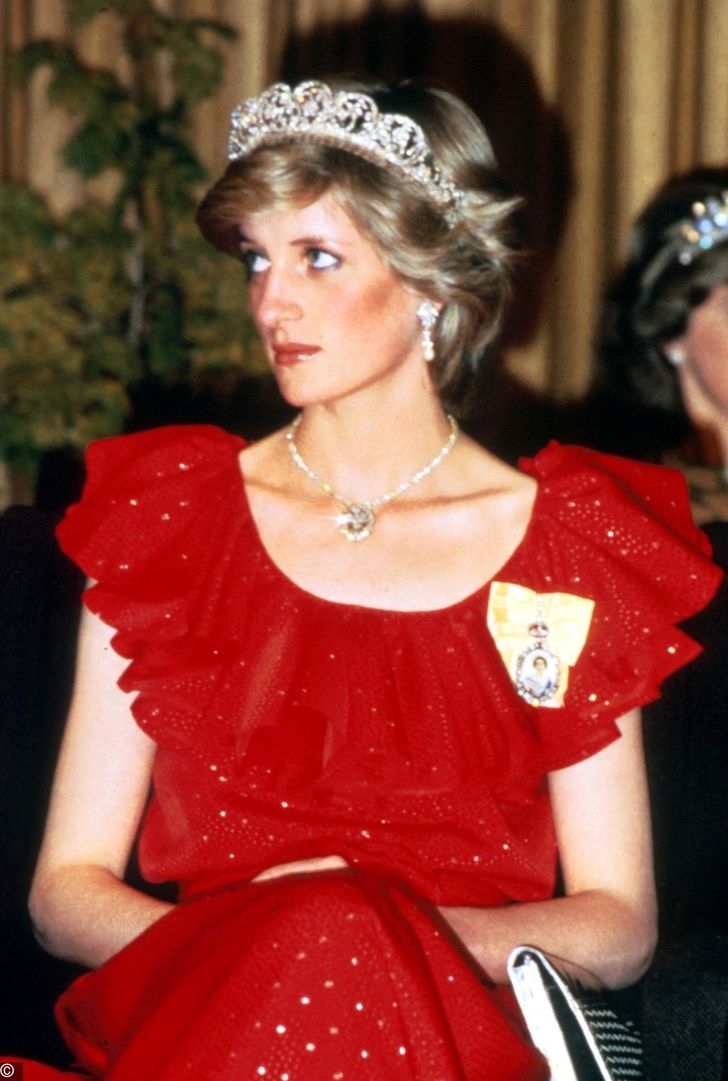 © East News
Princess Diana's family possessed an impressive collection of jewelry of its own since the Spencers came from an aristocratic lineage that can be traced back to the Tudor period. This was illustrated by the fact that on her wedding day in 1981, Diana wore her own family's heirloom tiara.
Originally, it belonged to Diana's grandmother and was completed somewhere in the '30s. Both of Diana's sisters wore it at their weddings, making it a tradition to wear this family heirloom on one's big day. Diana even chose it over the Lover's Knot Tiara, that the Queen loaned her from her private vault.
8. Sarah Ferguson's wedding dress and flower crown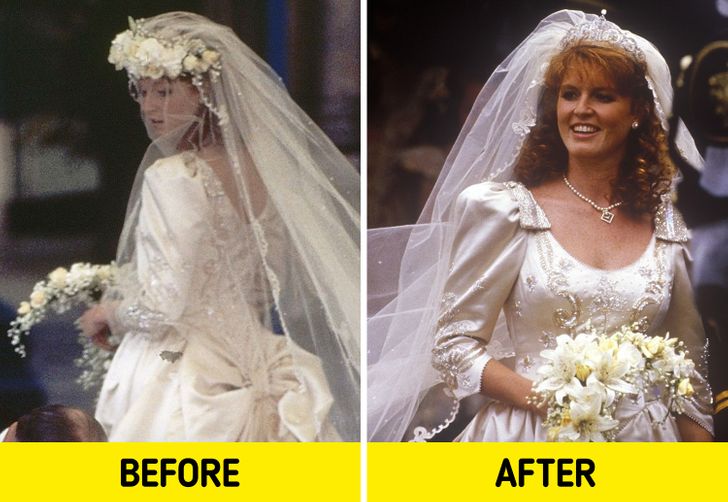 © AP/East News, © John Shelley Collection/Photoshot/East News
Fergie's silk dress was loaded with symbolism. The letter S — for "Sarah" — was beaded across the bodice, along with bees and thistles, representing her Coat of Arms.
Before signing her marriage certificate, Sarah wore a flower crown as her headdress. But as soon as the formalities were done, she removed it and revealed a gorgeous tiara, gifted to her by the Queen herself. The ceremonial removal of the flowers symbolized Sarah's official entry into the royal family.
9. Diana's choker-as-headband
Diana was famous for her rebellious character and originality. In line with that, she wore a diamond and emerald choker, loaned from the Queen, as a headband. Perhaps not what the Queen had in mind, but it showed Diana's independence and individual sense of style.
10. Meghan's diamond pendant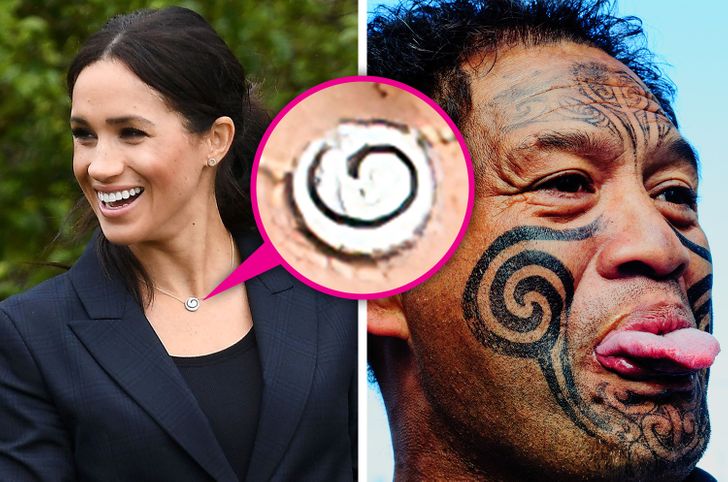 © Andrew Parsons/i-Images/i-images/East News, © Graham Crumb / Wikimedia Commons
During her visit to New Zealand in 2018, Meghan Markle wore an intriguing spiral pendant. The jewel was inspired by the traditional art of Ta Moko, an ancient form of tattooing practiced by the Maori people. It was a tribute to New Zealand's cultural heritage, created by a local jeweler.
Do you have any clothes that have some special meaning for you? Share your stories and photos with us!