Fifteen years ago, rather than real-life Barbies and botched butt jobs, the world was fascinated by an 8-year-old bodybuilder called Little Hercules (real name Richard Sandrak).
His extreme physique made him front page news. He went on to be named World's Strongest Boy at just 11.
But now he's reached the grand age of 23 and he's changed *quite* a bit.
He's given up weight-lifting, embraced his dadbod and has a hipster beard and ponytail.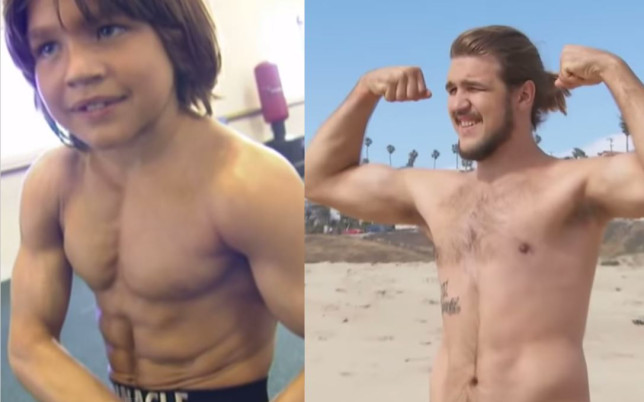 He's a hipster (Picture: YouTube)
He told Inside Edition: 'I don't lift weights anymore. If anything, it just got boring to me.'
He hasn't gone completely mainstream though. He adds: 'I set myself on fire.'
He now works as a stuntman at the Universal Studios Hollywood Waterworld show.
Richard's story has a dark side though. When he was younger, his dad Pavel was in charge of his strict fitness regime and was often criticised for pushing his son too hard, at too young an age.
When Richard turned 11, Pavel was sent to prison for domestic abuse against his wife, Richard's mum. That's when Richard cut all ties with his dad and stopped bodybuilding.
Richard at the age of nine (Picture: Stewart Cook/REX)
Nevertheless, he says he's proud of his former fame. 'I'm very proud of my past. It's not something I don't want people to know, it's just that I'm not going to be stuck living in it,' he explained.
In fact, he's got big plans for the future. His dream job? 'Quantum scientist. More specifically maybe even an engineer for NASA.'