Royal weddings are usually loaded with crowns, diamonds, dreamy dresses, and lots of opulence. Those are the things that are most admired and highlighted in magazines and documentaries, as you have probably noticed. However, the truth is that behind those perfect ceremonies, there are an overwhelming amount of secrets that very few people know about or notice. For example, the earrings Kate Middleton wore that day were a gift from her parents and symbolize her family crest.
Bright Side wants to share with you some hidden quirks in the dresses and accessories that the British royal princesses wore on their wedding day.
1. Lady Di's dress almost didn't fit in the carriage because it was so long.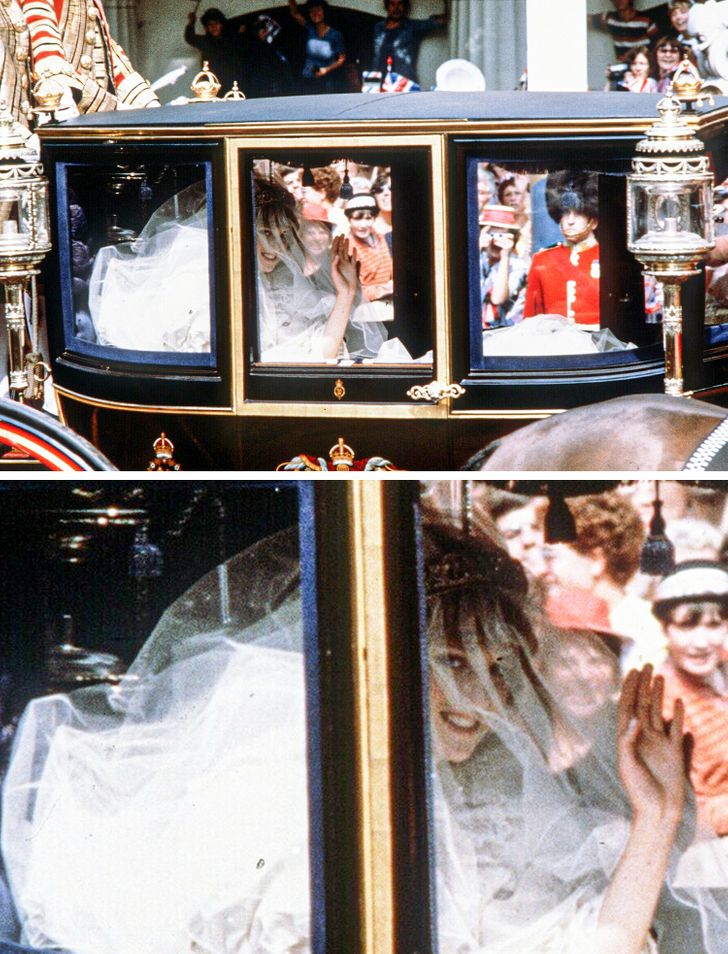 © ASSOCIATED PRESS/East News
Princess Diana's wedding dress went down in history as one of the most epic and elaborate dresses a Royal has ever worn to a wedding. It had almost 8 meters of train and many other meters of taffeta for the dress itself. However, the designers did not take into account the dimensions of the carriage that the princess would use to get to the wedding venue. That's why, on the day of the wedding, it was extremely difficult to get the wedding dress to fit in completely without any damage to the dress. When Diana descended from the carriage in front of the cathedral, many noticed the wrinkles that had formed in the skirt and train of her dress.
2. Kate wore extra padding around her hips.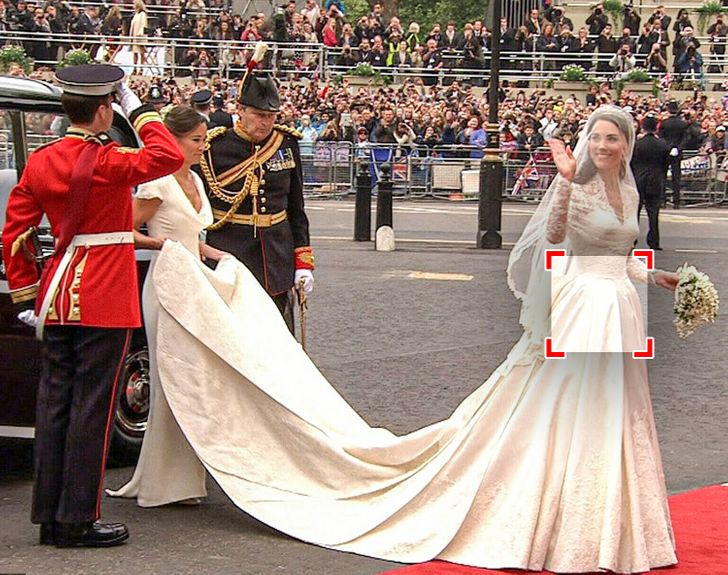 © AP/ East News
Alexander McQueen, the fashion house that designed Kate Middleton's dress, is known for giving a Victorian cut to most of their creations. In the case of the duchess' dress, the designers decided to add extra padding in the area around her hips, and under her abdomen as well. While that might seem strange at first, the actual goal was to give more volume to the garment in general, for her silhouette to be perfect. It should be taken into account that they did it in such a neat way that very few noticed this was the case.
3. Meghan Markle wore part of the dress she had on during her first date.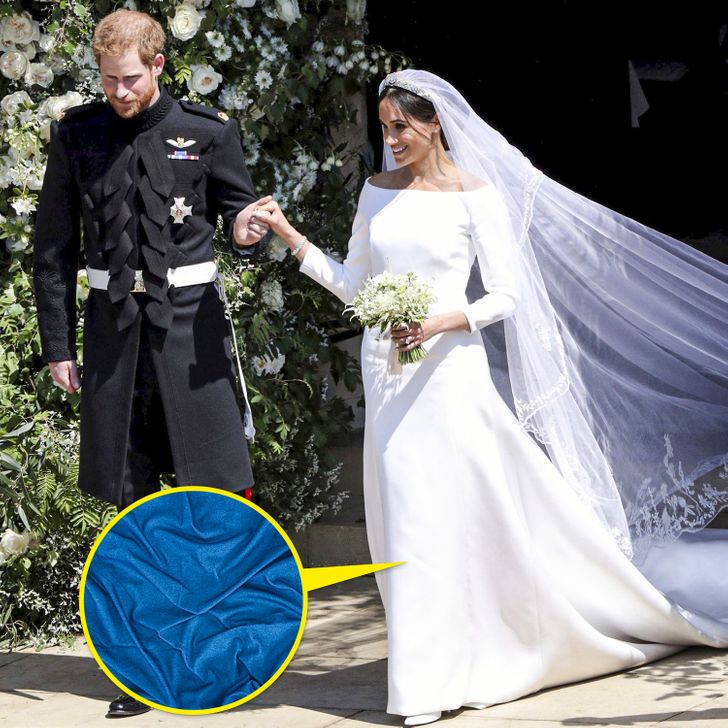 © AP/ East News, © Depositphotos.com
The tradition of wearing "something blue" on your wedding day is a very popular one. Well, Meghan Markle took this fun tradition a bit further and gave it a bit of a more personal and intimate meaning. The bride actually got a piece of blue fabric from the dress she wore on her first date with Prince Harry sewed onto her wedding dress. The blue fabric was located inside her dress so you couldn't see it. The goal was to make sure that a part of that special first moment the couple spent together accompanied them to seal their love at the altar.
4. Sarah Ferguson honored the naval career of Prince Andrew.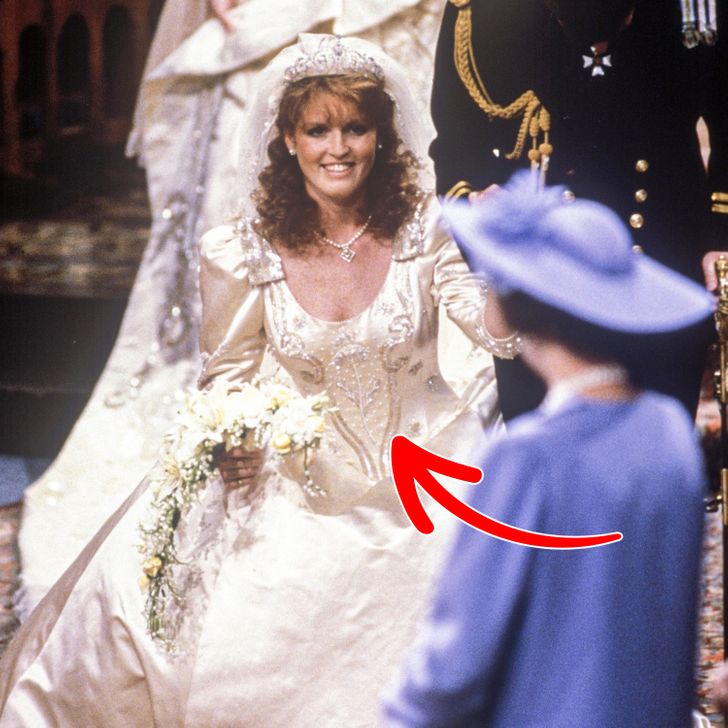 © John Shelley Collection/Photoshot/East News
Men in the royal family often pursue military careers alongside their royal duties. In the case of Prince Andrew, Queen Elizabeth's third son, he focused on serving in the country's naval force. So in 1986, when he got married to Sarah Ferguson, the beadwork of her dress incorporated various symbols including hearts representing romance, anchors and waves representing Prince Andrew's love of the sea, and bumblebees and thistles, which were taken from Sarah Ferguson's family heraldry. She also wore their initials embroidered on the train of her dress.
5. Princess Eugenie had symbolic flowers embroidered on her gown.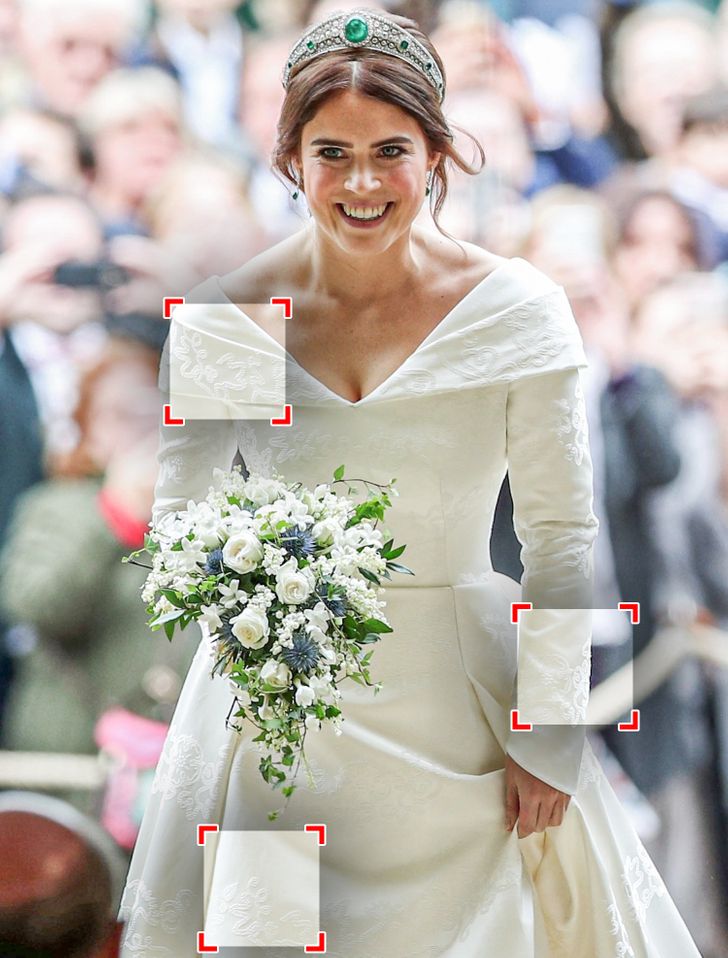 © Photoshot/East News
For Princess Eugenie's wedding, designers Peter Pilotto and Christopher De Vos wove various elements into the fabric of the dress. All of these had a very special meaning for the bride. The objects in question turned out to be different types of flowers and plants, all with different reasons for being there too. The first was a thistle, which represented the royal family's residence at Balmoral. The second was a shamrock, which is a symbol of her Irish heritage on her mother's side. The third was a York rose, in honor of her parents' duchy. Finally, the fourth was an ivy, as a tribute to Ivy Cottage, her home at Kensington Palace.
6. Lady Di had 5 different bodices made for her.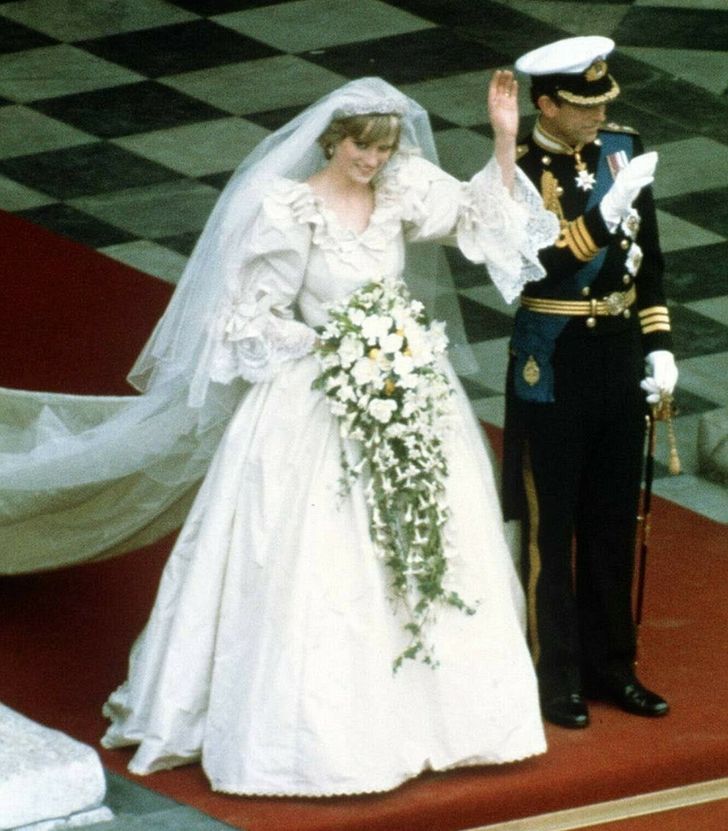 © UPPA/Photoshot/REPORTER/EastNews
As the date of her wedding approached, Princess Diana kept losing weight. In fact, in the 7 months leading up to the ceremony, Lady Di's waist shrank by 4.72 inches (12 centimeters). That's why each time she tried on her dress again, the garment seemed to grow larger than the last time. Faced with this unforeseen event, designers were forced to make up to 5 different bodices to accommodate the Princess's physical changes. However, at the end, they ended up adjusting the dress's waist on the day of the wedding itself.
7. Kate's earrings were a tribute to her family.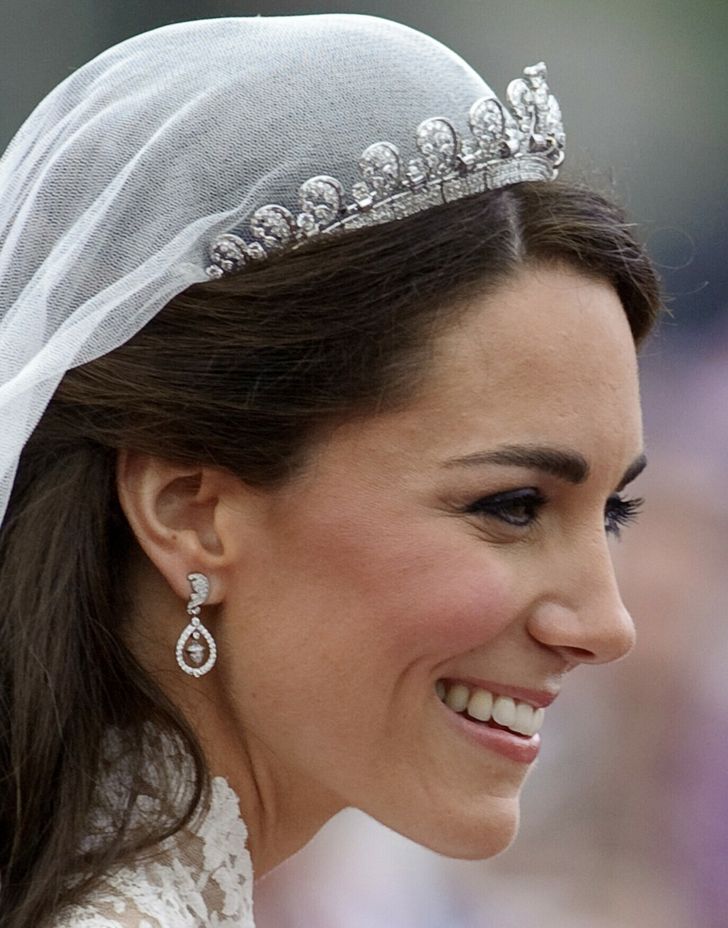 © AFP/ EAST NEWS
Before the engagement of their daughter to Prince William, Kate Middleton's parents had a pair of earrings made at Robinson Pelham jewelry. The designers of these earrings were inspired by the Middleton family crest to create the earrings, so you can actually see an acorn in an oak tree right in the center of the pieces that the now duchess wore on that very special day. This was the wedding gift Kate received from her parents and what a gift! It was, at the same time, the Middleton's way of putting their mark on the wedding.
8. Princess Eugenie sent a message of confidence and self-esteem.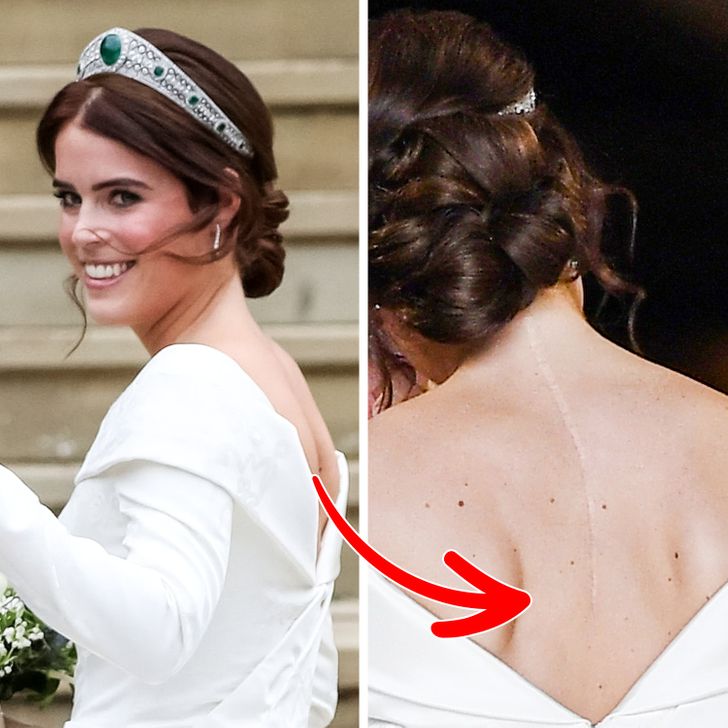 © STEVE PARSONS/AFP/East News, © POOL Reuters/Associated Press/East News
One of the main details of royal attire is the veil that accompanies the wedding dress. But even if that's the case, at least according to tradition, Princess Eugenie chose not to wear one. But don't think that she did it out of rebellion or even because she wanted to capture people's attention. Her decision contained a great message of self-esteem, because, in addition to that, she asked for her dress to have a plunging neckline in the back. This design exposed the large scar that the princess was left with due to a surgery she underwent at the age of 12 for her scoliosis.
9. Sarah preferred to enter the church with a wreath of flowers.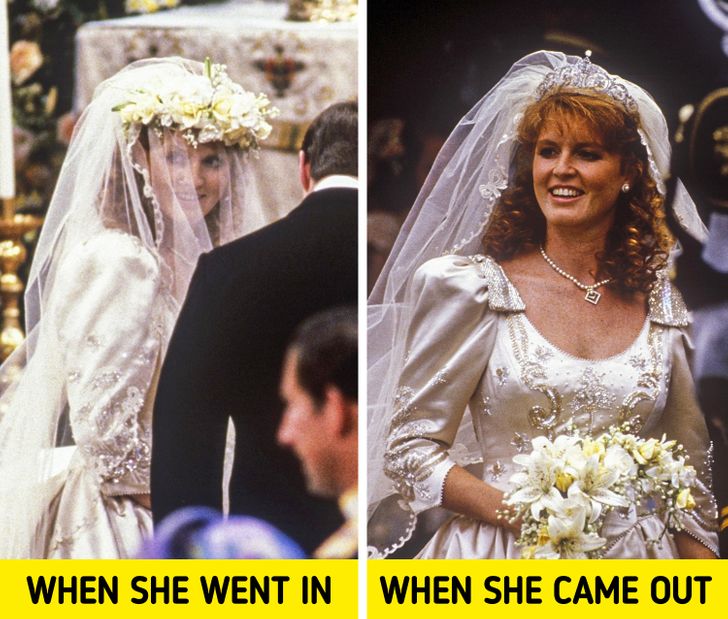 © John Shelley Collection/Photoshot/East News, © John Shelley Collection/Photoshot/East News
While most royal brides wear a tiara to secure their veil on their wedding day, just like Eugenie, Sarah broke tradition. In this case, it was by entering the church with a crown of gardenias on her head instead of a tiara. She chose these flowers because they are Prince Andrew's favorite. After signing the marriage certificate, the bride removed the crown of flowers and revealed that under them there was a hidden diamond tiara, specially made for her at the request of Queen Elizabeth and the Duke of Edinburgh. It was like this that Sarah signified her entry into royalty.
10. Kate paid tribute to other Royal's wedding dresses.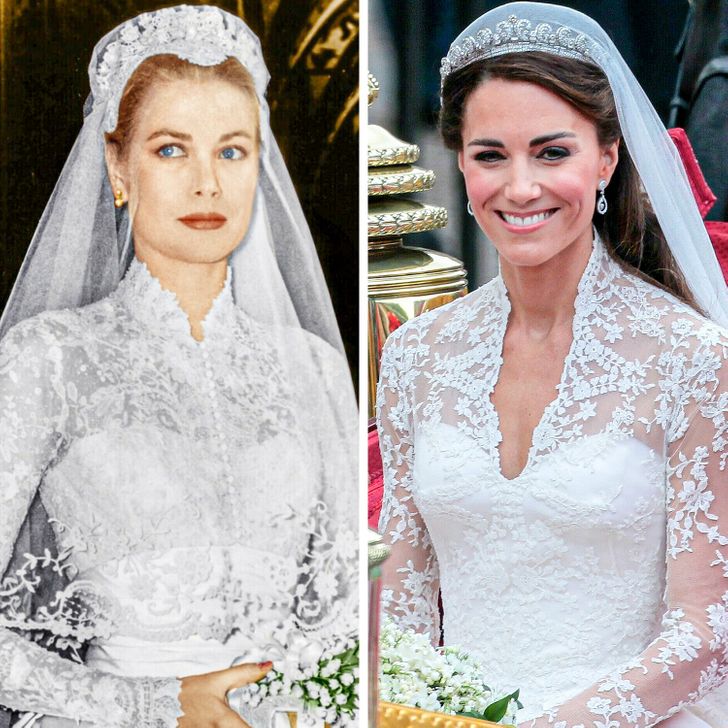 © East News, © PHOTOSHOT/ REPORTER/ East News
Although Kate Middleton's dress got very good reviews from fashion experts, some of them also noted that it had some similarity with other wedding dresses from other royal weddings we've seen in the past. The gown that Middleton's piece, designed by Sarah Burton from Alexander McQueen, most resembles is the one that Grace Kelly wore for her wedding to Prince Ranier of Monaco. Both garments share similar details, like the high lace collar and the long sleeves.
11. Princess Diana stained her wedding dress.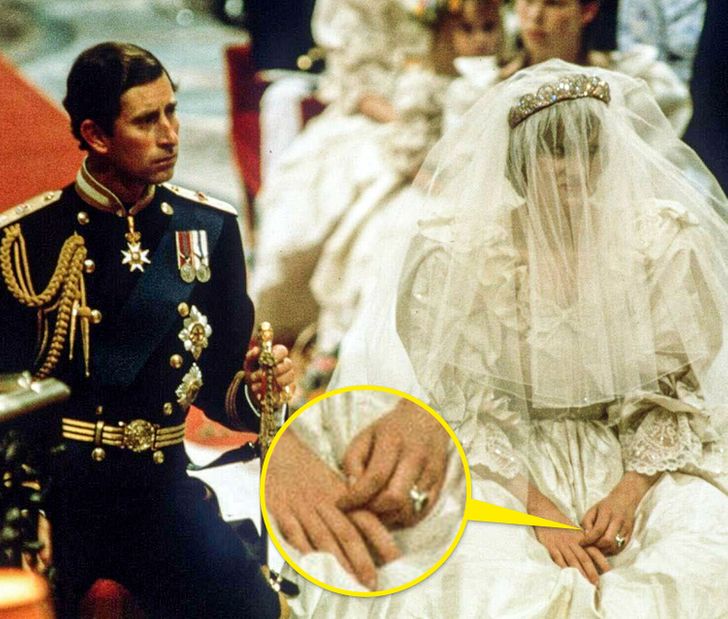 © UPPA/Photoshot/REPORTER/EastNews
Just hours before her wedding, Diana suffered a small incident with her wedding dress. As she was getting ready to leave for the cathedral, the princess spilled some of her perfume on her gown. Her cool character led her to try to not make a big deal of it and trust that no one would notice. And indeed, this was the case, because nobody really noticed that day. It wasn't until her makeup artist, Barbara Daly, revealed this detail in her book Diana: The Portrait that the fact became public. Knowing that now and looking back at it, you can clearly see that in some pictures the princess tried to cover up the front of her dress to hide the stain.
12. The license plate on Meghan and Harry's car had their wedding date on it.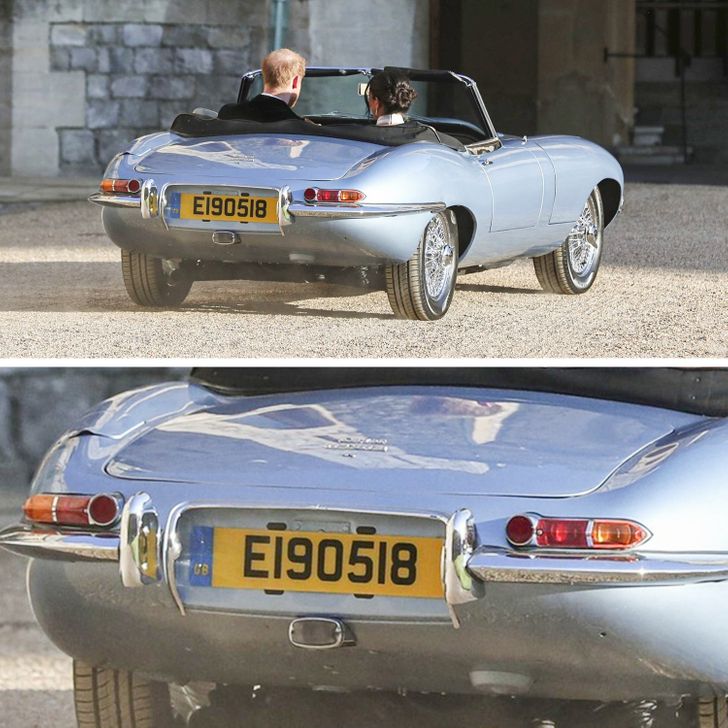 © AP/ EAST NEWS
After Harry and Meghan's emotional and very symbolic wedding, Prince Charles hosted an after-party that same evening, where only a very select group of guests were invited. In the pictures taken after the ceremony, you could see the bride and groom leave Windsor Castle, hand in hand, in a blue Jaguar. They were actually on their way to Frogmore House, the residence of the Prince of Wales. It turns out that the license plate of the car in which the couple left was specially made for that day, and its numbers referred to the date of the wedding: 19-05-18.
13. The lace on Kate's dress was handmade.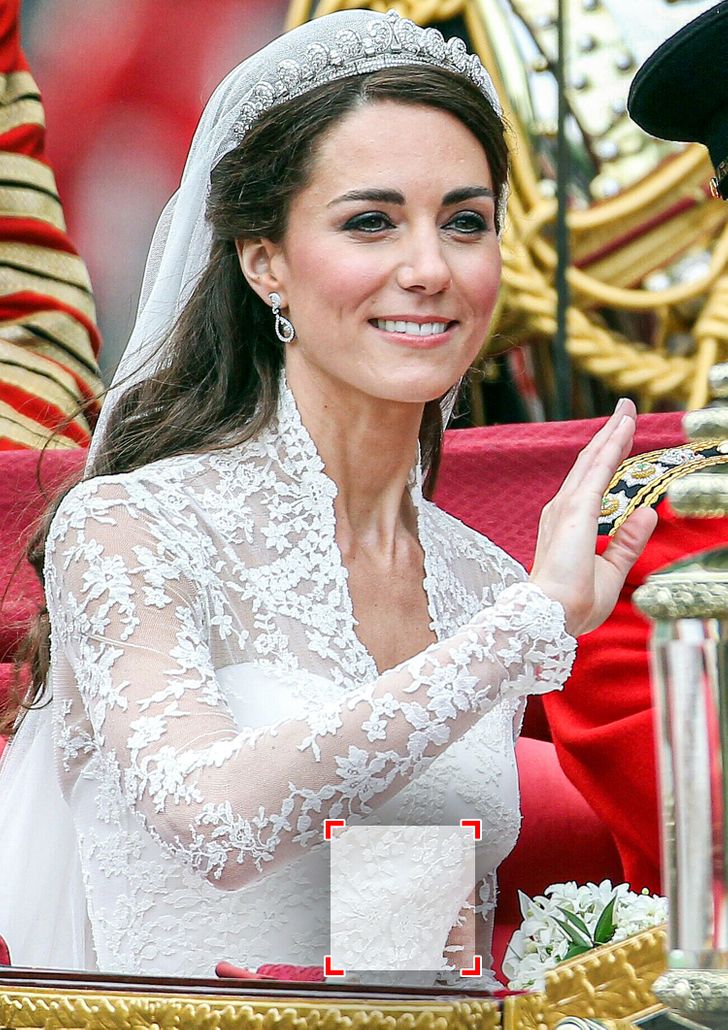 © East News
The lace appliqués that adorned Kate Middleton's wedding dress on the bodice and skirt required a lot more work than you might think at first. According to a palace announcement, the lace was handmade by the Royal School of Needlework using an Irish technique called Carrickmacross, which dates back to 1820. Individual flowers were hand-cut from lace and hand-engineered onto ivory silk tulle to create a unique and organic design.
14. Sarah avoided repeating Lady Di's story.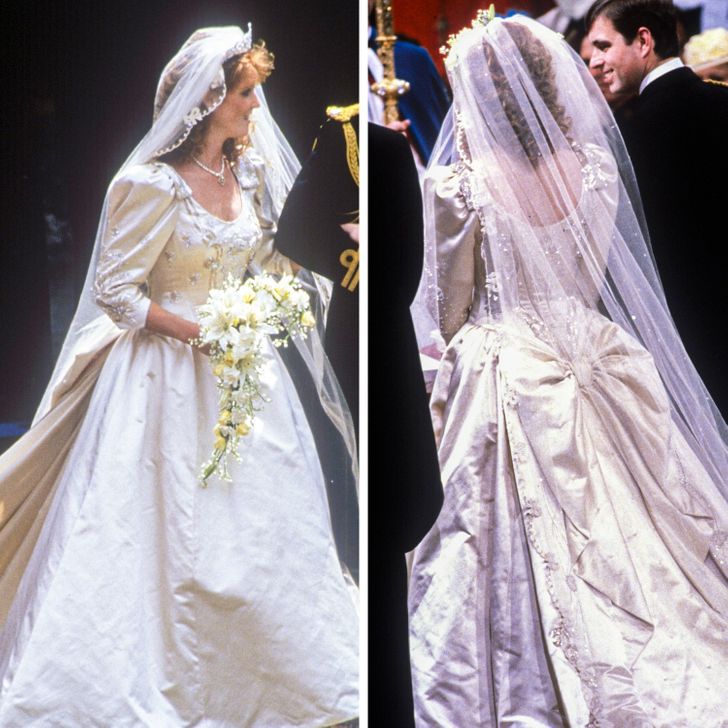 © John Shelley Collection/Photoshot/East News, © John Shelley Collection/Photoshot/East News
Sarah Ferguson was the next bride to walk down the aisle after Lady Di's media-worthy wedding so she had an advantage: by then, the little "mistakes" that had been made during the wedding of the Prince and Princess of Wales had already come to light. We're referring to small things like, for example, the issue with the fabric of the dress that we wrote bout earlier. Diana's gown was made of taffeta, a fabric with a great tendency to wrinkle, and it happened. To avoid repeating history, Sarah's dress was made of satin, a softer material that never wrinkles and falls naturally without bulging.