Ben Affleck was spotted having some much-needed chill time on a honeymoon cruise, following his intimate wedding to Jennifer Lopez.
The 49-year-old Gone Girl actor was enjoying a cruise down the River Seine in Paris, France, where he was vacationing with his 51-year-old singer-actress beau, Lopez.
In the snaps, Affleck, who donned a casual look, dozed off while sitting aboard the open-air cruise, with his feet up on part of the boat railing.
Meanwhile, the 'Jenny From The Block' singer was spotted rocking a lovely floral dress and sunglasses, as she enjoyed the sunny weather in the city of love.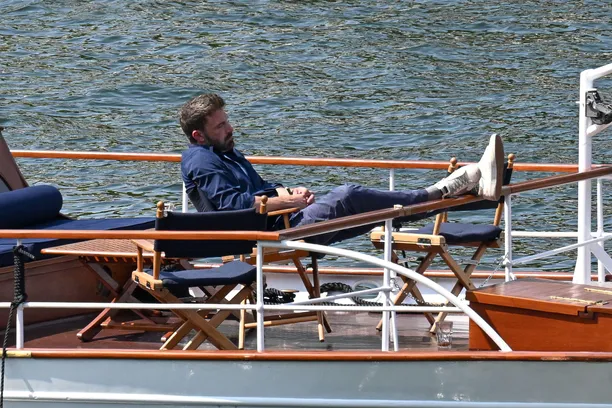 Ben Affleck was asleep on the cruise ship. Credit: Sipa US / Alamy.
The couple, who eloped to Las Vegas this month to tie the knot, were with their children – Lopez's 14-year-old twins, Emme and Max, and Affleck's daughters Violet, 16, and Seraphina, 13.
The newlyweds' blended family was photographed leaving the Crillon hotel and enjoying the capital city before stopping to enjoy a lunch outing on a boat.
The pair have not been shy about physically expressing their fondness for one another. Both stars were photographed hugging and kissing each other near the Elysée Palace last week and were also spotted locking lips at a fancy restaurant with their kids.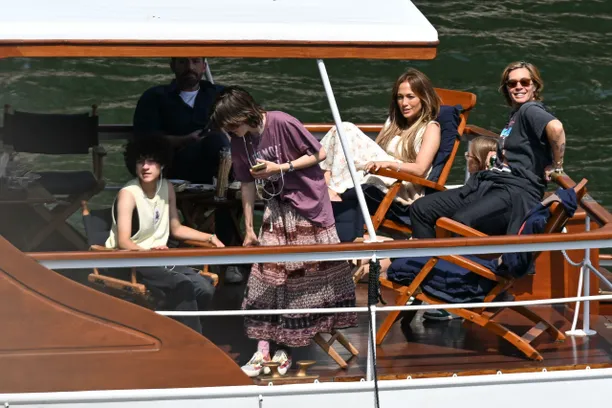 Jennifer Lopez and Ben Affleck with their children. Credit: Sipa US / Alamy
According to ET Online, while Affleck and Lopez had an intimate wedding, they are still "planning to have a larger celebration soon with family and friends" to "celebrate their love in a bigger way".
"The newly married couple has kept their celebrating to a minimum as they plan to have a bigger gathering within the next few weeks," the source continued.
"Both have been married before and wanted to keep the marriage quiet and low-key before they plan to have a big celebration in Georgia," they added.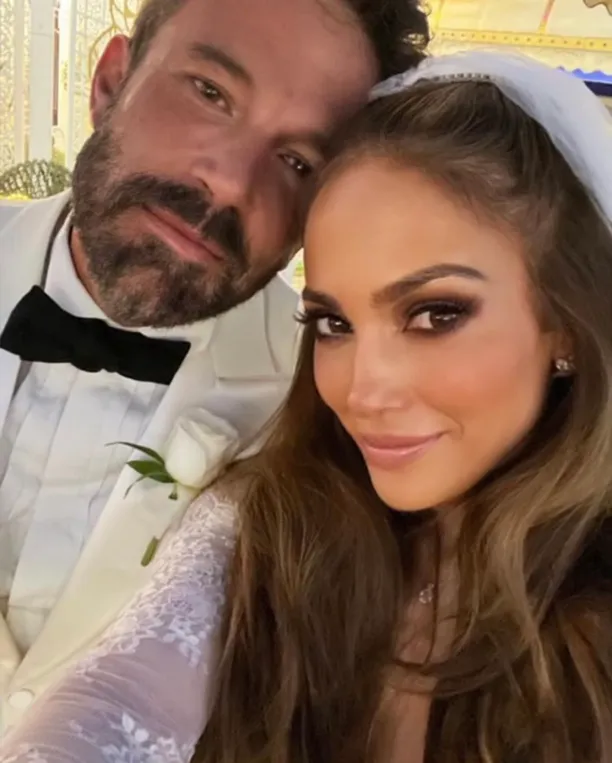 Credit: onthejlo.
The high-profile couple first met on the set of the movie Gigli in 2002 and embarked on a very public romance. In 2003, they announced their engagement before postponing their wedding in 2004 just days before their split.
Affleck went on to marry Alias star Jennifer Garner in June 2005, before their divorce in 2o18, and Lopez married singer Marc Anthony in June 2004 before they split in 2011.
After almost a decade since their last engagement, the Hustlers actress announced in April this year, via her fan newsletter, On The JLo, that Affleck proposed to her.
Lopez then revealed in her newsletter last week that the couple had officially wedded, writing: "We did it. Love is beautiful. Love is kind. And it turns out love is patient. Twenty years patient."