The pop icon shared a cryptic TikTok video on Sunday in which she seemed to declare herself as gay.
In the clip, the 'Like A Virgin' singer is sporting bright pink hair and wearing a bustier top with white pants.
A caption – "If I miss, I'm Gay!" – flashes up on the screen as the 64-year-old tosses a pair of pink panties into a trashcan – and misses.
Unsurprisingly, the video sparked furious speculation among fans, with thousands taking to the comments section to speculate over the 'Material Girl' singer's sexuality.
"Did I just witness Madonna coming out," one asked. Countless more questioned the same thing, with another commenting: "Did .. madonna.. just come out?"

Credit: TikTok


Credit: TikTok
Meanwhile, others pointed out that – while this is the first hint she's a lesbian – Madonna has reportedly been openly bi for quite a few years.
"Madonna has been an out bisexual for literally decades my dudes," one commented, while another wrote: "Y'all Madonna has been out as bi longer than some of us have been alive."
The Queen of Pop may have a long dating history, but she's never officially been in a relationship with a woman.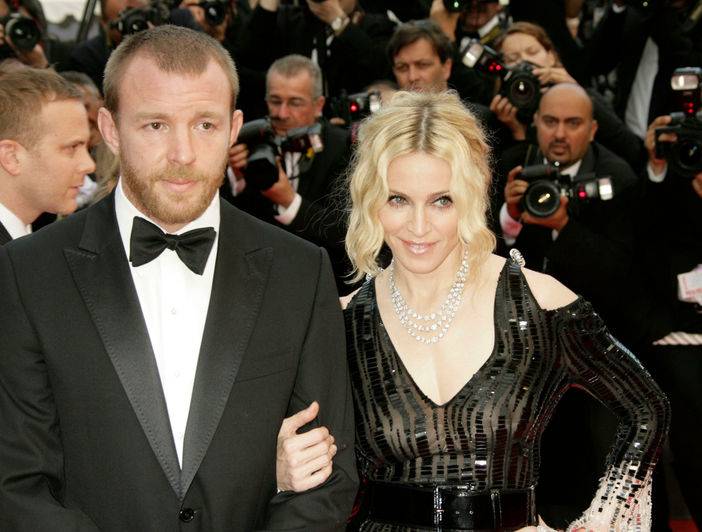 Madonna and her then-husband Guy Ritchie in 2008. Credit: Francis Specker / Alamy
Alongside her two famous ex-husbands (actor Sean Penn and director Guy Ritchie), Madonna has had flings with rapper Vanilla Ice and choreographer Ahlamalik Williams.
She's also welcomed six children – Lourdes, 25, Rocco, 22, David, 17, Mercy, 16, and 10-year-old twins Stella and Estere.
But while she may have never officially been with a woman, Madonna has hinted that she's into girls on more than one occasion.
A particularly memorable example of her attraction to the fairer sex came at the 2003 MTV VMAs. During an onstage performance, Madonna infamously locked lips with both Britney Spears and Christina Aguilera – a kiss which she later explained had symbolically passed the Queen of Pop torch to the younger artists.