Chrissy Teigen recently shared a heartwarming pregnancy update!
And it has left the internet with all of the feels …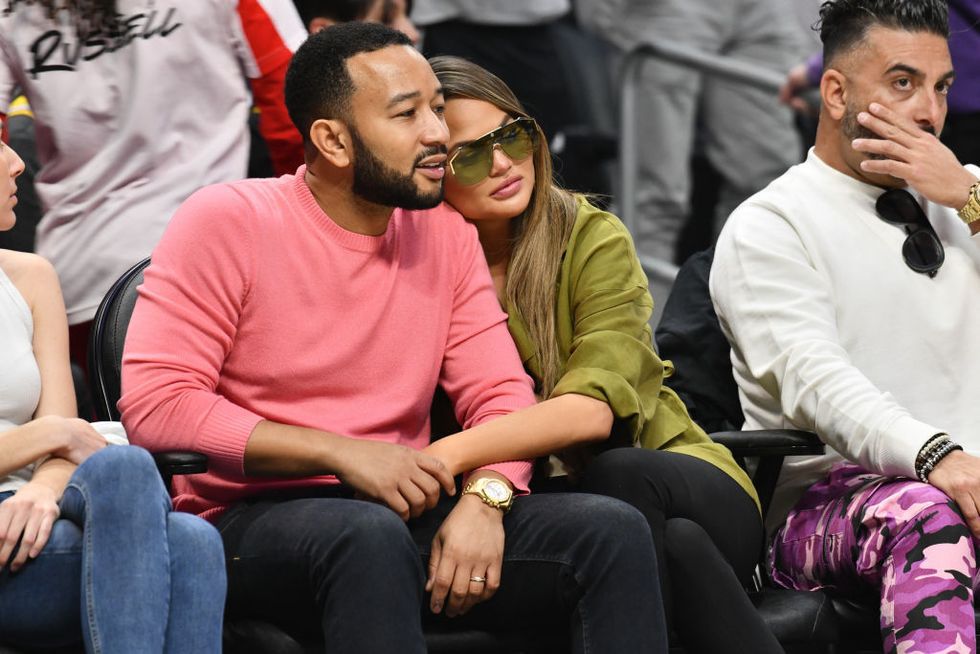 via Getty Images
Scroll down for the full story!
As we all know, Chrissy Teigen and John Legend are one of the internet's most beloved celebrity couples.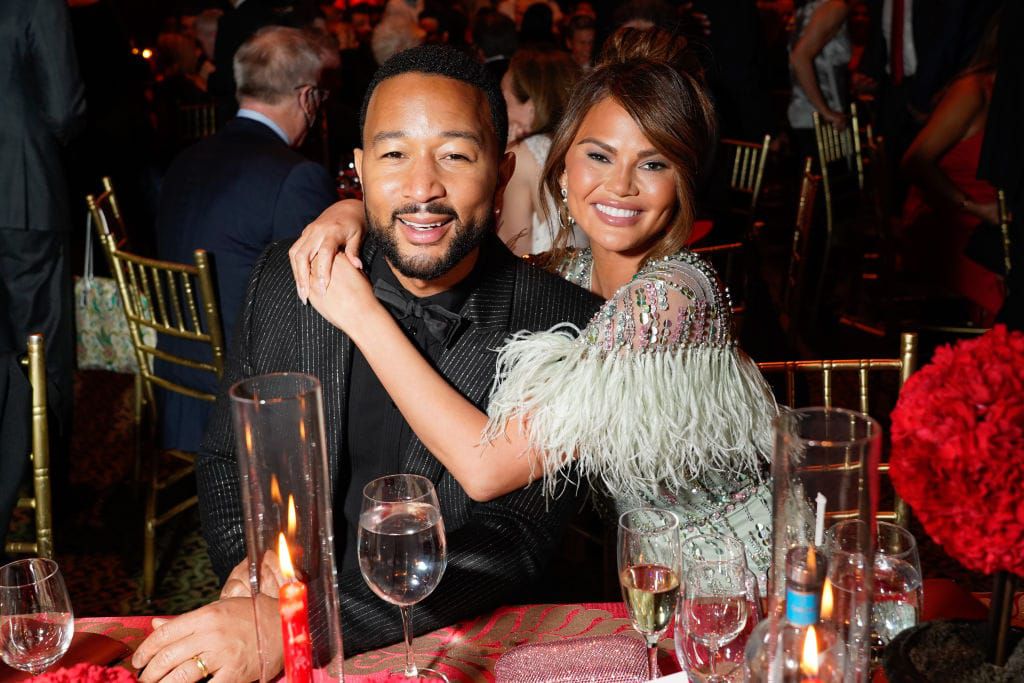 via Getty Images
Musical star John is married to model, Chrissy, and the pair have a huge public presence.
And they're so cute together.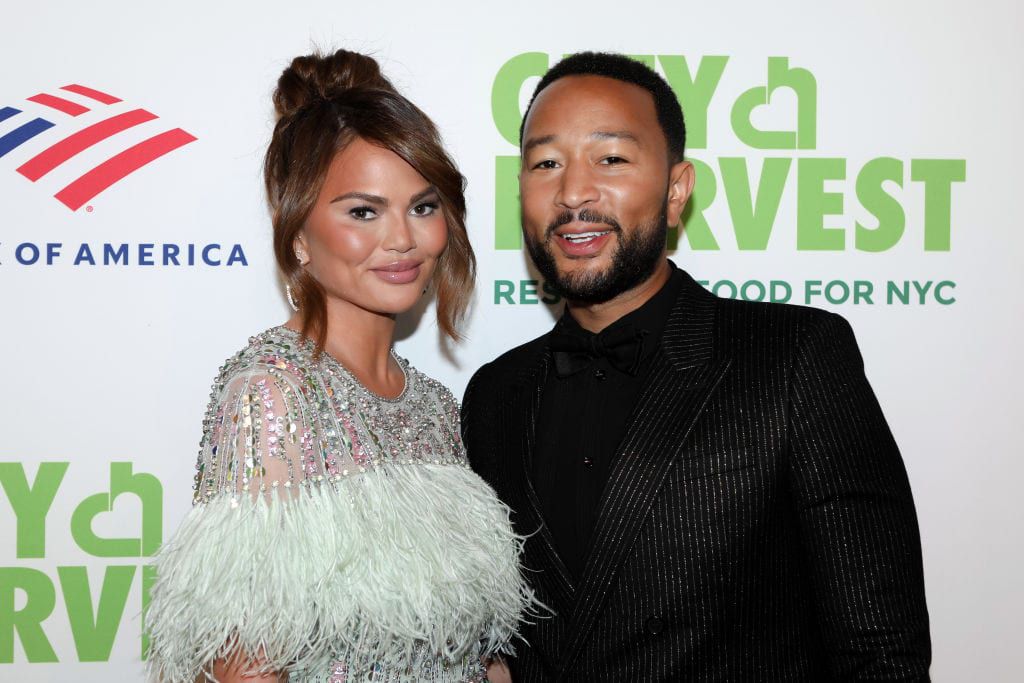 via Getty Images
The couple got together over a decade ago and have gone from strength to strength ever since.
Chrissy first met her husband on the set of his 2007 music video for "Stereo," where she starred as the singer's love interest.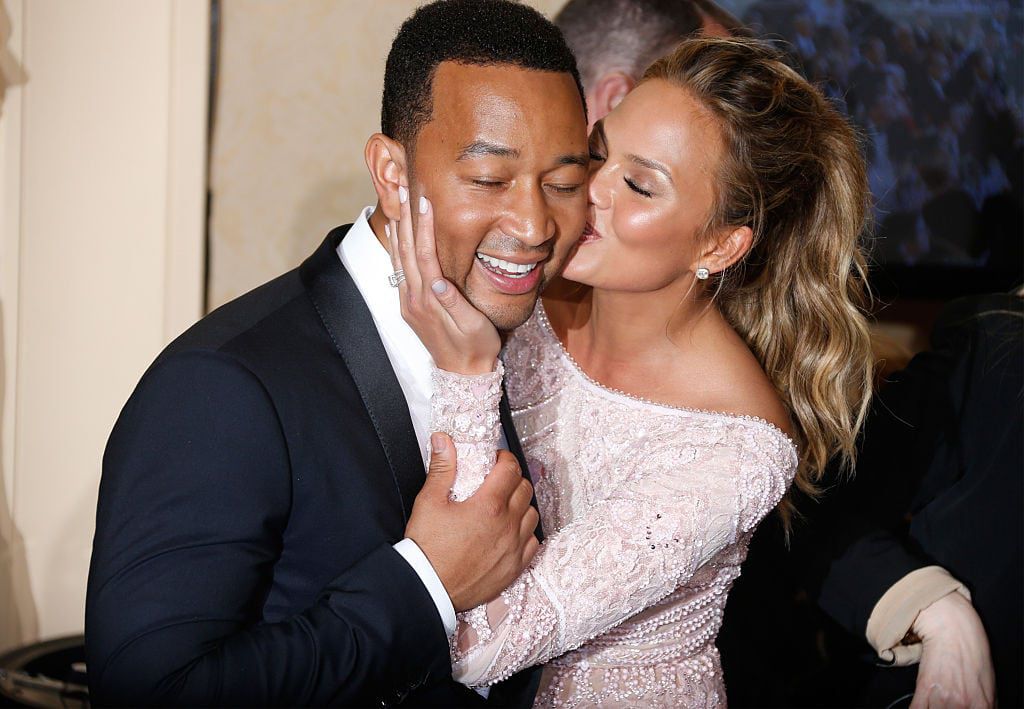 via Getty Images
The model, author, and TV personality later revealed that when the shoot was over, the pair went back to John's hotel room, ate an In-N-Out, and hooked up. "We did the music video, we were together for like 12 hours," she told Wendy Williams in 2014.
"We spent the entire day together, me in my underwear and him in a full suit, and I went to go say goodbye to him, to his hotel and we didn't even say goodbye that night."
While John was on the road, the couple talked and texted a lot.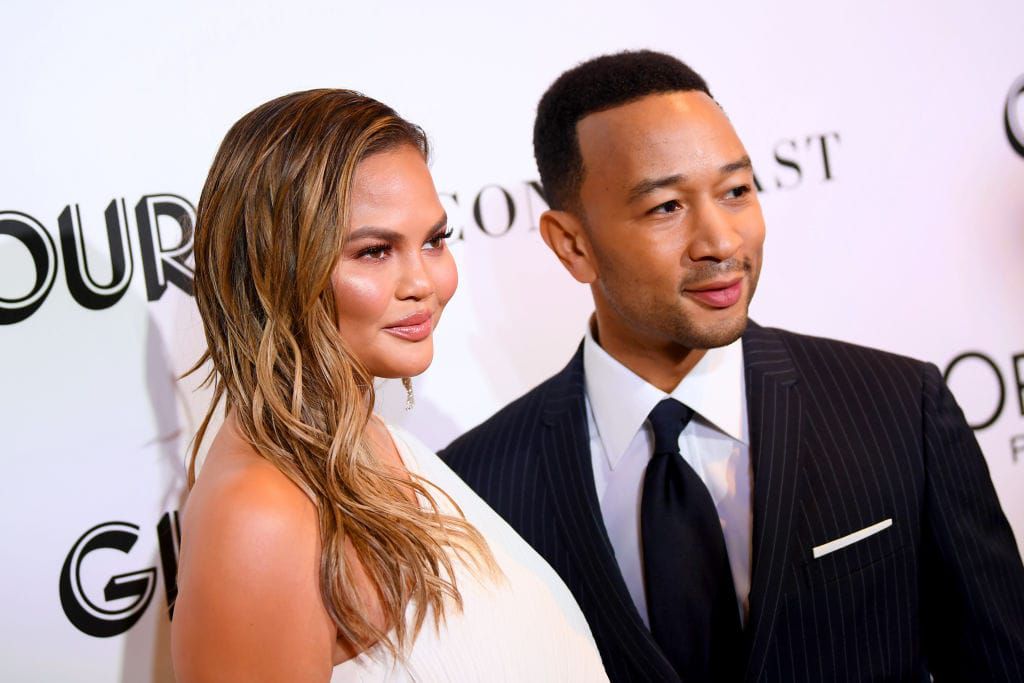 via Getty Images
But it wasn't long before Chrissy joined her beau on tour. Although the pair had a mini-break up during this time… that lasted a day. "He was feeling really bummed and stressed out [on tour]. He was like, 'I can't be in a relationship right now.' That lasted for one day. Literally, a day. I knew it came from a place other than us not working."
Oh, but it only get's cuter.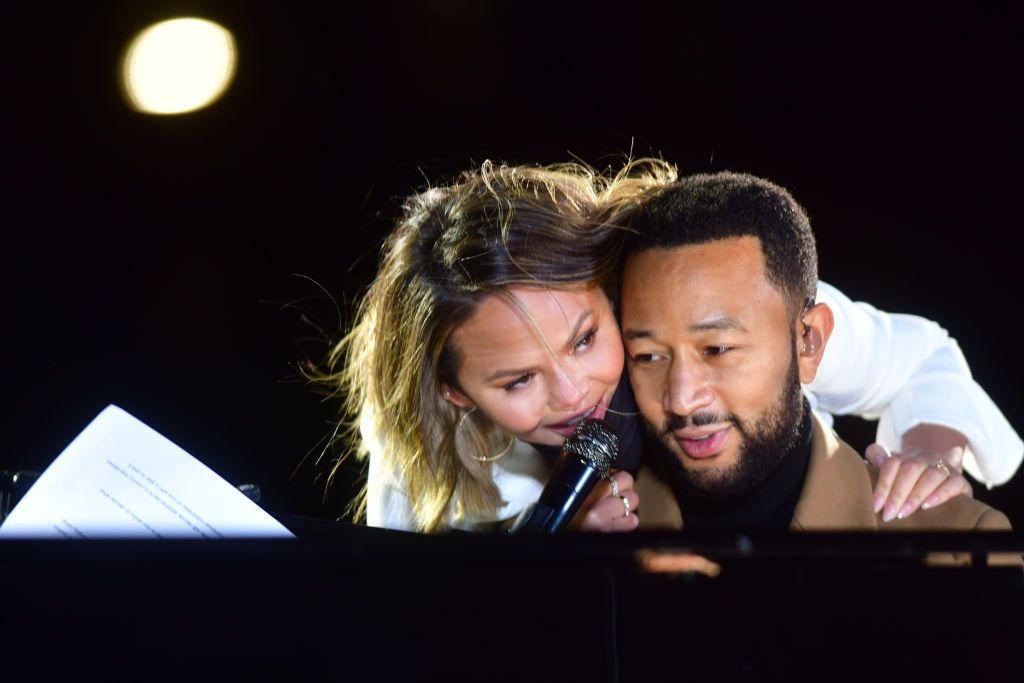 via Getty Images
The couple took their first trip to Lake Como, Italy — the future site of their wedding and filming location for the music video of the smash hit 'All of Me' — in 2007.
Apparently, it was on this getaway that Chrissy knew that she wanted to spend the rest of her life with him.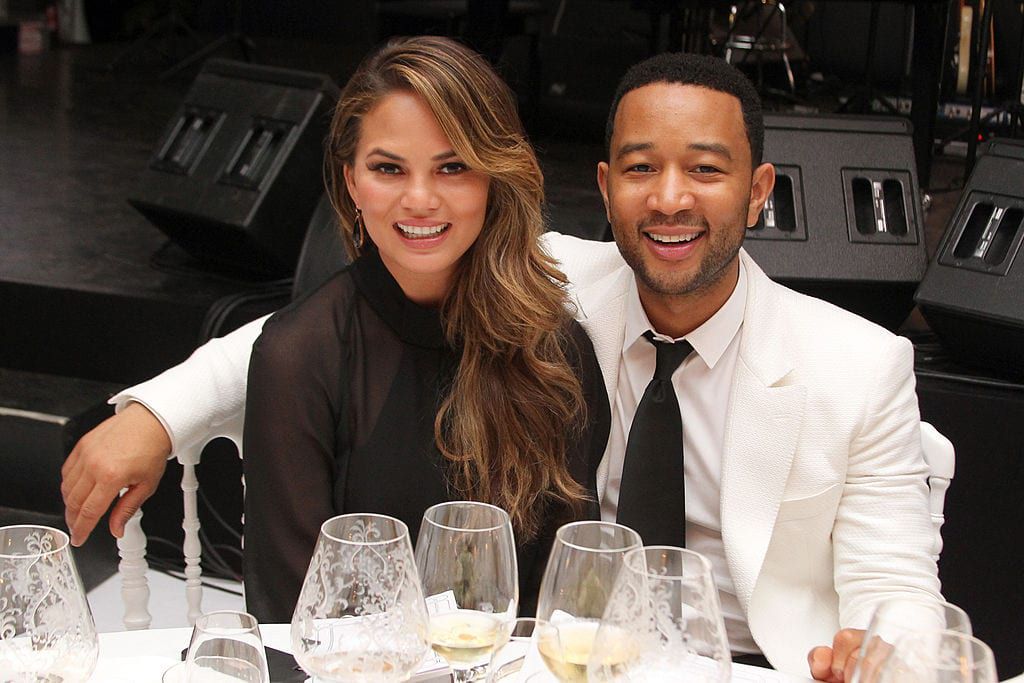 via Getty Images
He proposed during a romantic vacation in the Maldives over the festive season — which is Chrissy's favorite holiday.
And then they eventually tied the knot.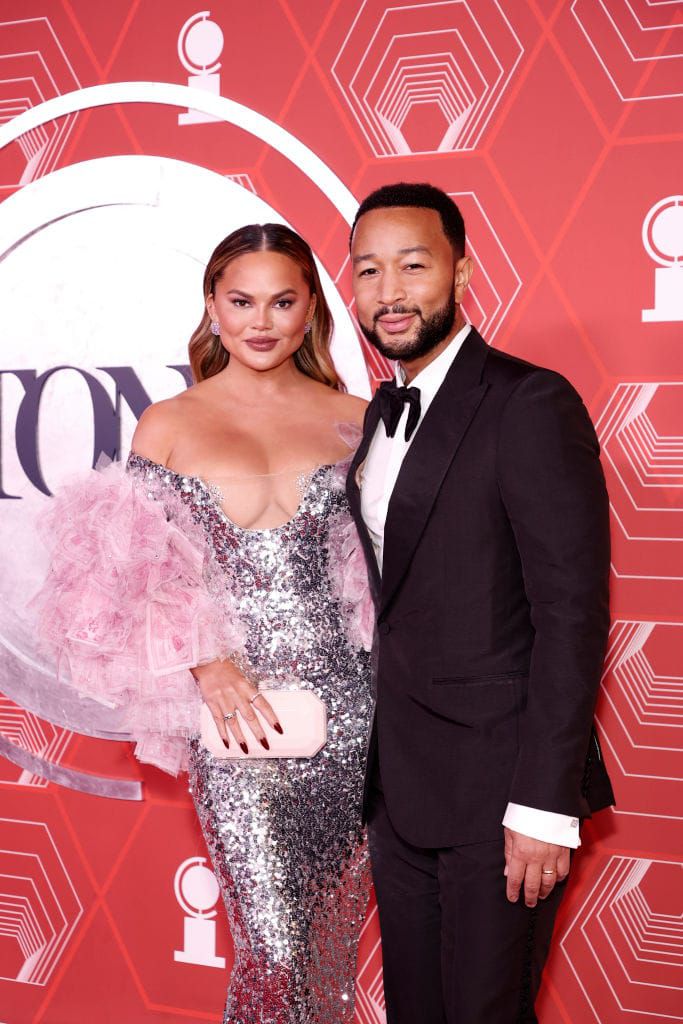 via Getty Images
But they (legally) got married in an NYC courthouse, a day before traveling to Italy. "We actually got married after going to a couple of Fashion Week shows at Vera Wang, ironically who actually did my dress, but we got married at the courthouse right after," Chrissy explained to E! News.
It wasn't long after their marriage that they welcomed a member to their little herd, either.

via Getty Images
Chrissy gave birth to their daughter, Luna Simone Stephens, on April 14, 2016, and son, Miles Theodore Stephens, on May 16, 2018.
We just cannot get enough.

via Getty Images
They are a pivotal part of the celebrity scene and their fans lap it up (especially where Chrissy's relatable social media posts are concerned… let's be honest, she's comedy gold).
We just love how open Chrissy is with her social media followers, too.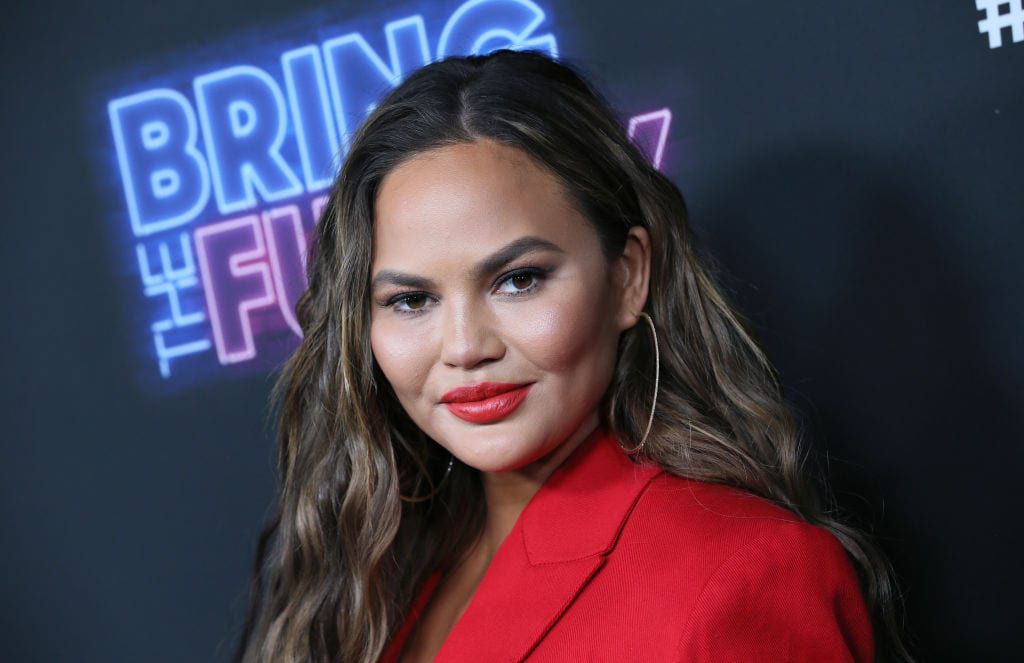 via Getty Images
And it's her ongoing social media presence that has truly cemented her as an internet favorite.
She even has 13.2 million followers on Twitter.

via Getty Images
In fact, she's pretty much the queen of Twitter.
But, it's her true authentic self that people love seeing.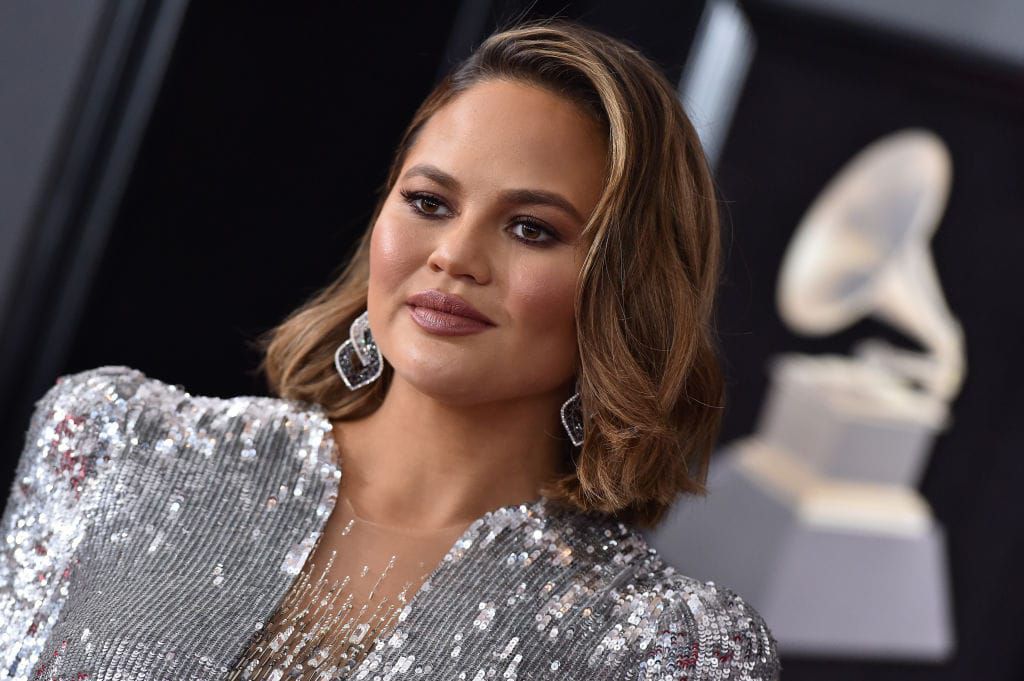 via Getty Images
There's no denying that the model keeps things real.
Getting on a level with her followers that we all appreciate.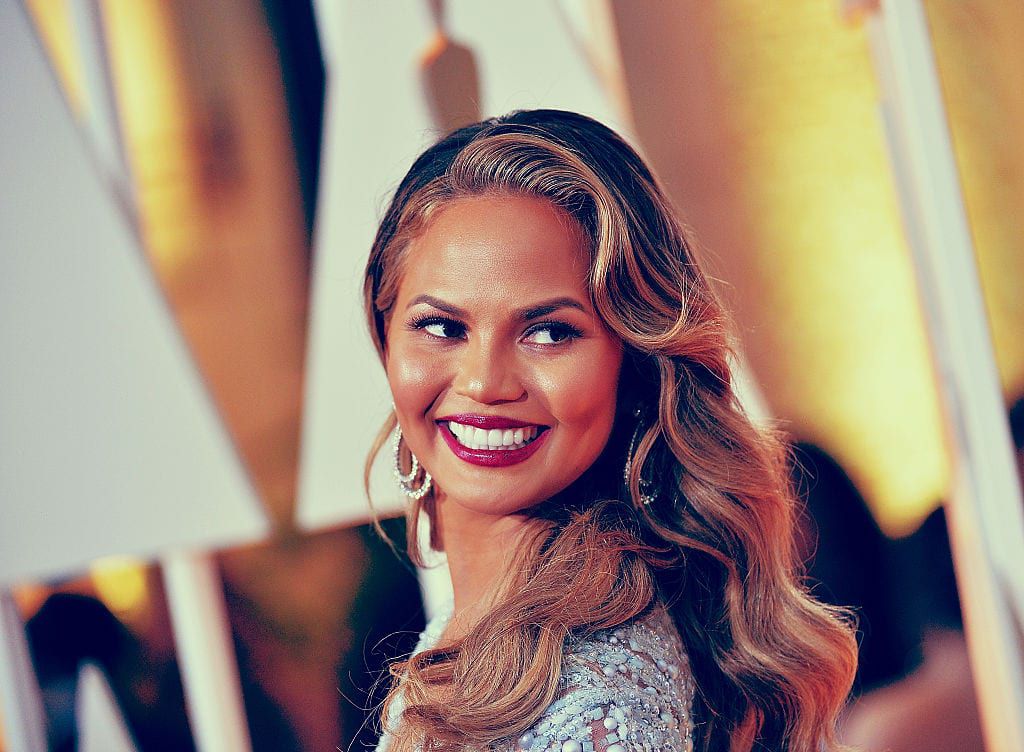 via Getty Images
And posting content that so many parents can relate to.
Chrissy has been targeted quite a lot by people on social media.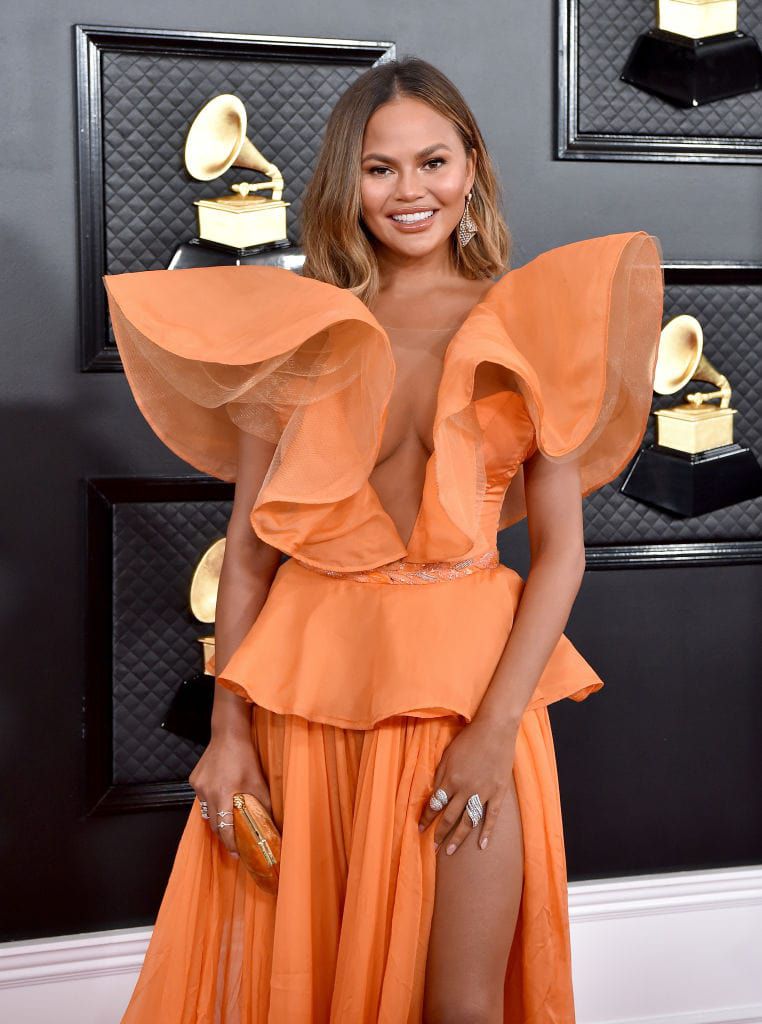 via Getty Images
And one of the things they've targetted is her body — with some saying she looks "square-shaped."
But she always handles it like a queen.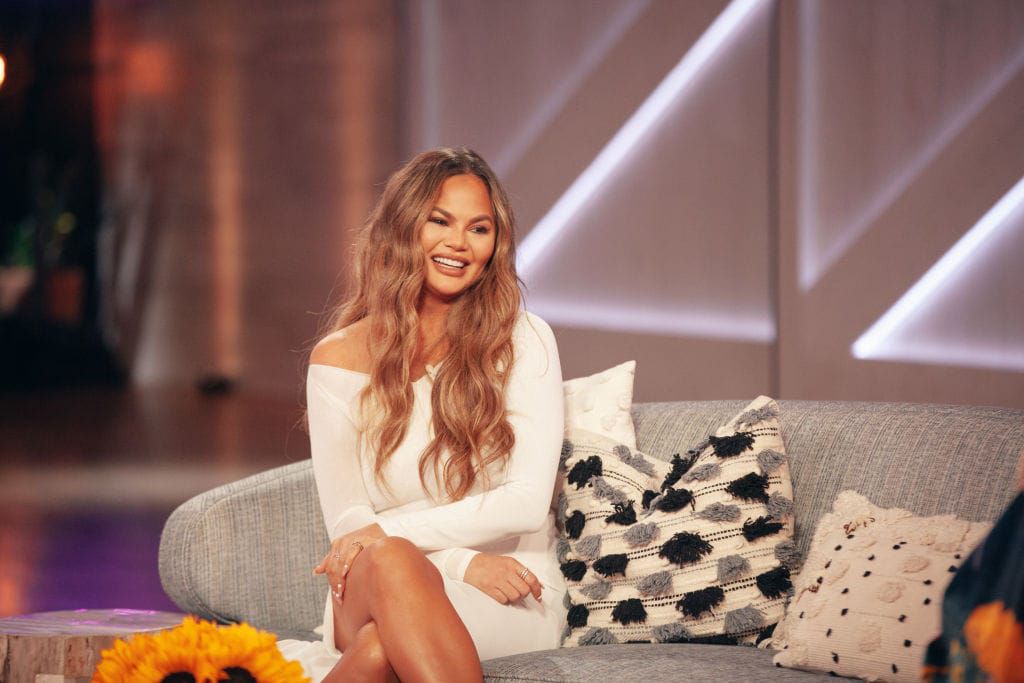 via Getty Images
Firstly, she replied to a concerned fan with "yeah they're super mean lmao."
She then spoke out for many women alike…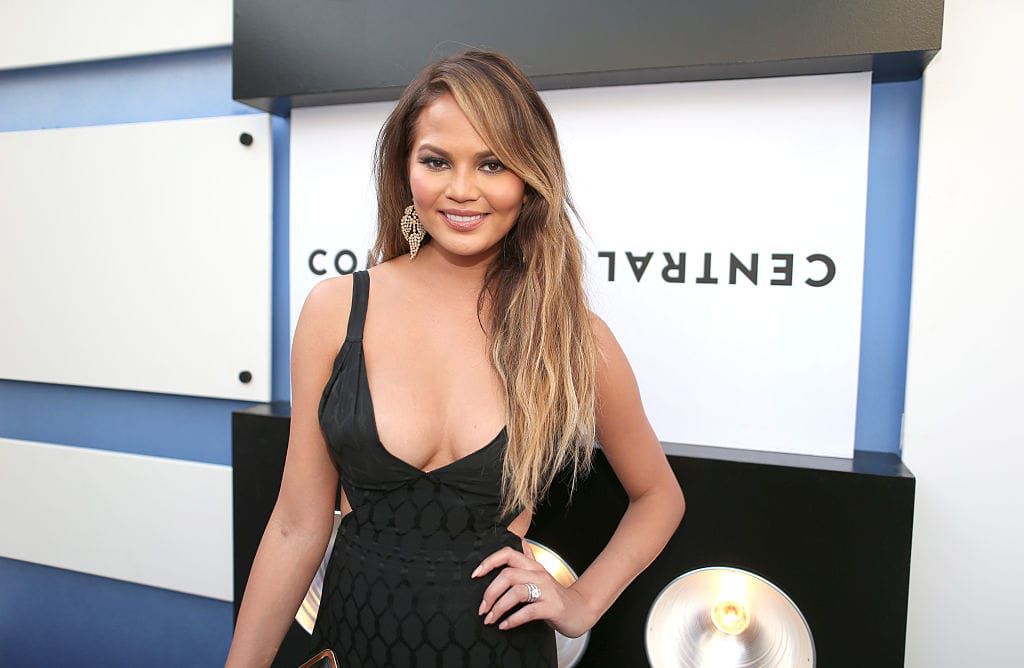 via Getty Images
And she empowered herself in the best way possible by saying she doesn't have "surgically enhanced" curves and that she has been square-shaped for her entire life.
She has, however, been open about the surgery she has foregone.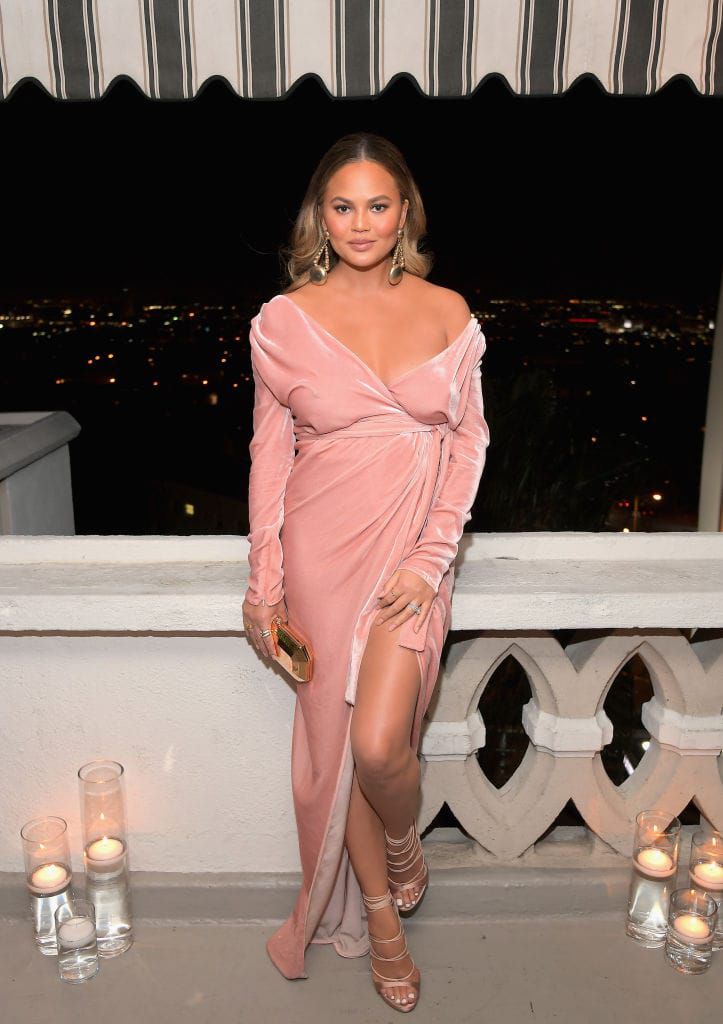 via Getty Images
Including the fact that she had breast implants put in when she was twenty.
Chrissy was working as a swimwear model at the time.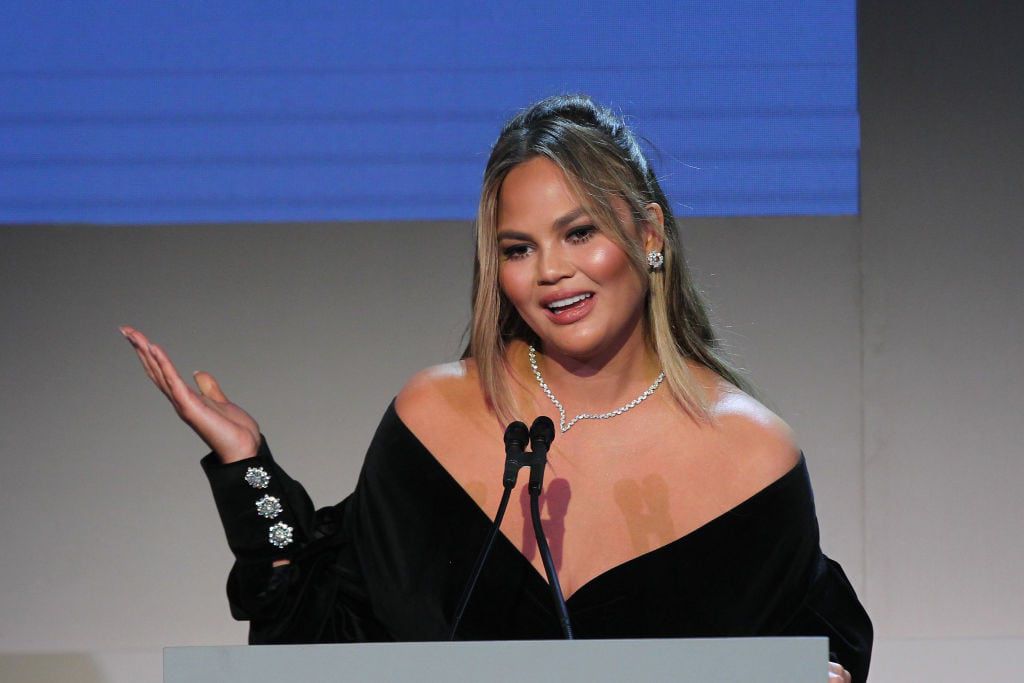 via Getty Images
And revealed that she had the surgery more to lift her boobs as opposed to making them drastically bigger.
This wasn't the only time Chrissy went under the knife however…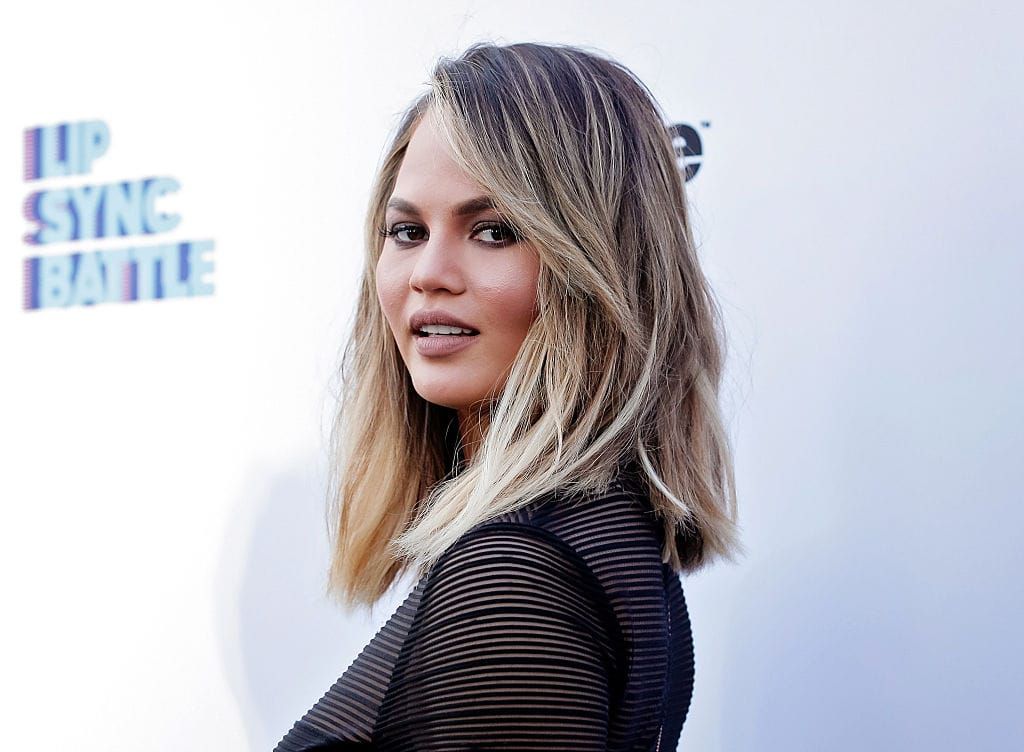 via Getty Images
She addressed the rumors surrounding her surgery back in 2020 after fans began speculating why she was having a test for the virus.
Chrissy went on to reveal that she was getting her breast implants taken out.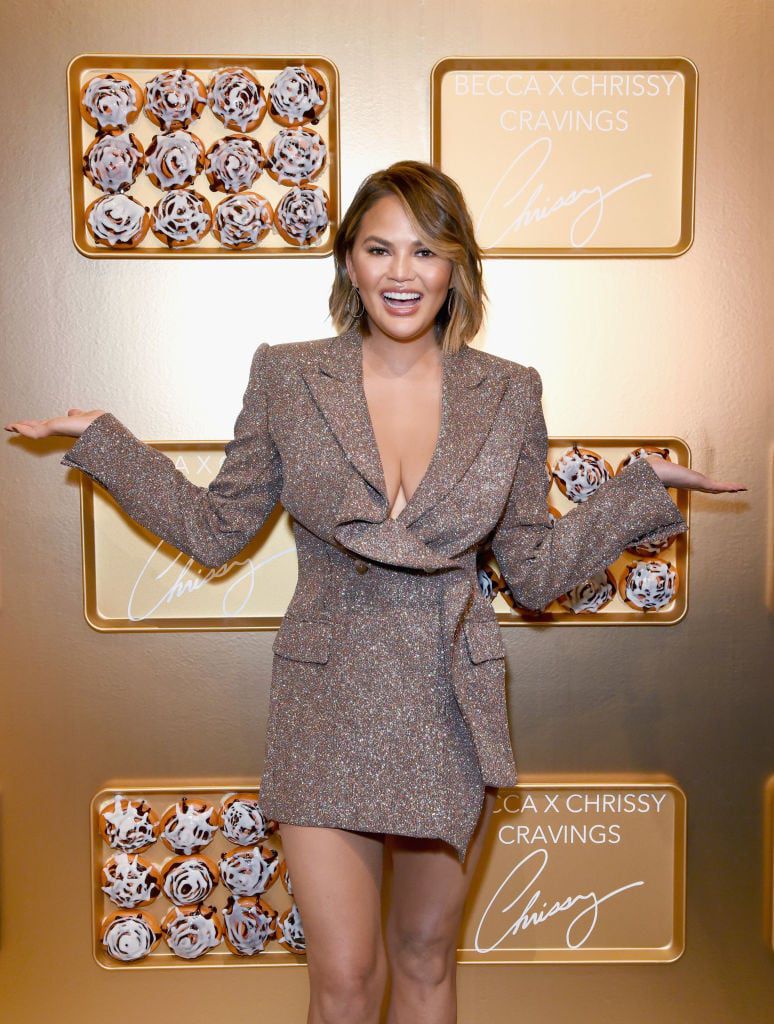 via Getty Images
"A lot of people are understandably curious (and nosey!) so I'll just say it here: I'm getting my boobs out!"
It seemed as though they just weren't for her.

via Getty Images
"They've been great to me for many years but I'm just over it. I'd like to be able to zip a dress in my size, lay on my belly with pure comfort! No biggie! So don't worry about me! All good. I'll still have boobs, they'll just be pure fat. Which is all a t*t is in the first place. A dumb, miraculous bag of fat."
She also didn't want to create a risk in replacing the implants, too…

via Getty Images
"I want them out now," she told Glamour. "If I could do one thing, it would be to have a lift. I think you're supposed to replace [implants] every ten years. But when you have kids you think about [the risks] of surgery and I think, 'This is not the way I want to die, in boob surgery.'"
She later revealed she had surgery to remove the implants.

via Getty Images
And all went well!
Chrissy shared more surgery she's had with her fans, too.

via Getty Images
And it came as the model celebrated a fifty-day streak of being sober!
She wrote on Instagram: "Today is my fifty-day sobriety streak! It should be nearly a year but I had a few (wine) hiccups in the road."
The model, who has had difficulties with drink in the past, shared on Instagram that this is the "longest streak" she's had.

via Getty Images
And explained that her recent surgery of having the fat removed from her cheeks is now a lot more noticeable since she's stopped drinking.
And now, she's shared another huge milestone…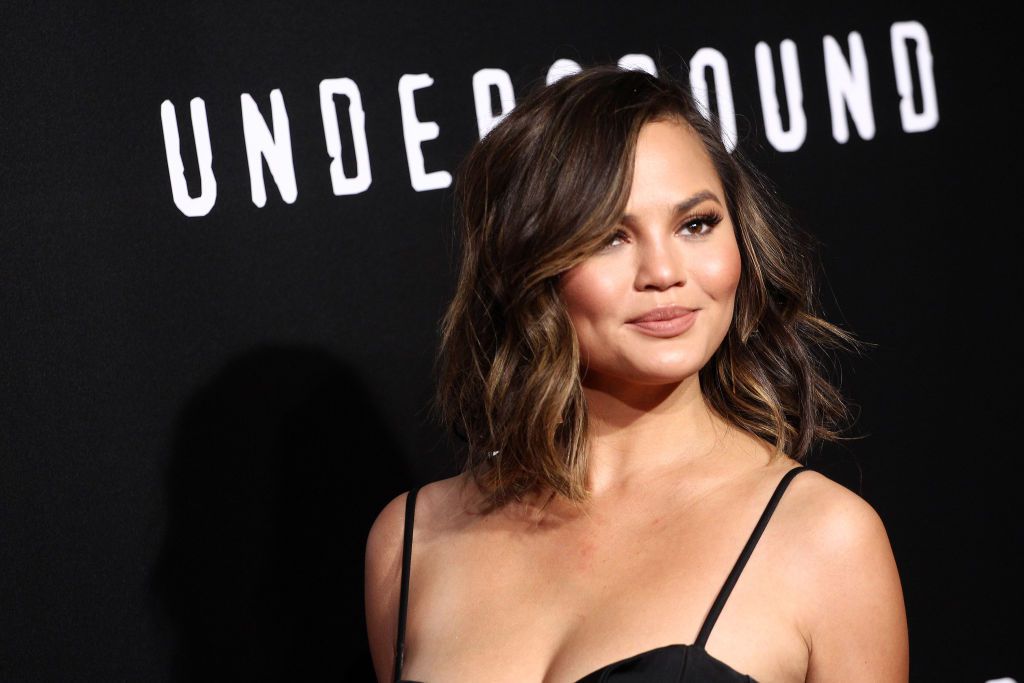 via getty
She posted online that she's managed to make it to 1 whole year of being sober.
Chrissy wrote on Instagram on Monday: "I miss feeling loopy and carefree sometimes, but to be honest toward the end, it didn't give that fun feeling anymore anyhow.
via Getty Images
"I drank to end crazy anxiety that later mostly went away when I – get this – quit drinking!"
"I feel really good. Sometimes I get really frustrated looking back on days I should remember way better than I do because of alcohol.
"Like when I drank cafe patron and fell asleep while an Outback Steakhouse chef taught me (my friends) how to make a bloomin onion at my house.
"I wish I was awake for that.
She continued: "Wish I remembered really any awards show lol. There are pictures from huge moments in life where my eyes just look… gone. Some are from real work shoots, some are just beach days with the family.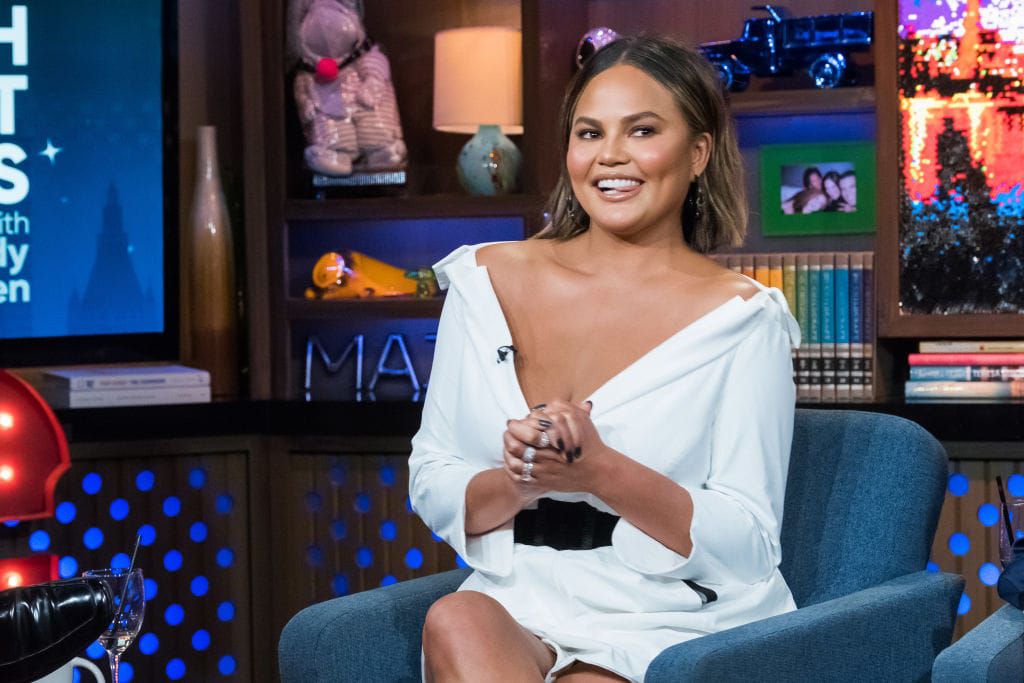 via Getty Images
She concluded her post: "While I honestly STILL don't know if I'll never have a drink again, I do know I never want to be that way again.
"And for now, none is best. I'll let the bad dreams come up and try to sort them out in therapy, without booze.
"Prayers for a blooming onion redo."
And it seems things are only getting better from there…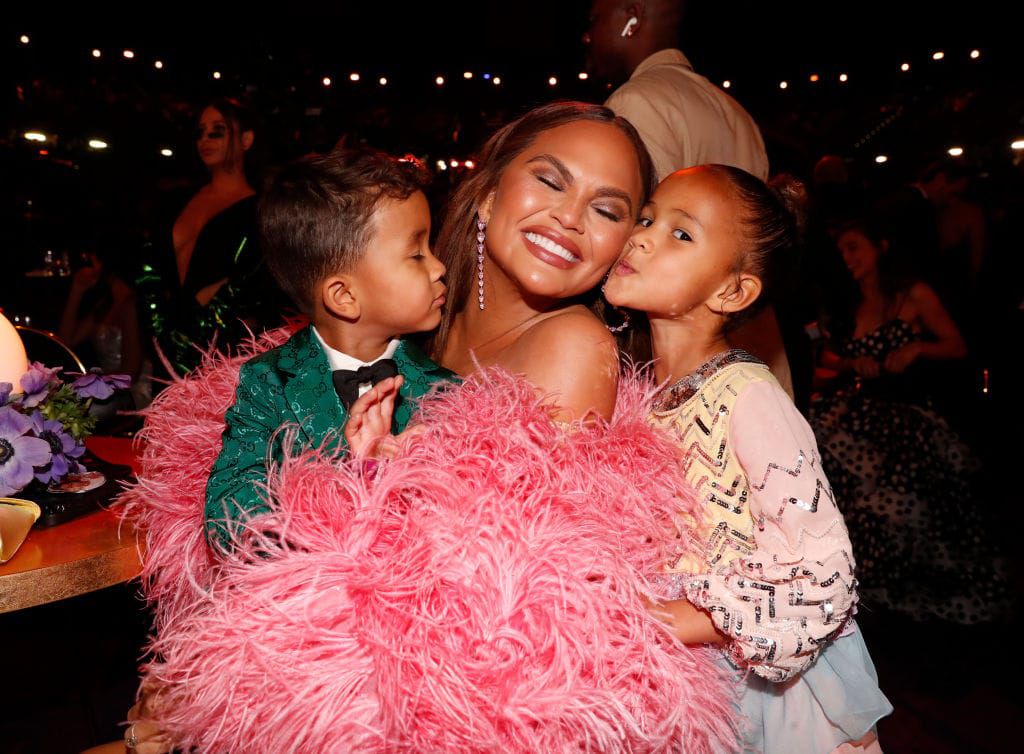 via Getty Images
As she's recently announced that she's pregnant!
This is incredible news for the couple, who tragically lost their baby Jack in 2020 due to complications.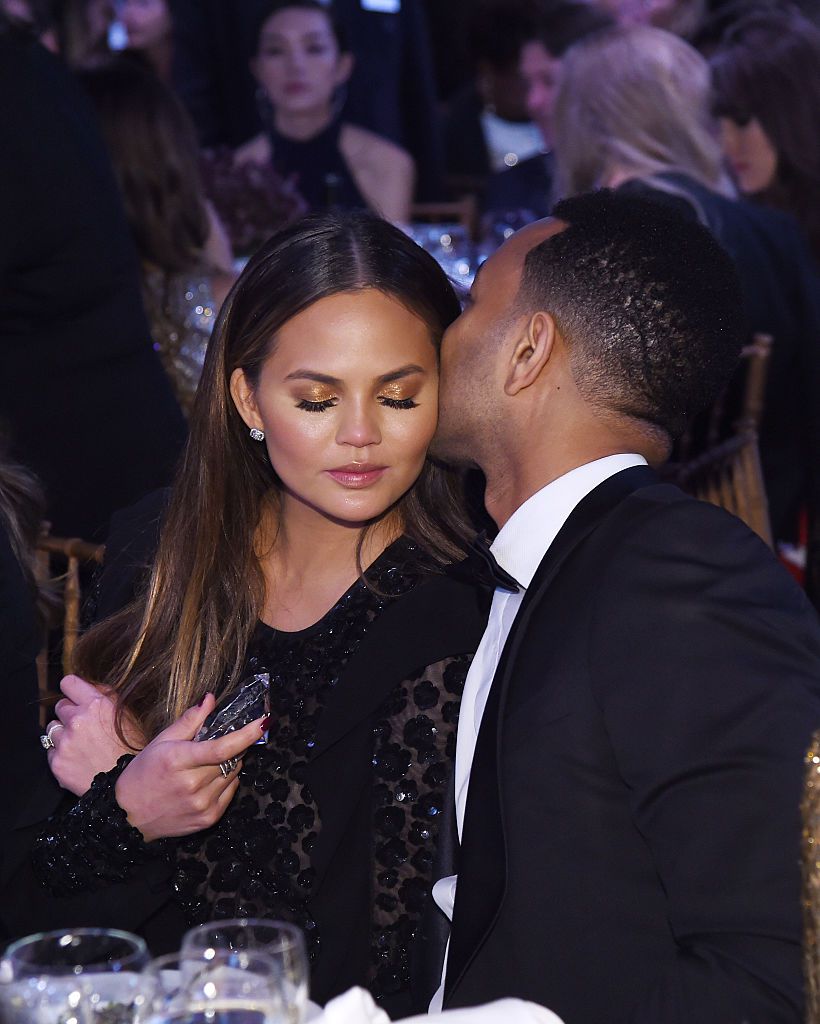 via Getty Images
Because of this, Chrissy has shared that she's still nervous about the pregnancy but added that currently, everything looks "perfect and beautiful."
She shared the exciting news on her Instagram with her thirty-eight million followers.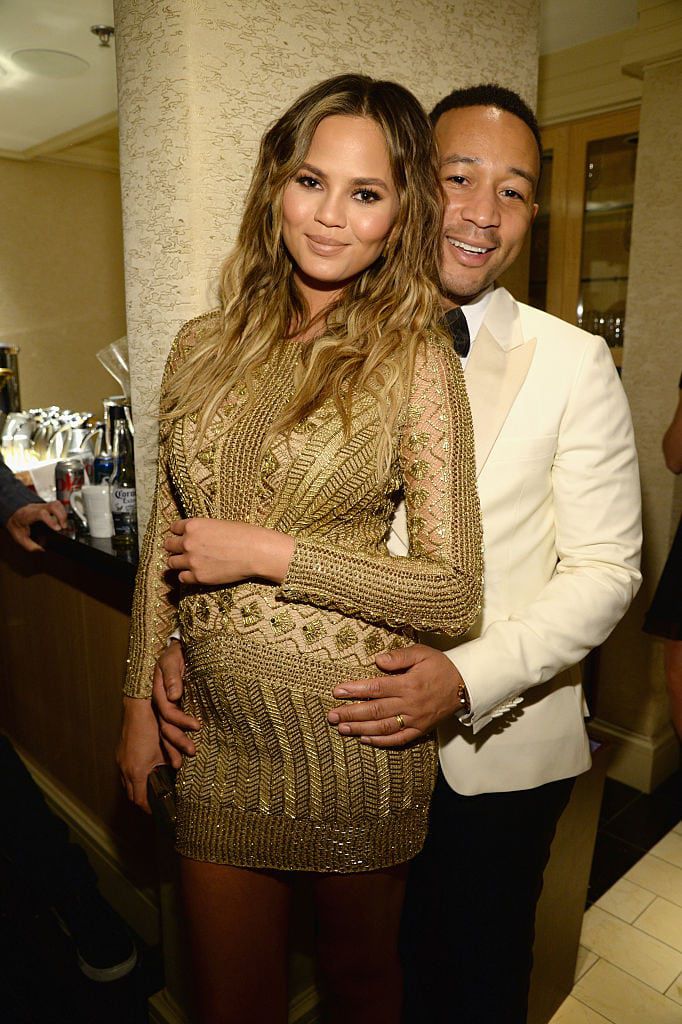 via Getty Images
Writing: "The last few years have been a blur of emotions to say the least, but joy has filled our home and hearts again."
Many fans have taken to the comment section of her post, sharing their thoughts on the news.
via Getty Images
Some have highlighted how bittersweet her announcement is.
One Facebook user wrote: "Rainbow baby after the storm… congratulations Momma and to your beautiful family."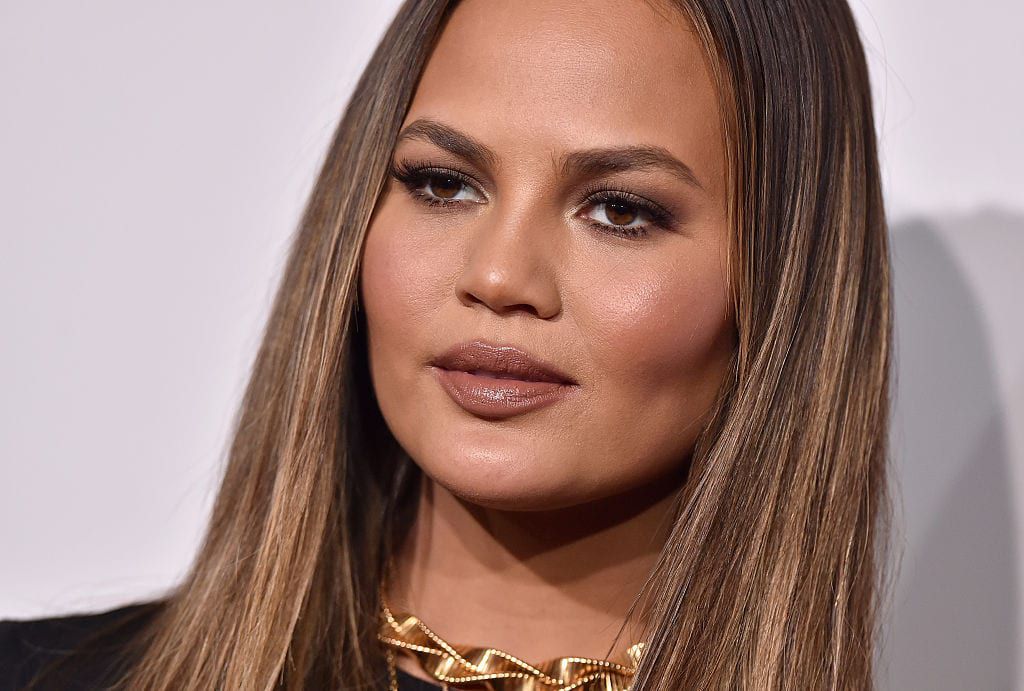 via Getty Images
Another commented: "Yay, I'm so happy for them. It's hard after losing a baby to come out and announce a new pregnancy. This shows her strength and courage. So happy they could share this to the world/fans. God bless them."
"I'm absolutely so happy for them. Praying they stay healthy and everything goes well for the whole family. I love that couple!!! Congratulations to you all," a third wrote.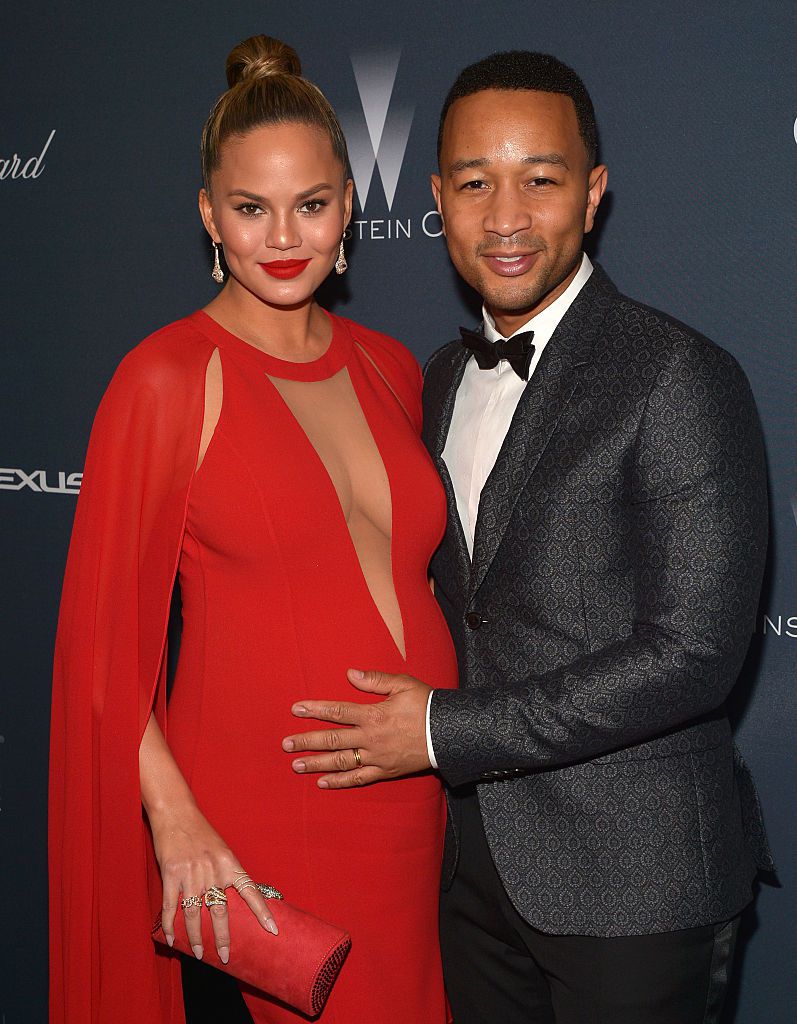 via Getty Images
Dozens have congratulated the pair after hearing the news.
However, the weight of her previous loss is understandably still lingering on her mind.

via Getty Images
"Every appointment I've said to myself, "ok if it's healthy today I'll announce" but then I breathe a sigh of relief to hear a heartbeat and decide I'm just too nervous still," she captioned the photo of her showing off the bump.
She added: "I don't think I'll ever walk out of an appointment with more excitement than nerves but so far, everything is perfect and beautiful and I'm feeling hopeful and amazing.

via Getty Images
She concluded the post: "Ok phew it's been very hard keeping this in for so long!"
It was earlier reported that Teigen told her followers about her IVF journey and said she "didn't mind the shots…"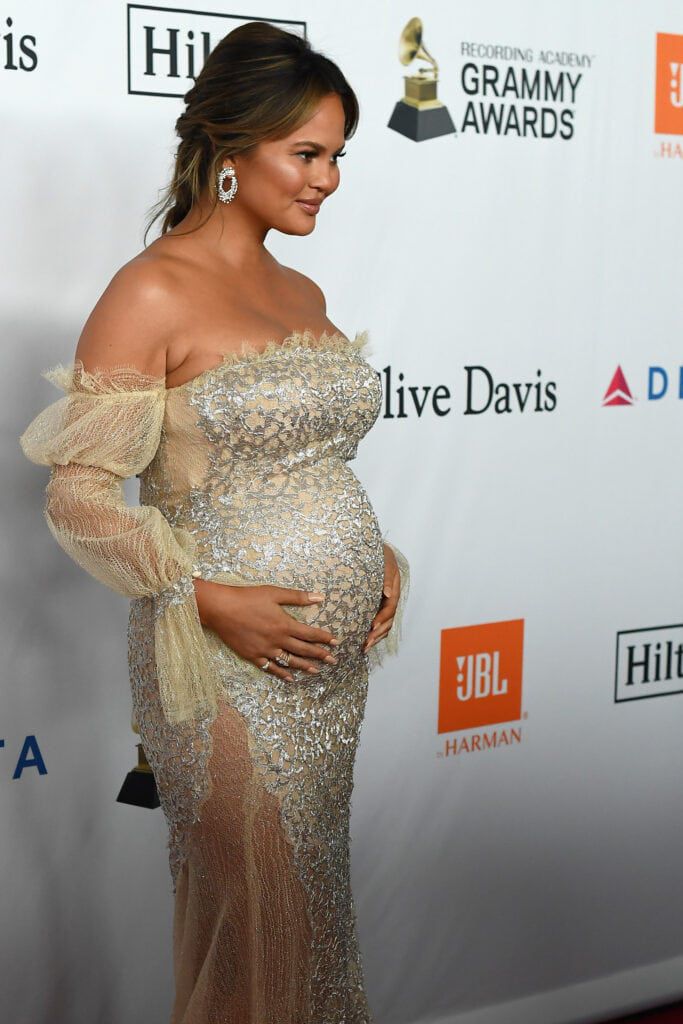 via Getty Images
In the lengthy note back in February, Chrissy revealed that "bloating is a b**ch," when it came to getting the treatment and even asked her followers to stop speculating if she's pregnant.
Scroll down!
"But also like please stop asking people, anyone, if they're pregnant," she added.

via Getty Images
Even "promising her followers that should she get pregnant," she will be the one to break the news – sweet, isn't it?
But its her hubby John Legend's reaction that's won us over…
Since sharing the news online, John Legend has responded in the sweetest way…

via Getty Images
It seems as though he's equally as excited as Chrissy, reposting her photo on his Instagram page.
He captioned the snap with five heart emojis.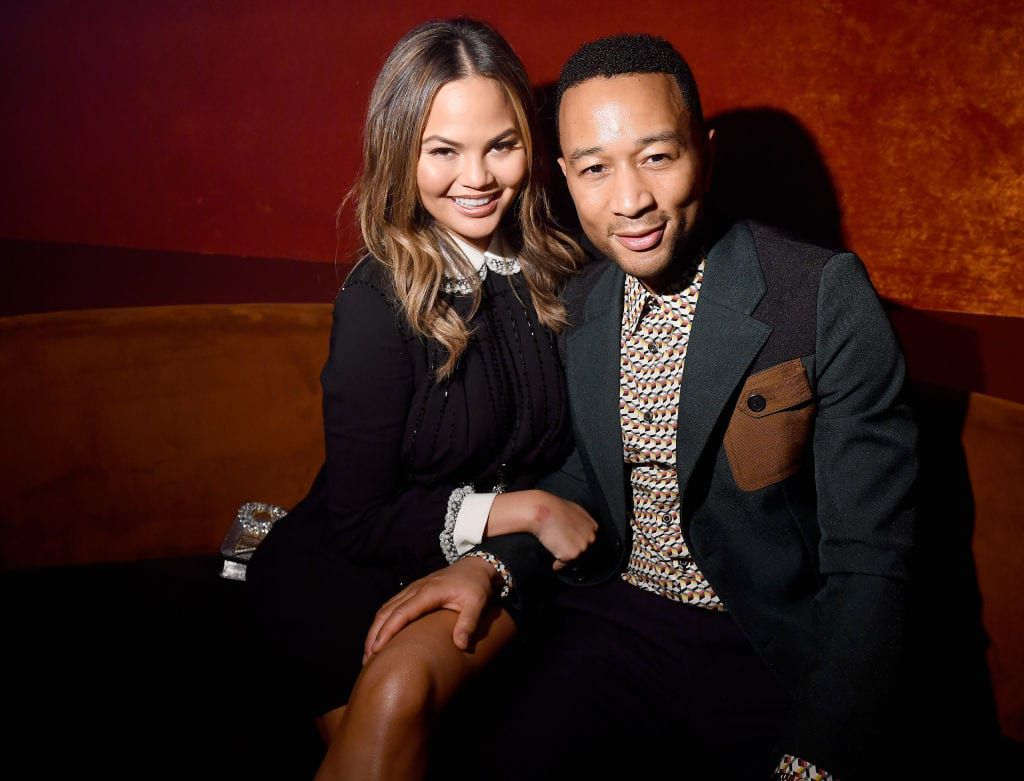 via Getty Images
And surprisingly it's not the only thing to catch the eyes of their well-wishers…
As the photo that accompanied Chrissy's announcement brought all the fashion critics to judge her choice of attire…

via Getty Images
In the snap, Chrissy can be seen wearing a simple black cropped t-shirt, which cost $68 dollars from the brand Bumpsuit.
But it is the lower part of her outfit that has got everyone talking…

via Getty Images
As she donned a pair of Gucci briefs!
The luxurious designer underwear not only showed off her gorgeous baby bump…

via Getty Images
It also accentuated Chrissy's growing midsection as she showed off a large bruise on her left thigh from her ongoing in vitro fertilization, Page Six reports.
Can you believe that particular underwear only cost $520?

via Getty Images
We're not joking…
And now, Chrissy has shared an interesting insight into what it took to take her viral pregnancy mirror selfie…

via Getty Images
As well as thanking her well-wishers first, of course!
"Thank you for your kind messages today," Chrissy wrote.

via Getty Images
But it was the last sentence of her tweet that caught everybody's attention.
"Does Twitter still accept niche thirst traps?" the star tweeted.

via Getty Images
And well, the tale continues as the behind the scenes action is getting the most attention now…
According to PEOPLE, Chrissy shared the same photo on her Instagram stories.

via Getty Images
And then tagged all those who helped her ace her selfie game and…
Revealed it took 44 people to make the selfie happen.

via Getty Images
You can see her adorable photo here.
And while Chrissy is understandably excited for this next chapter in her life, she has recently shared that the loss of baby Jack "still hurts."

via Getty Images
Which is what makes her latest update all the more emotional!
She shared on Twitter that, "I finally feel the baby!"

via Getty Images
"So I don't need to text my doc for a daily drive by ultrasound anymore," she continued.
Huge congratulations!

via Getty Images
We wish her a happy pregnancy.
via Getty Images