Zac Efron has finally addressed the plastic surgery rumors which circulated last year.
Back in April 2021, the 34-year-old High School Musical star appeared in a promotional video for Earth Day, which quickly went viral as many pointed out that his jawline looked different from usual.
Many social media users speculated whether the actor had undergone cosmetic surgery, as his jaw looked far more prominent than it had just months prior.
Zac Efron appeared on a virtual Earth Day special with his face looking different than usual. People were speculating that he had plastic surgery, or maybe Botox and other fillers https://t.co/1qu2Kf1C1I

— Joey and Heather (@JandHMS) April 26, 2021
Now, in a new interview with Men's Health Magazine, the actor revealed that there was no truth to the plastic surgery rumors and that the change in his appearance was the result of an accident at home.
Efron recalled how he slipped on a pair of socks while running at his home, causing him to smash his chin into a granite fountain. He explained that he lost consciousness and woke up with "his chin bone hanging off his face".
The actor told the publication that as a result of his injury, his chewing or "masseter muscles" had to overcompensate, saying: "The masseters just grew," adding: "They just got really, really big".
Efron added that he deliberately keeps away from social media and was unaware of the uproar online about his appearance until he received a phone call from his mom.
However, he wasn't bothered by the rumors, saying: "If I valued what other people thought of me to the extent that they may think I do, I definitely wouldn't be able to do this work."
When the rumors first surfaced on social media, his friend and radio host Kyle Sandilands shut it down during an interview.
"It's like getting a Picasso and having a kid finger paint all over it," he said on The Kyle and Jackie O radio show. "Why bother?… I would know if he'd had any plastic surgery."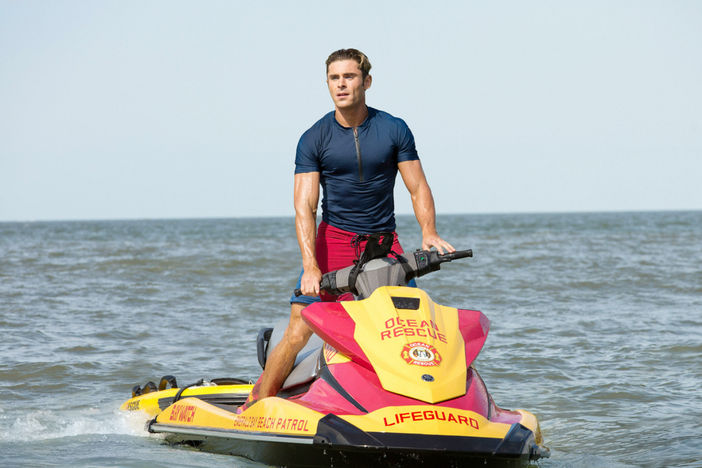 Zac Efron in Baywatch. Credit: Everett Collection Inc / Alamy
Elsewhere in the interview, The Greatest Showman star spoke about his body transformations over the years and the effect bulking up for certain roles has had on his physical and mental health.
He disclosed that his famous ripped appearance for the Baywatch movies was not "really attainable," and that it looked "fake" and "CGI'd".
Efron – who now lives in Australia primarily – revealed that fell into a "pretty bad depression" over the intense fitness regime for the remake film.
"I started to develop insomnia, and I fell into a pretty bad depression, for a long time," he recalled. "Something about that experience burned me out. I had a really hard time recentering."
"Ultimately they chalked it up to taking way too many diuretics for way too long, and it messed something," he added.