Stretch marks, belly pooch, and even scars — the body changes that come with giving birth can drastically lower a mother's confidence. And with social media always promoting the perfect body image, it can get even worse. Luckily, more celebrity mothers step up and proudly show these changes to the whole world, destroying stereotypes and supporting other mothers in their postpartum journeys.
Together with these famous mothers, We want to embrace the idea of loving yourself at every stage of your life. For this, we collected photos of their postpartum bodies that send a powerful message to all of us.
1. Ashley Graham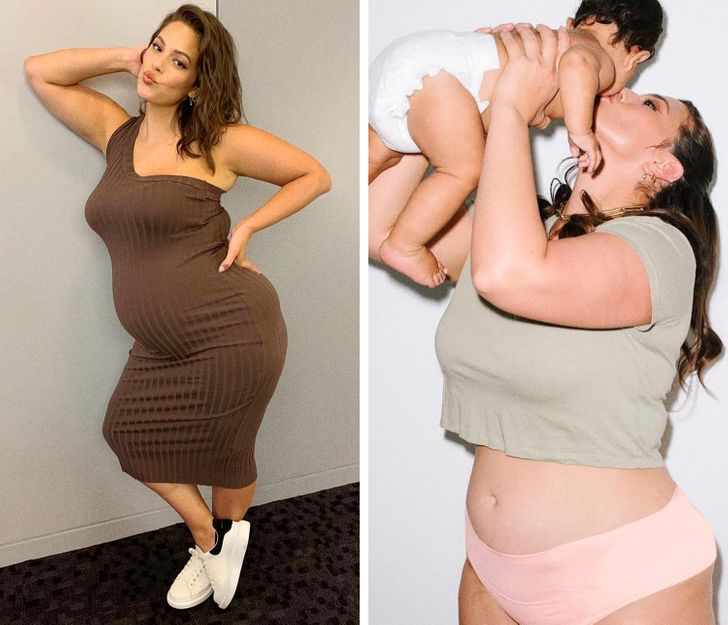 © ashleygraham / Instagram, © ashleygraham / Instagram
The famous model got real about what it's like to be a new mom in one of her Instagram posts. "After all these years in fashion, I never could've guessed that disposable underwear would be my favorite piece of clothing, but here we are!" She also encourages other women to embrace their new bod!es because, after all, we're still the same person, right?
2. Iskra Lawrence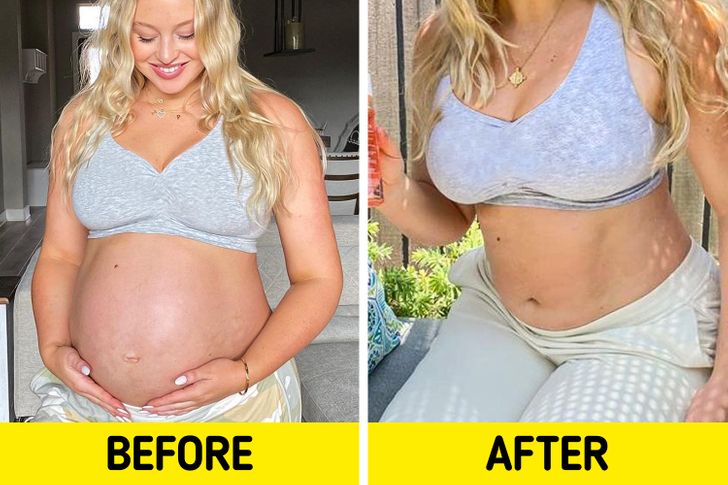 © iskra / instagram, © iskra / instagram
2020 was a very happy year for the British model as she welcomed her first child during this time! She shares with her followers that becoming a mother changed her in many ways, mentally and physically. She takes a lot of time to look after her body and let it recover, but her child always stays her top priority.
3. Krystal Nielson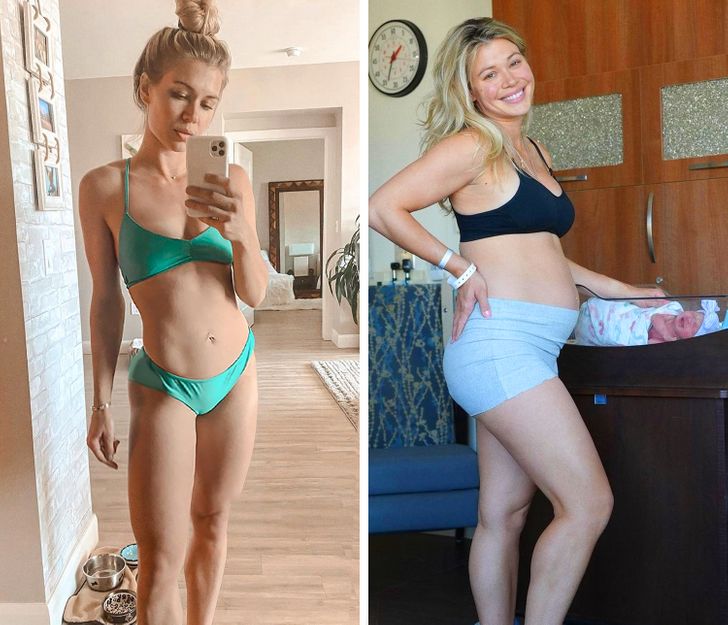 © coachkrystal_ / Instagram, © coachkrystal_ / Instagram
The 33-year-old reality show star welcomed her first child in April. "Pregnancy and birth have given me an entirely new respect and perspective of my body and what it's capable of," she wrote.
4. Amy King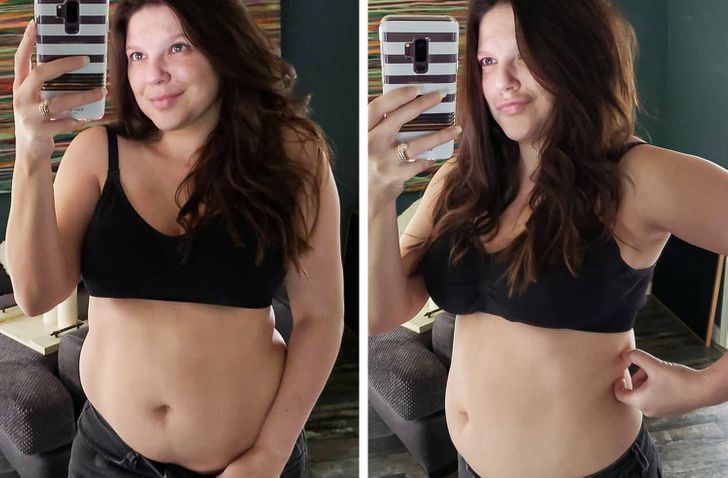 © amyrachelleking / instagram
The American poet loves her new body more than ever: "My body is not magazine perfect, but this is me. When I look in the mirror I see a MOM. And there is no greater honor, love, or blessing!" Amy said. She encourages other moms to cherish the changes in their bod!es as they helped to create a new life.
5. Katrina Scott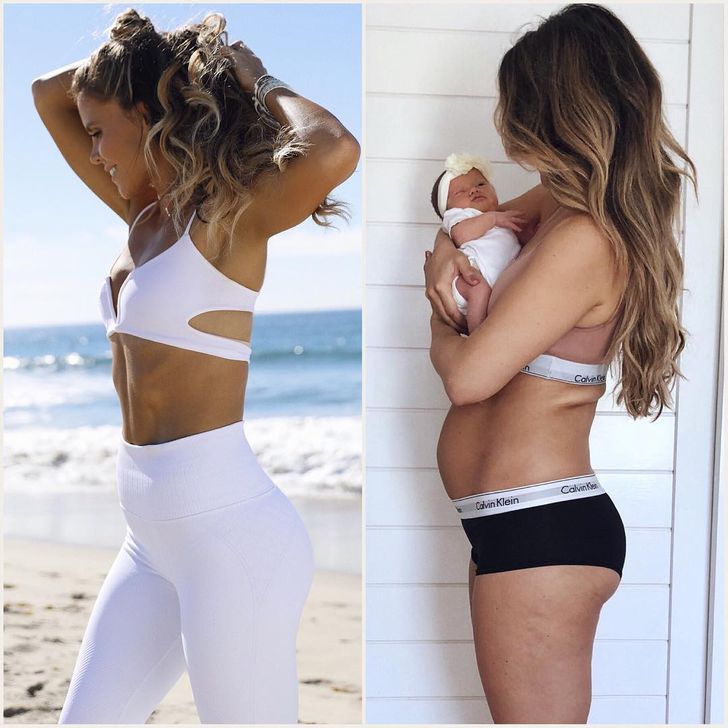 © katrinascott / instagram
Katrina was a certified personal trainer and author who had a perfectly ripped body before getting pregnant. However, it got even more beautiful after giving birth. 6 days postpartum, she proudly showed her comparison photos, saying, "I'm so much more proud of the body on the right. I f0ught harder for it!"
6. Bekah Martinez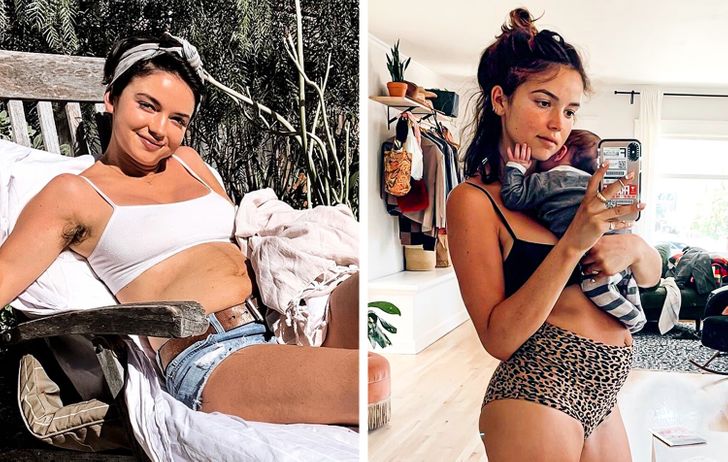 © bekah / instagram, © bekah / instagram
The Bachelor star looks at things positively and gives tips to other mothers on how to survive the postpartum period. "Eat a lot. Cry a lot. Avoid mom bloggers who look ready for the Oscars, like, 3 hours after giving birth. Sleep every time you can. Smell your baby's head. Take a bath," she said.
7. Desiree Hartsock
The Bachelor star shared her photos 4 days after giving birth. She felt like a supermodel and a warrior and was very proud of herself. "It is an absolute miracle what our bod!es can do to carry and deliver a baby and I'm always so fascinated by the sheer wisdom and nature of it all," she said.
Though she is very busy with her child, she doesn't forget to take some time for herself and take care of her body to let it recover.
8. Kate Hudson
41-year-old Kate gave birth to her third child when she was 39 years old. She is very open about her struggles and mentions that the most challenging thing is to find the perfect balance between her children and her personal time.
On her Instagram, she shares her journey of how she gets back in shape. And we have to say, her results are impressive!
9. Nadia Ess*x
After giving birth to her first child, Nadia didn't hesitate to show the changes in her body to the world. Recovery isn't so easy, but she doesn't give up or surrender and puts a lot of effort into it.
10. Brie Bella
The retired professional wrestler recently became a mother for the second time. She reminds other mothers about how important it is to take care of themselves after giving birth. She wants to be open about this process and shares photos of her recovery journey.
What is your opinion on this? Do you think it's a good idea to share real body images and one's struggles on social media?