A video circulating on social media shows a high school student in Fort Worth, Texas, hitting a teacher and making racially charged comments about her in class.
What happened?
The incident reportedly occurred at Castleberry High School and involved a white female student and a black female teacher, according to the video posted online

Friday by the Twitter account, Smash Da Topic.
In the video, the student is seen angrily marching up to the teacher's desk at the front of the classroom and pressing the phone's receiver while the teacher attempts to make a call. When the teacher tries to remove the student's hand from the receiver, the student responds by hitting her.
"No, no, no," the teacher then calmly states as the teenager challenges her, shouting, "Deal with me!"
"You're right," the teacher answers, adding, "Because you touched me. I did not touch you."
The student, who is visibly upset, then picks up the phone on the desk and yells, "I am calling my momma, you ain't about to f*** me up bitch!"
Don't miss out on content from Dave Rubin free of big tech censorship. Listen to The Rubin Report now.
Content warning: rough language
Video shows a #student hitting #teacher and throwing a phone towards her way, this happened at Castleberry High School in #FortWorth pic.twitter.com/De0MVKTgUJ

— SmashDaTopic (@SmashDaTopic) November 19, 2021
"I need you to get over here now because this teacher is about to get f***ed up if she doesn't get the f*** away from me," the student says on the phone in an apparent conversation with her mother.
Seconds later, the student makes an insensitive comment about the teacher's skin color.
"You want to talk to her because she's black and she's f***ing pissing me off right now," she says before throwing the phone in the teacher's direction and charging out of the classroom.
What else?
Castleberry Independent School District appeared to confirm the incident in a statement posted on Twitter Monday morning indicating that the matter has been turned over to local law enforcement.
"Castleberry ISD is aware of, and greatly disturbed by, videos of an incident circulation social media in which a student becomes aggressive toward an African American teacher, including attacking the teacher physically and making racially charged comments and threats," the statement said.
"Because criminal activity occurred, the district immediately turned this matter over to law enforcement," the statement continued. "In addition, the district is currently conducting its own investigation, including reviewing video footage and taking statements of those present."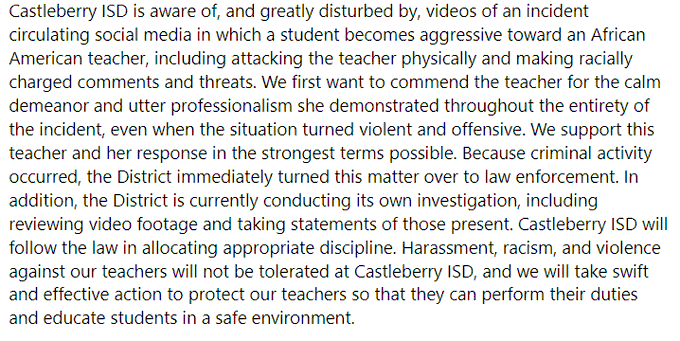 In the statement, the district also commended the teacher for "the calm demeanor and utter professionalism" she demonstrated during the incident, adding, "We support this teacher and her response in the strongest terms possible."
TheBlaze reached out to Castleberry High School seeking more information about the incident but did not receive a response in time for publication.