Jessy Paola Moreno Cruz, 32, has often posted pictures of her wearing fashionable outwear with her son. She often uploads pictures of her and her son on her social media when she was in happier times. Investigation reveals that the single mother had to deal with house eviction and piling debt she was unable to pay off. Stressed and depressed, she decided to make the horrible decision to take her own life and her son's by leaping off a bridge in Central-western Colombia.
There were people trying to convince her to step away and rethink. Her 10-year-old son, May Ceballos, was begging her to not jump as he tried to grip to the side of the bridge. This, of course, was not expected as she was always seen smiling and enjoying her life being a single mother on Facebook. But it turns out that life has been so hard on her, she decided to throw herself off.
Cruz and her son, May. Cruz has been chased by debt collectors recently and evicted from where she lives.
Cruz is a single mother with a son, May Cabellos, 10 at the time.
A video showing people convincing the mother to go back up and rethink her decision showed the reaction of the people during the tragic time. A woman was seen crying while officers were seen hugging and encouraging each other.
Community members and firefighters are seen begging the mother to not do it.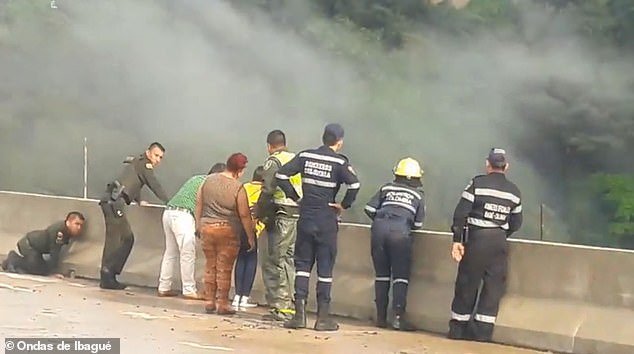 An emergency responder was heard in the video clip shouting in disbelief: 'Oh my God… she threw herself off!'
Another was seen sobbing as he fell to his knees after witnessing the upsetting events play out.
Ibague mayor Guillermo Alfonso Jaramillo later spoke about the tragedy, telling reporters: 'This ends up hurting or even costing the life of the person.
'This lady, who was a single mother, unfortunately, was desperate at the pressure of [paying back] debts,' Jaramillo said.
Cruz's Facebook page states that she and her son resided in Ibagué, Tolima.
Moments after she threw herself off with her boy.
It was not a sight that they will forget anytime soon.
A woman was seen so upset and disappointed.
It wasn't clear if the debt was the only reason for the extreme decision the mother has made.
She was often seen taking selfies of when she feels 'happy' and 'enjoying'. More investigation is needed.
If you or someone you know is having thoughts of suicide, please contact the National Suicide Prevention Lifeline at 1-800-273-TALK (8255).
Cruz frequently posted glamorous Facebook selfies and photos of herself with her son