Jennifer Lopez and Ben Affleck are experiencing the best moments of marriage right now after tying the knot not too long ago in Las Vegas. Many were gushing over the pair, chanting Bennifer at the news. While most of the kids were there, one of Ben's decided not to.
Violet, his daughter with ex-wife Jennifer Garner, chose not to attend out of loyalties to her mom.
If you haven't noticed already, followers have always been commenting on Garner whenever talks about his marriage come up. Despite being divorced for four years, some people believe she's still salty about how their marriage ended.
One wrote, "Whenever I see posts about him, I really feel for Jennifer Garner, man. She really tried her best and even went out of her way for this scumbag to get his life on track even after getting divorced."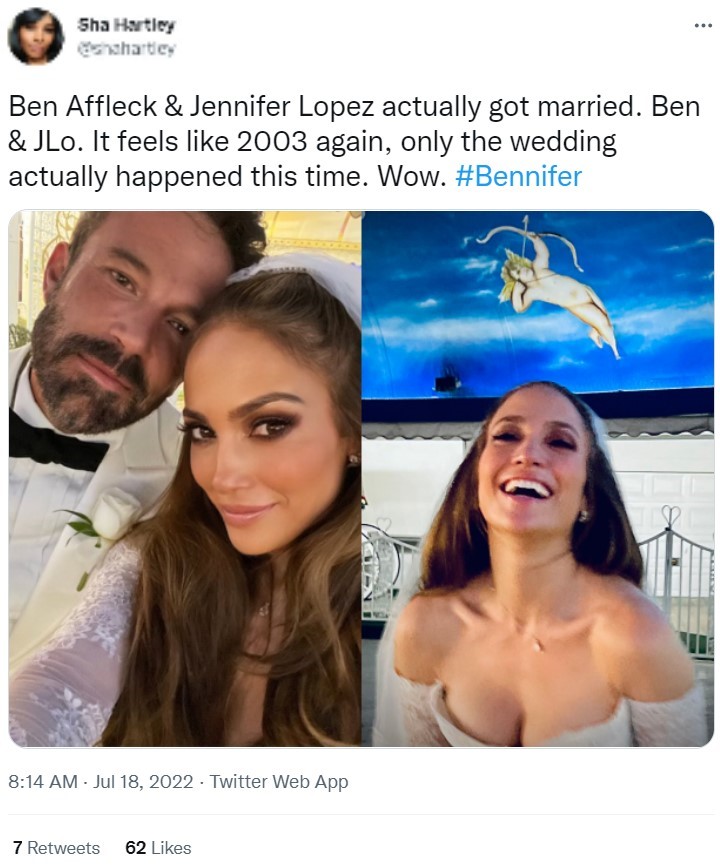 shahartley
But others believe she's thriving, reiterating that she's in a new relationship with CEO John Miller, and it's been four years.
And as it turned out, Garner may not have enough time to prepare to be at their private wedding, per Page Six's report. A source told them, "Ben did tell Jen about the wedding, but I'm told that it was only Friday at the earliest. It was very, very minimally planned in advance and was largely spur-of-the-moment."
BenniferUpdates
"Violet stayed home because she's extremely loyal to her mom," they added.
The source, who's also close to Jennifer Lopez, was asked about their impromptu wedding ceremony. They commented, "[Jennifer] has been ready to get married since the night that Ben proposed. She wanted to lock this down and remove any chance for cold feet ASAP!"